Behind the Wheel: 2021 Lexus RC350
Lexus
There is a truth, self-evident, generally recognized and almost universally acknowledged; and that truth is that the Lexus RC350 looks incredible. For a sport coupe, it's showing up every bit dressed the part. Sharp styling, aggressive lines, a low, wide stance and upscale, spacious interior for the two lucky occupants up front. 2021 ushers in an upgrade to the already strong aesthetics, with the introduction of the special Black Line Edition. This package incorporates a myriad of cool little black exterior details, a dark finish to the already stunning 19" alloy wheels, triple beam LED headlights, gorgeous ash wood interior trim and a matching two-piece luggage set from Zero Halliburton luggage. Careful though, that last one is limited in production.  
So we've established that in the looks department at least, the RC350 Black Line Edition can compete toe-to-toe with the best European sport coupes out there. Looks however, can sometimes be deceiving. In this respect, the RC350 pulls a bit of a bait and switch, because ultimately, in the performance department, it doesn't quite live up to its sporty good looks. 
The same time-tested 3.5L V6 makes its return in 2021, churning out the same 311hp. What wasn't enough before, continues to be insufficient today. A turbo 4-cylinder, and more entry level 255hp V6 in the RC300 would have more excuse for the underwhelming acceleration. But the range-topping V6 in my RC350 only earns the right to brag about smooth, linear acceleration. Lacking though is the presence of actually quick accelerating. Where's the drama, excitement and gusto? With a 0-60 run in 5.7 seconds according to Lexus, it simply isn't enough to really compete. A sharper handling, more dialed in chassis could help make up for this, but that too is a little soft, even in Sport + mode.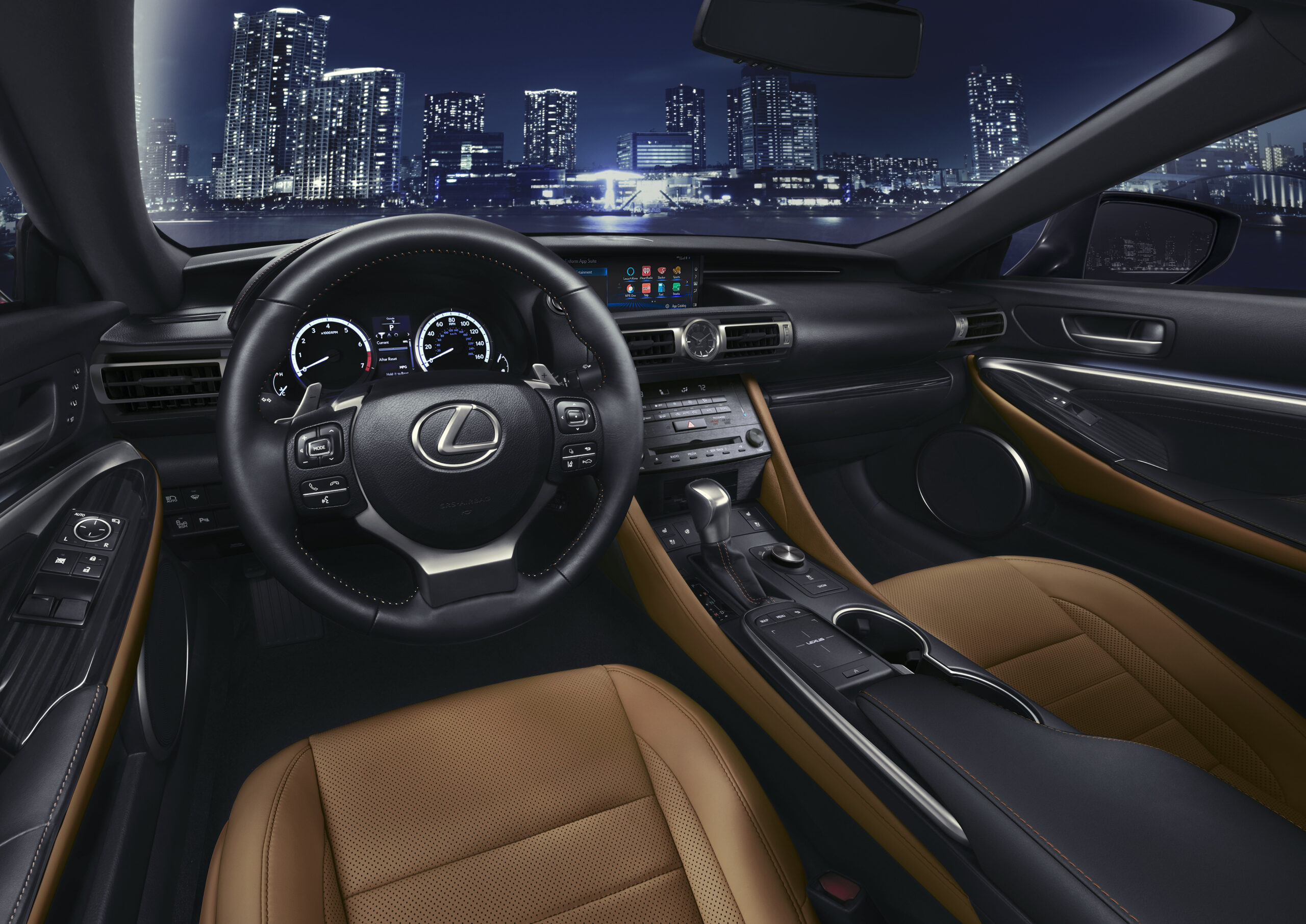 Where this little Lexus shines is in overall comfort and ride quality. Surprisingly compliant over rough roads. Never harsh or punishing on the spine like many sport coupes can be. Rambling around town, the interior is quiet and comfortable. Refined, upscale and sporty. The sliding tachometer is a unique feature that never fails to delight. Back seat occupants will either sit cross-legged, or find circulation below the knees completed cut off. An expected discovery in any sport coupe though. The ultra-aggressive exterior design also produces some significant blind-spots for the driver. Blind-spot monitoring, proximity sensors and the back-up camera help to aide in the more tricky maneuvers though. 
In general, the 2021 Lexus RC350 F Sport continues to be a sport coupe that looks much more aggressive than it actual is. The trade-off is a comfortable ride and feature-filled interior. Sales would suggest that this a compromise many consumers are happy to make. Especially with the new Black Line Edition, you'll be sure to turn plenty of heads, just don't get into a stop-light drag race with more powerful competitors like the Audi A5 Sportback or Genesis G70.
Price as tested: $58,905.00
Related