Four Crystal Face Rollers to Get You Through Social Distancing
The Lux Cut
Three weeks ago I ripped open the very pretty packaging on my brand new crystal facial roller. It was the newest addition to my already excessive collection. I started developing roller rituals and doing research for this article. I was having the time of my life.
And then Covid-19 hit the world.
Like everyone else in America, at first it was business as usual. I followed the rules – hand washing, antibacterial wipes, and Lysol. So much Lysol. Less than a week later my sister became one of the first people in the state to be tested by the Department of Health for the virus, and we were ordered into quarantine awaiting results. There's something about being in quarantine, as opposed to simply social distancing, that messes with your mind. By day five, my self-care habits were in ruins. On day six I decided to reclaim my routine, one crystal face roller at a time.
The basics of facial rolling are relatively skin deep: the process involves rolling key pressure points to drain excess fluid and tighten skin. Rolling can also increase blood flow for an illuminated, glowing-from-within look (after some practice, that is). The ritual itself goes a lot deeper, though. A tool that has been used in Chinese beauty practices for centuries, the now humble jade roller began as a part of the Qing dynasty – a symbol of the elite. The belief was that its power lies not only in its anti-inflammatory effects, but in the stone itself. Jade was said to soothe, heal, and protect.
Fast forward to the mid-2010s and influencers were heralding the return of the face roller to the forefront of skincare. Just like that, the dawn of the new stone age was upon us. After about five minutes on Amazon the untrained eye could have a face roller in every color of the rainbow delivered in two days or less. When it comes to crystal products, though, quality is king. If I'm going to invest in the ritual, I want to absorb all of the benefits – including the energy promised to be emanating from the crystal.
Here's how I rolled my way to quarantine bliss and how I plan to roll my way right back into the world when it's over. Crystal facial rollers.
Amethyst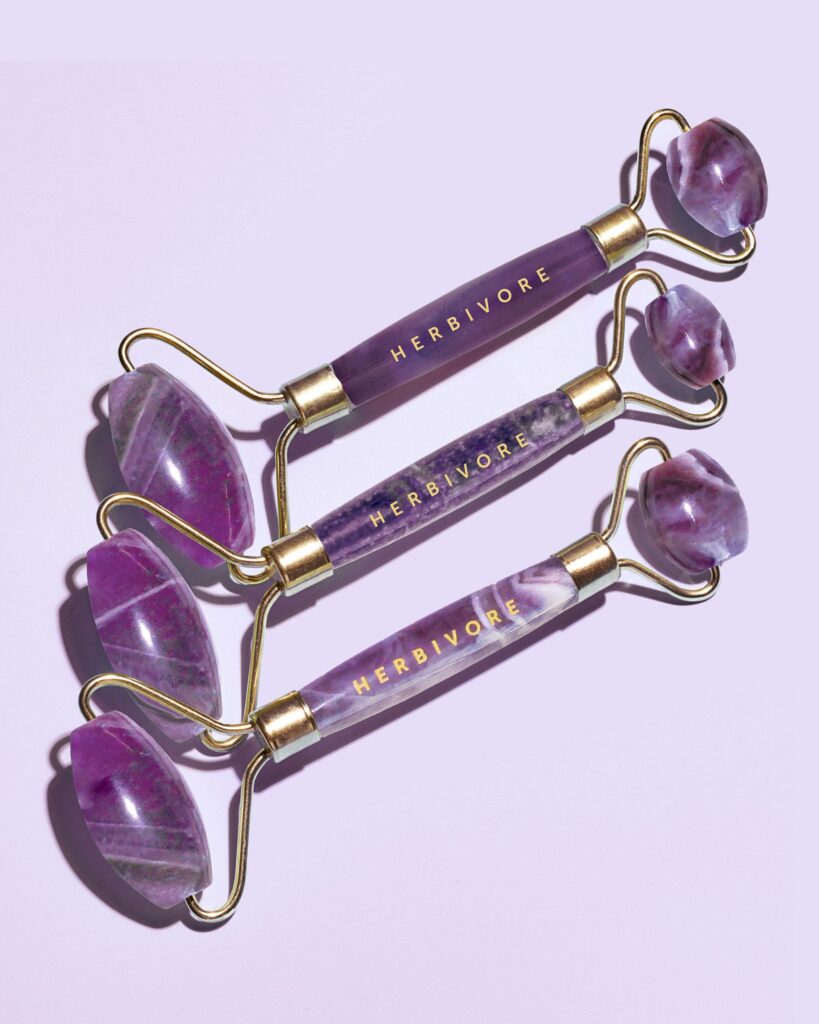 A WFH morning routine was at the top of my list, and I decided that the best way to work in a little crystal rolling action was on the last step of my skincare routine. Amethyst is a negativity buster and can help to increase intuition. Basically, it's the A.M. crystal equivalent of waking up on the right side of the bed. I prefer to lock in hydration with the Amore Pacific Botanical Radiance Oil, and thanks to its island-sourced ingredients, I figured it was a perfect match for the calming energy I hoped the amethyst would deliver.
Spoiler: it was.
I decided to add five minutes of rolling after applying the oil, paired with deep breathing to (hopefully) calm my nerves for the seemingly endless Zoom meetings ahead. The immediate effects were apparent in my first video call of the day when I was asked if I snuck out of quarantine to get a facial. After a week of daily practice, the oil seemed to sit more smoothly and I was down to two cups of caffeine by lunchtime.
Opal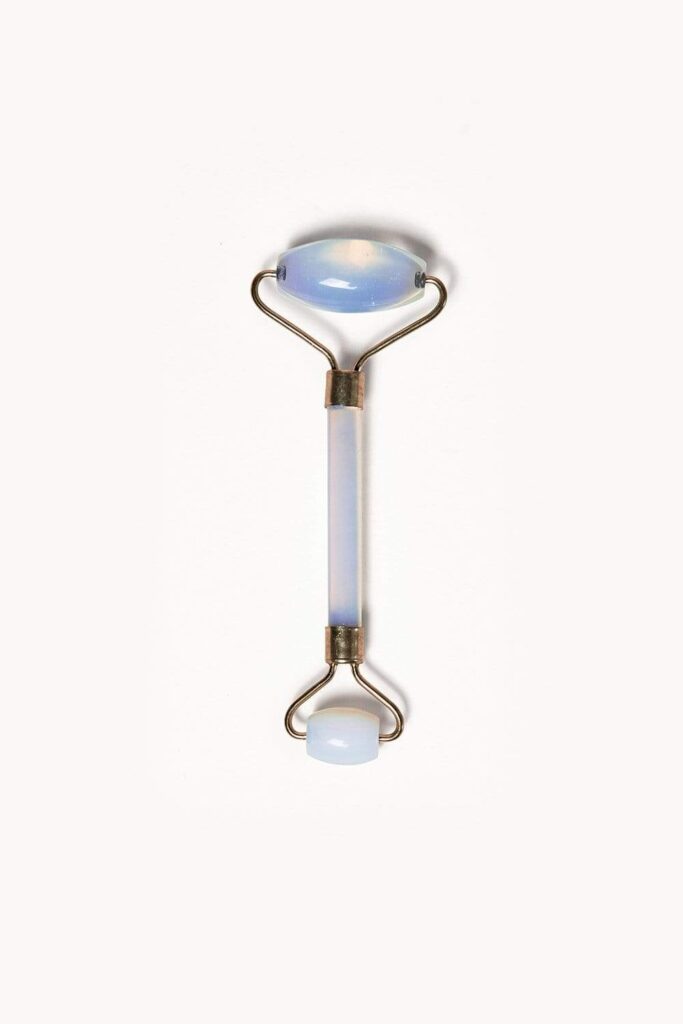 One of the perks of self-isolation is how creative a bored millennial can get with the midday break. Picture it: daytime sweats, a very carb-heavy lunch, and some skincare. Truthfully, I bought an opal face roller for the aesthetic and I stand by that decision. Because opal is a crystal of creativity, I popped on a little Youth to the People Superfood Firm and Brighten Vitamin C Serum and decided to see if it would help with my writer's block. Trying to spark creativity in quarantine is my own personal hell, so I was a little desperate for this one to work.
I wasn't surprised that rolling aided in overall better absorption of the serum, but I was surprised that the opal didn't seem to stay as cool as the other stones in my collection. One of the reasons that face rollers are so effective is that even if you choose not to store them in the refrigerator, the consistently cool temperature of the stone is usually key in depuffing. It's shockingly difficult to get reputable information on whether or not you're buying real stone when it comes to rollers, so it's entirely possible that I ended up with a fake. Tracking down retailers who have the real deal in stock may be the most challenging aspect of face roller collecting. I guess I've found my new quarantine hobby.
Jade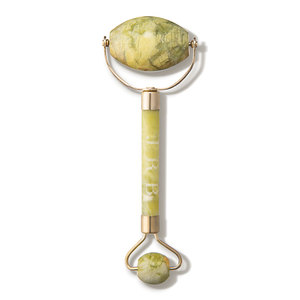 For nightly care I went with the OG – the jade roller. Everyone loves a theme and since I don't regularly apply enough serums and oils to be able to test four types of crystal rollers, I decided to pair my beautiful, rich green, jade roller (picked up somewhere in Chinatown, San Francisco) with Sulwhasoo's Radiance Energy Mask. This sleeping mask features crushed white jade – very dynastic – and the scent is pleasantly earthy but not so overwhelming that I can't fall asleep whilst wearing it.
Using a roller to help apply a sleeping mask is an absolute game changer. A lot of my frustration with sleeping masks has always been rooted in the amount of absorption time required before going to bed. Either I play a long, boring, could-have-been-asleep-by-now waiting game, or risk smearing an expensive cream on my expensive silk pillowcase (both of which I bought to pamper my skin) reducing the efficacy of both. The ritual of bedtime rolling also helped me to fall asleep more quickly, which was a surprisingly welcome development after a few weeks of social distancing.
Rose Quartz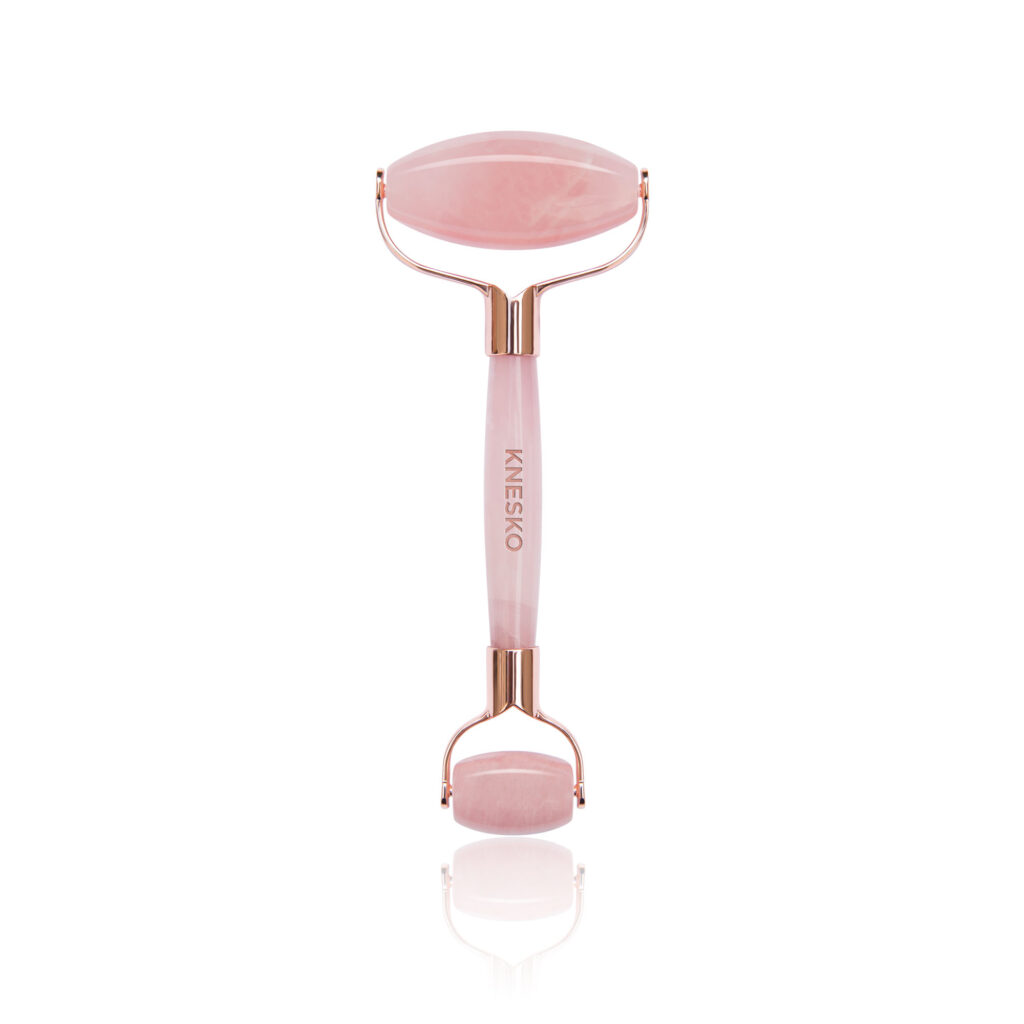 If crystal face rollers were a dynasty, jade would be Empress and rose quartz would be Princess of the First Rank. The first widely available crystal iteration of the OG jade roller, the rose quartz roller is iconic in its own right. Most commonly known for helping to attract love of all kinds, rose quartz can be particularly potent as a part of any self-care ritual. Weekends are for masks and rolling your sheet mask is a total skincare pro move. Because it's all about loving yourself (and pretending you're an empress) ditching the simple sheet mask and going for something a little more luxe is totally apropos.
The KNESKO Antioxidant Collagen Mask and Rose Quartz Roller Set is a total two-for-one – consider it a rite of crystal roller passage. Rather than acting as a daily ritual, I approached this ritual as a way to reset. Justifying self-care when you've been at home for weeks on end is tough. Creating a relaxing space in what has now become your office is even more difficult. That being said, after a couple of sheet mask rolling sessions my mind felt lighter, and I could see a light at the end of this quarantine tunnel. And that's good enough for me.
Related