Behind the Wheel: 2020 Mercedes-Benz AMG 53 GT
Mercedes-Benz
Mercedes-Benz has grown and added to its lineup past the point of most mortals' ability to keep things straight.
Make a list of what you want, no matter how specific, and there's probably something from the German luxury titan that will perfectly fit the bill. Need four doors? Leg room in the back? Something that's visually positioned to drop jaws at every intersection? Do you desire a performance focus and decent fuel economy? A blending of sedan, coupe and wagon design elements at different angles? A car that's poised to tackle the likes of the Porsche Panamera 4S, and look way better while doing it?
It seems an almost unreasonable list of wants to be encompassed in one vehicle. Yet, just last year, Mercedes-Benz delivered us the gorgeous GT 53, checking most of the boxes on our list. With only a year of life, 2020 simply adds Emotion Start, a feature to be found on AMG models, which I was lucky enough to have. This endows the engine with an extra edge when it's first fired up, reminding driver and passengers alike that this isn't some boring, old, four-door sedan. Doorsills now come with standard illumination as well.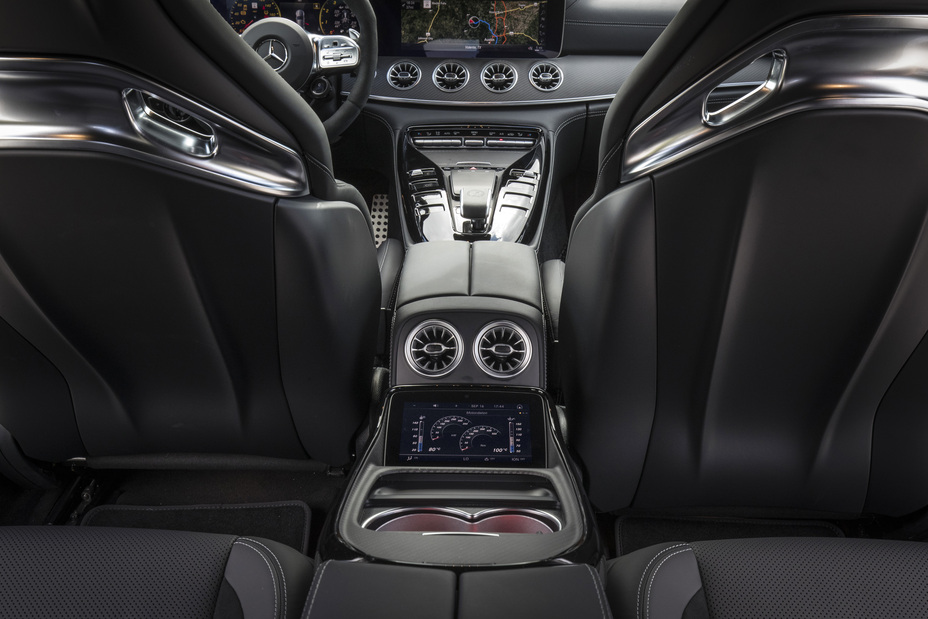 As far as first impressions go, the AMG GT 53 starts off on the right foot. It's both bold and beautiful; aggressive, but also sensual, luring you in for a closer look. Its long nose, low stance, and rounded-off backside create a profile that's sure to stun. Oversized 19" wheels are styled with five split spokes, a deep outer lip, and slotted brakes tucked behind. Four polished AMG tailpipes exit at the rear.
The heart and soul of the new AMG GT 53 is the enhanced 3.0L I6 turbo engine with EQ Boost. A 9-speed TCT performance transmission from AMG helps manage the 429 hp with efficiency and ease, providing a gear for every possible driving scenario. It also ensures very quick acceleration, making it hard to resist the urge to blow past slower traffic. 0-60 can be achieved in 4.4 seconds. Equipped with AMG's performance 4MATIC+ variable all-wheel drive system, you'll never be in search of traction, whether planting pedal firmly to metal off a stop light, or winding down a mountain pass through torrential rain.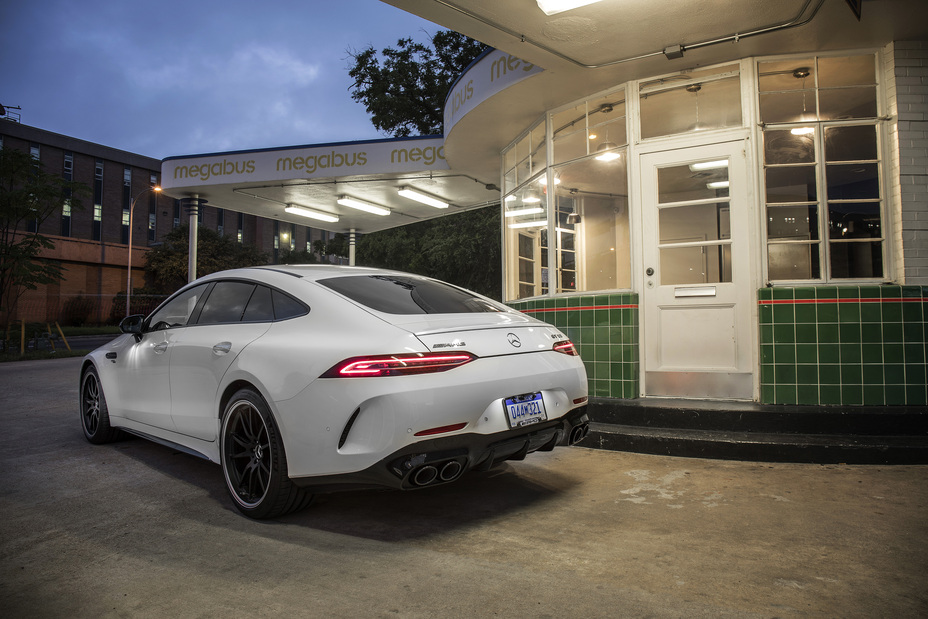 I could drone on and on about a perfectly weighted steering feel, the continuously adjusting torque delivery, sharp turn-in, gobs of grip, and exceptional balance. In short, it drives as well as it looks, which is very high praise. Numerous driving modes make tailoring the GT 53's driving dynamics all the more quick and easy. With a brand that's responsible for the lavish Maybach and plush S-Class, we have a right to expect uncontrolled greatness on the inside. Here especially, the GT 53 does not disappoint.
Anyone familiar with newer Mercedes models will recognize the shining, circular air-vents and sweeping ambient lighting. Premium materials compete for space. Metal panels, in a soft, satin finish, hug large swaths of open pore wood panels, almost silver in color, with a grain pattern so prominent, it reminded me of ocean waves rolling up a wide, sandy shore, curving around the cabin, smoothly flowing past air vents and other controls. An AMG performance steering wheel is wrapped in Nappa leather. It has a race car inspired flat bottom that communicates the fun to be had, better than any other single piece of the car could.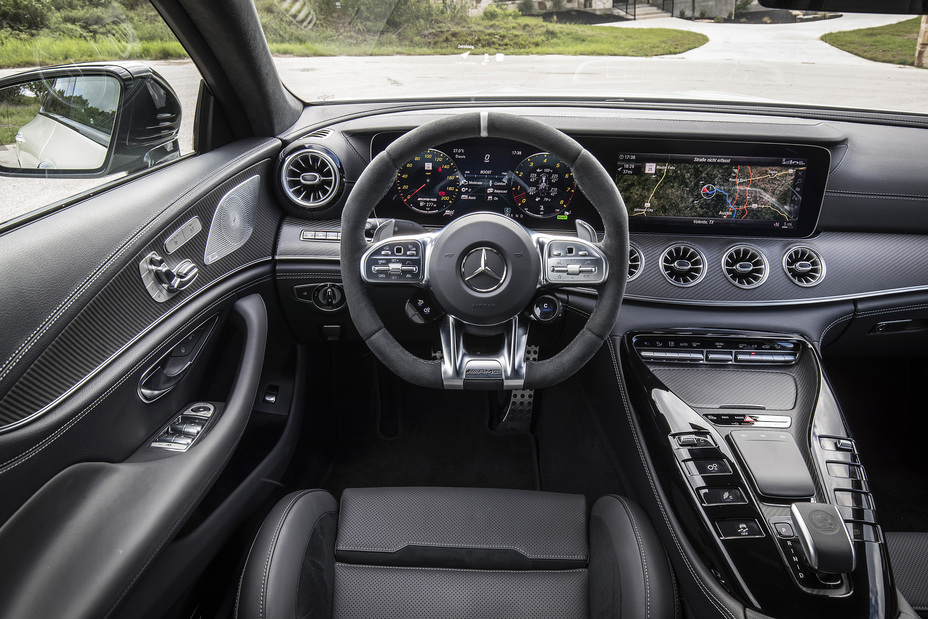 What's completely unique compared to other interiors I've spent time in, was the wide console between the front seats, featuring six buttons with tiny digital screens integrated in. These heavy, digital controls allow for quick adjustments to the exhaust note, suspension settings, spoiler position, traction control, and more. If you want the exhaust tone to snarl and bark a bit more, the spoiler to be up, but the suspension set to a nice, soft configuration; no problem! Firm suspension, spoiler down, exhaust quiet – also, not an issue. These bespoke, on-the-fly changes make the GT 53 feel like a car that's ready and able to deliver up exactly the driving experience your current mood is calling for.
See Also
In this way and many others, the AMG GT 53 requires few compromises to be made by any lucky owner. These driving settings, and others, are easily managed via not one, but two high-resolution, 12.3" digital displays, showing off in bright, color saturated graphics, every setting, feature, and function of the GT 53. The deeper into the infotainment software you dive, the more you'll find. A rear-window sunshade, three-zone automatic climate controls, heated seats in the back, and much much more.
The 2020 AMG GT 53 starts at $99,950.00. At this level, deciding whether it's worth every penny is entirely up to your individual personal preferences. If you brought a checklist of "must-haves" though, the GT 53 will have you checking off way more boxes than you'd initially expected to. It's bold and beautiful inside and out, with performance that will match your mood, and a digital interface that will let you quickly change your mind.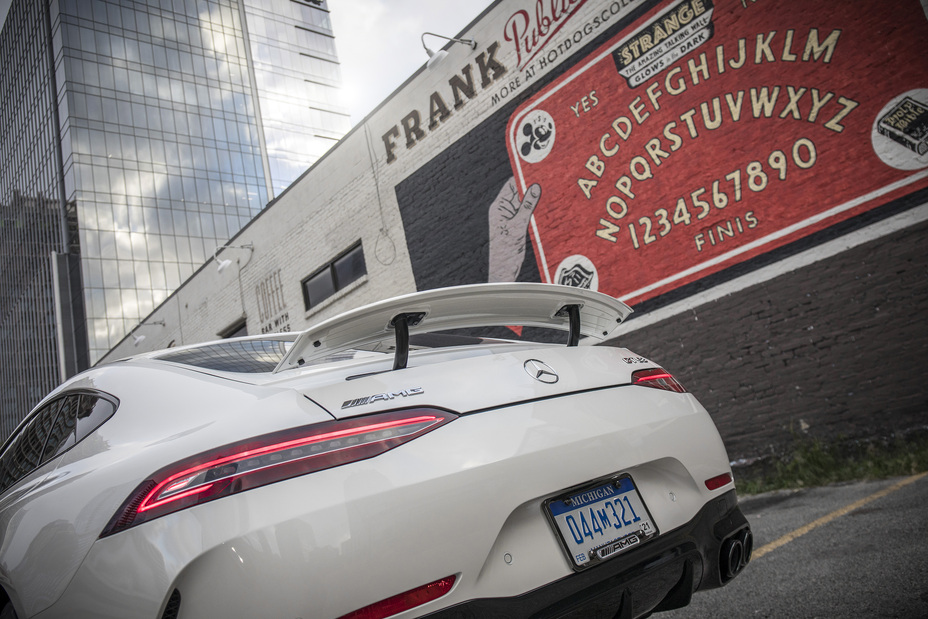 Related