The 2020 Rolls-Royce Cullinan
Rolls-Royce
This palace on wheels will set you back at least $332,750
The Cullinan is Rolls-Royce's first ever attempt at an off-road capable SUV. Before this, they'd never even made anything with all-wheel drive. To say they've ventured into uncharted territory with the newest member of their elite family would be an understatement. But if uncharted territory is where you're headed, there may not be a better vehicle to do it in.
In true Rolls-Royce fashion, their first-ever SUV is named after the single largest gem-quality rough diamond ever discovered. Like a rare gem, the Rolls-Royce Cullinan perfectly asserts itself as something singular, beautiful, and exceptional in every way.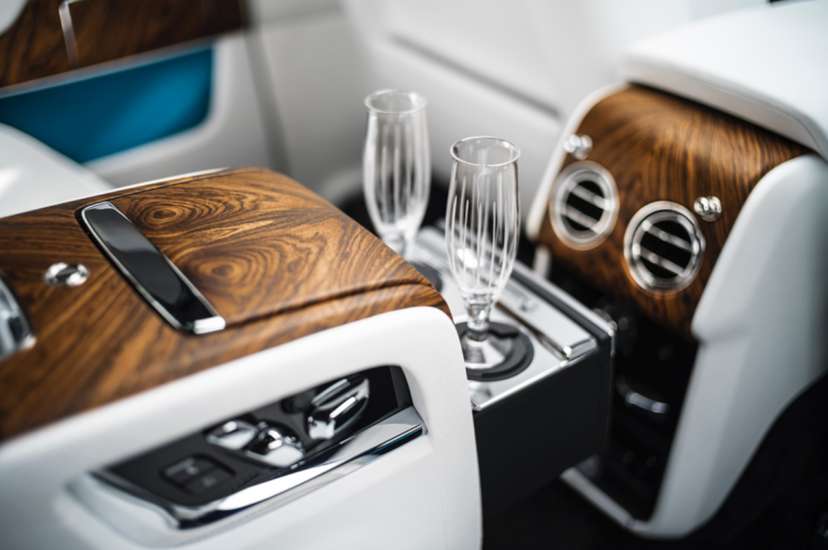 It seems an impossible feat to create a vehicle that's so capable and sure-footed off the road, without compromising the incredibly high luxury standards long established by a marque like Rolls-Royce. To even make an attempt is brazen, and you could bet that they didn't rest until it was as close to perfect as possible.
Critical to their success is a unique aluminum sub-frame. This serves as the platform from which talented engineers built on. Self-leveling air suspension is fed information by the many sensors and interpreted by the many computers aboard the Cullinan. Taking in millions of calculations every second to cushion, adjust, dampen, and smooth out every rugged road obstacle in its path, it accounts for acceleration, braking, pitch, roll, subtle steering cues, and even information received from the cameras. All this, while still delivering a ride that's stable and fairly agile.
Left alone, the Cullinan is every bit the soft, supple Rolls-Royce that must be experienced to truly be believed. To unleash its full off-roading capabilities, though, you're just a button-push away. Punch that, and the Cullinan lifts up an extra 40 mm, and all-wheel drive is activated— delivering uninterrupted torque to all four wheels. Brake and acceleration responses adjust for optimal performance across a wide variety of terrains, gradients, and precarious surfaces.
All of this culminates into a quiet, smooth, near-perfect ride both on and off the road. You may be maneuvering an adrenaline-pinching hill climb, but you'll be doing it with complete grace and in absolute comfort. The Cullinan offers full customization to cater to every whim of the proud new owner—a truly collaborative process with some of the most talented craftsmen in the industry. They are there to help you create a car that's unique to you. 
Luxurious amenities that would otherwise be entirely out of place in an SUV as capable as this somehow seem right at home in the Rolls-Royce Cullinan—from the sound-insulated partitioned glass to the seats that recline, massage, and generally just pamper in every conceivable way. Every piece of soft leather, shiny metal, and rich wood is perfectly implemented. Truly, no stone was left unturned in the pursuit of the very best in every piece, part, and detail. It would seem that Rolls-Royce has delivered on the incredibly difficult task of maintaining their heritage of pinnacle luxury, all while building an all-wheel drive, off-roading Hercules—a formidable specimen of beauty and brawn.
2020 Rolls-Royce Cullinan, Starting at $332,750
Related