Dutch ovens are having a moment.
Pre-2020, they were primarily the domain of restaurant chefs and serious home cooks, the kind of ravenous souls who read cookbooks like novels and obsessively refresh Smitten Kitchen's Instagram feed (ahem, us). They were spotted on nearly every wedding registry, but rarely on an average person's stove.
Cut to this spring, when the world found itself shutting down, staying home and cooking a lot more. Suddenly everyone was a baker, hoarding yeast and feeding sourdough starters. Daylong dishes were no longer confined to weekend cookery, since you could easily pop over to the range and stir a Bolognese between Zoom meetings.
"Our sales are so far up on Dutch ovens," says STAUB chief marketing officer Joanna Rosenberg. "Like way, way, way, way, way up." The legendary French cookware manufacturer (now owned by Germany-based ZWILLING J.A. Henckels) is "one of the two big names in cocottes… I think we all know the other one," she says with a laugh. Beloved by James Beard Award winners (Tom Colicchio), food bloggers (Half Baked Harvest's Tieghan Gerard), food magazine editors (Bon Appétit) and celebrities (Gwyneth Paltrow), STAUB also boasts a cookbook and food tools both classic and contemporary.
Rosenberg chatted with us about STAUB's rich culinary heritage, pandemic cooking, sustainability and more.
Why STAUB? What differentiates it from other Dutch ovens?
There's really a difference in the stuff that's made in France versus made in other countries. The French just have such a history of doing it that they have perfected a few things. One is the wall thickness and the ability to handle stress. When I say stress, it can be a couple different things. It can be temperature stress, meaning going from high to low temperatures. Then it can also be what's called mechanical shock, which is [the pot] banging into things or dropping. The more it can handle stress, it means you won't have issues in a small way, like chipping of glazes, and in a big way, that you have something going from cold to hot pretty quickly and it can crack [if it can't handle stress].
We have unique glazes that we use both on the inside of the pot and on the outside of the pot. All our pieces have our black matte enamel interior, and it's studded with tiny pieces of quartz. If you run your finger over it, you can feel it has a little texture to it. That specific enamel does a few things. One, it's incredibly durable. STAUB is definitely popular in home kitchens, but it's really popular in restaurant kitchens, and one of the reasons is that black enamel interior, which they also use on the exterior in restaurants and is super-duper durable. The other thing those little peaks and valleys of quartz create is exceptional browning. We do head-to-head tests, and it'll always come out best in the black enamel interior. No stains show up on that black enamel interior, so it always looks great even after it's been used a ton of times.
How was it developed?
Francis Staub, who started STAUB, and [famed French chef] Paul Bocuse were really good friends. They lived in a similar area near Lyon, and they actually sketched out the first STAUB cocotte together on a napkin in one of Paul Bocuse's restaurants. Originally, they created it for restaurants around Lyon, and then it expanded to more of France. [Staub] was friends with tons of chefs. He was a real eccentric.
One of the big challenges is [Bocuse] wanted to do braises, like long, slow-cooked meats, and they tried to figure out a way to have the juices evaporate – in terms of steam – but then rain back down on the food in an even kind of shower effect, and not just go around the side. The combination of a flat lid and those little bits that come down make it so that you have the condensation. It hits the lid, and then it showers down evenly instead of running down the sides of the pot.
And how does it compare to its main competitor?
I think Le Creuset makes wonderful products. I really don't have much bad to say about them. But they're two different products. STAUB always comes with a metal knob. Sometimes it's stainless steel and chrome. Sometimes it's brass. Sometimes it's copper. But from the beginning, it's always been metal. The thing about metal: It's a little trade-off. Sometimes, if you have that phenolic or plastic knob, it stays cool longer, but the metal knob can go to really high temperatures. So if you want to do your no-knead bread at 450 degrees, or you want to be able to throw it on the grill, or you're doing anything in a really high oven… there's a lot more flexibility when you have a metal kob than when you have a plastic knob.
Do you think Dutch ovens truly are having a moment? People who don't even cook that much are investing in them, likely due to the pandemic and the boom in baking and cooking. What have you seen?
I think it used to be that people who are into cooking would eventually get a Dutch oven, but it definitely wasn't [a staple], like, "I need my frying pans. I need my saucepan. I need a roasting pan." But now, it's like, "Oh, you definitely need a cast iron Dutch oven." … We just see it from our sales. They are through the roof on them.
It's funny. We deal a lot with the big retailers, and there have been waves since the pandemic. The first thing that really spiked was coffee [makers]. Everybody all of the sudden had to be home, and we were all like, "Ah! I need a new coffee maker!" The second things that totally spiked were Dutch ovens and loaf pans. You know, it was like, "I'm making banana bread, and I'm going to make sourdough." The biggest problem right now is just keeping them in stock.
Is there anything you can cook in a Dutch oven that surprises people?
I use mine for everything. I don't know what you'll consider obvious and what you'll consider a little bit more unusual. Definitely any kind of soup, whether you're making chicken soup or minestrone. And stews, which go from your short ribs to your chilis to your moles. I think we [tend to] think of maybe French and American kind of stuff, or maybe Italian [as go-to Dutch oven dishes], but these are incredibly popular in Japan. They're really popular in China.
Dutch ovens are amazing for deep-frying. Whether you're deep-frying chicken or fries or wings, they work really well. I use mine all the time for a shallow fry, something that normally would call for a sauté pan or a fry pan. I like to use the Dutch oven because it just doesn't make such a mess on your stovetop.
Any sauce, especially a tomato-based sauce. You really want to make sure you have an enameled Dutch oven on that. Baking. The other thing that is quite popular, especially with a smaller size Dutch oven, is any kind of grains. In Japan, they think that cast iron is the best thing for making rice. You could be making your farro, your quinoa, whatever it is. If you have a smaller size Dutch oven, you could just put it in the fridge with your leftovers. In Italy, they love the Dutch oven for risotto. They think that the texture of the black enamel helps get the creaminess going in the rice.
Is there anything else you want to add?
I think sometimes it's a scary price point, depending on how big it is. You might get a really good deal on a special promotional one and it's $100, but you might be spending $350. That's a lot of money. I don't necessarily spend that every day. But it is something – more than almost anything I could think of – that people who buy it are so happy with. You will use it all the time. It will last you forever… It's just something people feel so good about after they've owned it.
Not only is the product made to last a lifetime, but from the manufacturing standpoint, it's a thoughtful, sustainable manufacturing process. We have several different factories in Europe, and sustainability is handled from a very different perspective. These factories have people who've been working in them for generations and generally live very close to the factory. And their concept of sustainability is: This is the community they're from for generations, and they plan on being in for generations. [There is] respect for the land and the water and the air quality. There's just a ton of thought that's put into this and what it does to the immediate community. [They're] making sure it's not taking away from, but only adding to, those communities.
---
Break out your STAUB and try this recipe from James Beard Award winning chef Dan Kluger's new cookbook, Chasing Flavor: Techniques and Recipes to Cook Fearlessly.
Roast Chicken on a Bed of Vegetables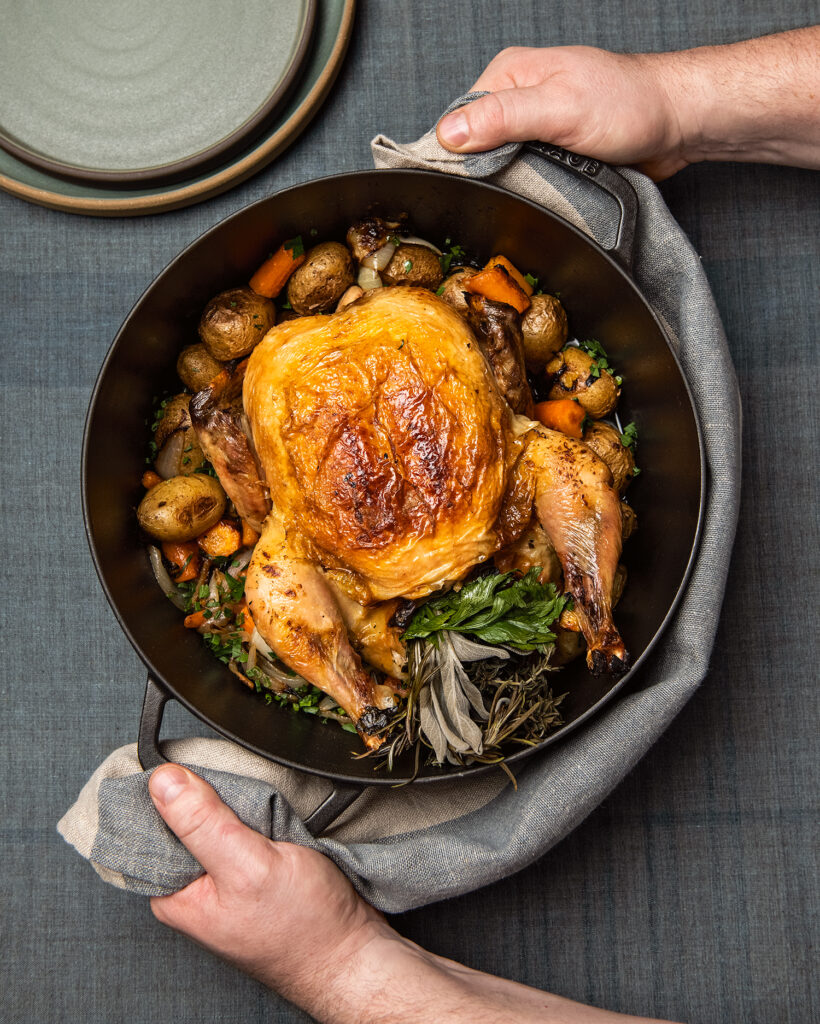 Makes 4 servings
My kids love roast chicken and vegetables, so this is a one-pot dish I frequently make for them.
You've likely seen dozens of roast chicken recipes that promise perfectly browned, crispy skin. I honestly don't see what all the fuss over crispy skin is about: When your goal is crispy chicken skin, you usually sacrifice the moisture of the meat inside. Plus, once the bird is rested and carved, most of that crispy skin will get soggy with the steam and juices that are released. Instead, I use my favorite method for roasting a chicken, adapted from Jean-Georges Vongerichten's, in which he bakes the bird in a roasting pan filled with chunks of potatoes (a recipe he calls Potatoes That Taste Better than the Chicken.). Instead of a roasting pan, I use a Dutch oven, which helps keep the bird extra moist. (Steam is usually talked about as the enemy of roast chicken, but here it's an ally.) As the chicken cooks, its juices and fat get absorbed by the vegetables, making some of the best roasted carrots and potatoes you've ever tasted.
The Takeaway
The Dutch oven method itself is this recipe's main takeaway, but I use a couple of other tricks that you can borrow no matter how you approach roasting a chicken. First, I make a 2-inch slash in the thickest part of each leg, which will help it cook at the same speed as the breast. And I cook the bird breast side down for the first 10 minutes of roasting, which steams the meat and helps the breast meat stay extra-moist.
1 pound baby potatoes, fingerling potatoes, or halved small potatoes
4 medium carrots, cut into 1-inch pieces
1 large onion, cut into 1/2-inch wedges
2 garlic cloves, finely chopped
4 tablespoons extra-virgin olive oil
Kosher salt and freshly ground black pepper
One 3- to 4-pound whole chicken
1 bunch herbs (such as thyme, rosemary, sage, marjoram, and parsley)
1/2 lemon
1 red finger chile, thinly sliced (with seeds)
2 tablespoons chopped parsley
2 tablespoons chopped chives
Flaky sea salt
Preheat the oven to 450°F. In a large bowl, toss the potatoes, carrots, onion, and garlic with 3 tablespoons of the olive oil and season with kosher salt. Pour the vegetables into the bottom of a Dutch oven or large saucepan.
Rub the chicken with the remaining 1 tablespoon olive oil and season all over with kosher salt and pepper. Stuff the bunch of herbs into the cavity. Cut a 2-inch slash in the thickest part of each leg. Place the chicken on top of the vegetables, breast side down, and roast, uncovered, for 10 minutes.
Flip the chicken and continue roasting until an instant-read thermometer inserted into the thickest part of the thigh reads 165°F, about 45 minutes longer. Transfer the chicken to a cutting board and let rest for 10 minutes before carving. Meanwhile, check the vegetables; if they aren't completely tender, return the pot to the oven and continue roasting until they're finished.
Carve the chicken. (I like to carve the bird into eight pieces: four breast pieces, two thighs, and two drumsticks.) Scatter the vegetables on a serving platter and arrange the chicken pieces on top. Squeeze the lemon over the chicken. Sprinkle with the chile, parsley, chives, and flaky salt and serve.

Excerpted from CHASING FLAVOR: Techniques and Recipes to Cook Fearlessly © 2020 by Daniel Kluger. Photography © 2020 by Evan Sung. Reproduced by permission of Houghton Mifflin Harcourt. All rights reserved.