A guide to dinner party floral arrangements.
Dinner parties are a decades-old tradition that were once a quintessential experience in the lives of the elite. Hosts spent days preparing the menu, the china, and of course the flower arrangement. Civilized ladies and gentlemen arrived promptly at seven o'clock (dressed to the nines, naturally) and enjoyed cocktails, conversation, and a meal.
As times and trends have changed, though, so has the art of the dinner party. Its seamless blend of laid-back elegance shifted more towards casual than chic, and an invitation to a dinner party was either an outdated experience for a small group of friends or a far too formal engagement with a seemingly endless guest list. Intimate gatherings gave way to grandeur. 
But now, the dinner party is back in a big way.
Intimate gatherings are now a necessity, and dinner parties are the answer to socially distanced get-togethers. Curating the perfect dinner party comes down to a single, essential element – the table. And there's nothing that elevates a tablescape like an expertly crafted floral arrangement. Even more impressive and rewarding? Creating it with your own hands. There's no bigger flex than answering the 'oohs' and 'ahhs' with an admission of floral design mastery.
Sarah Watts is the owner and lead designer at Sarah's Garden, a luxury floral design studio in Tempe, Arizona shared five steps to designing an elegant dinner party flower arrangement that is guaranteed to take your party from DIY to designer.
CHOOSE FLORAL & MATERIALS – Determine your color palette. Usually a monochromatic palette or analogous colors make for a very striking look. Consider the colors in your home and table linen, dishes, etc.. Are you going for a more casual event, or an elegant look? Do your dinner guests have a favorite flower? Do you like several different stems, all the same bloom or just a few different flowers? The vase can also help to create the aesthetic you're going for.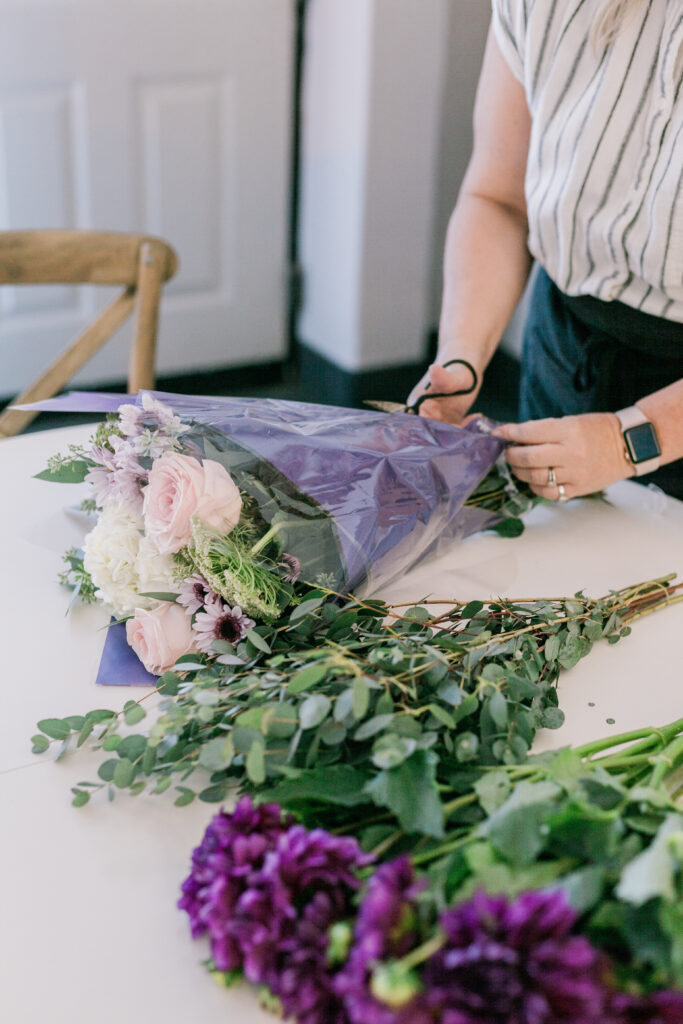 PREP- Create an armature with chicken wire inside the vase, tape it on, fill with water and put half of the flower food in. Then, grab sharp flower snips or a floral knife. These ARS Pocket Shears are my favorite. Trader Joe's and Whole Foods have beautiful mixed bunches, but your arrangement will be a lot more attractive if you separate out the different blooms rather than giving them all a cut and plopping them in a vase. If you are using roses, take off the guard petals and reflex back the petals to make them look lush and full. Clean all of the bottoms of the flower stems to make sure there are no leaves in the water, which will keep it clean, and help the arrangement to last longer.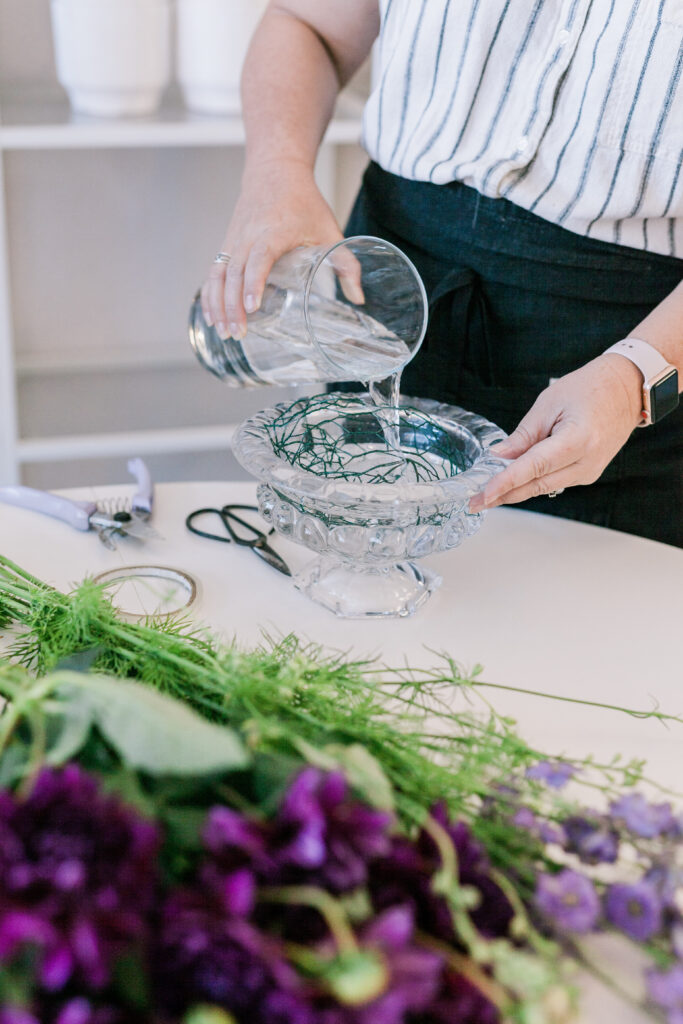 DETERMINE SIZE – Consider the size of the table and how people will be seated. You want to be sure that the arrangement is below the chin line for visibility and conversation. What else will be going on the table? Will the food be served family style or plated? Large plates? Stemware for wine pairings? Multiple courses with a lot of flatware? Candles? If you feel like you purchased too many blooms, you can add the extras to some bud vases and put them where the food will be displayed or in the bathroom with a candle for a cozy touch.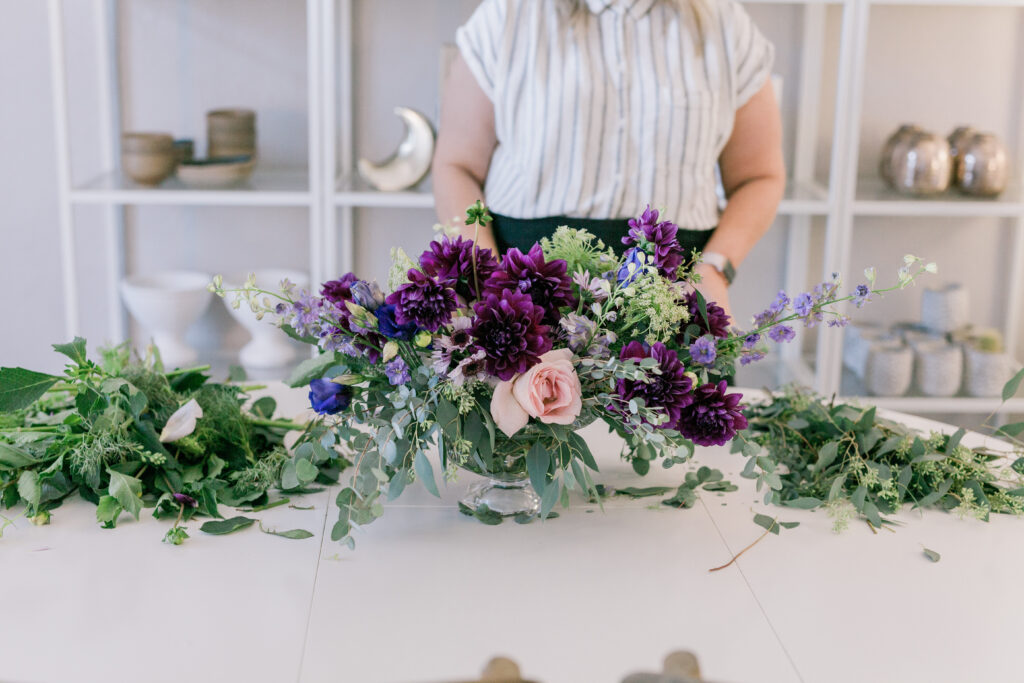 ARRANGE FLORAL – Hold the stems up to the bottom of the vase to make sure the height is correct and then cut at a 45-degree angle. This allows the maximum amount of space on the end of the stem to drink water. Place greenery first, large blooms low and smaller more linear blooms kept taller. Make sure the flowers are all the way down in the water. Be sure to cover all of the mechanics including the chicken wire and tape.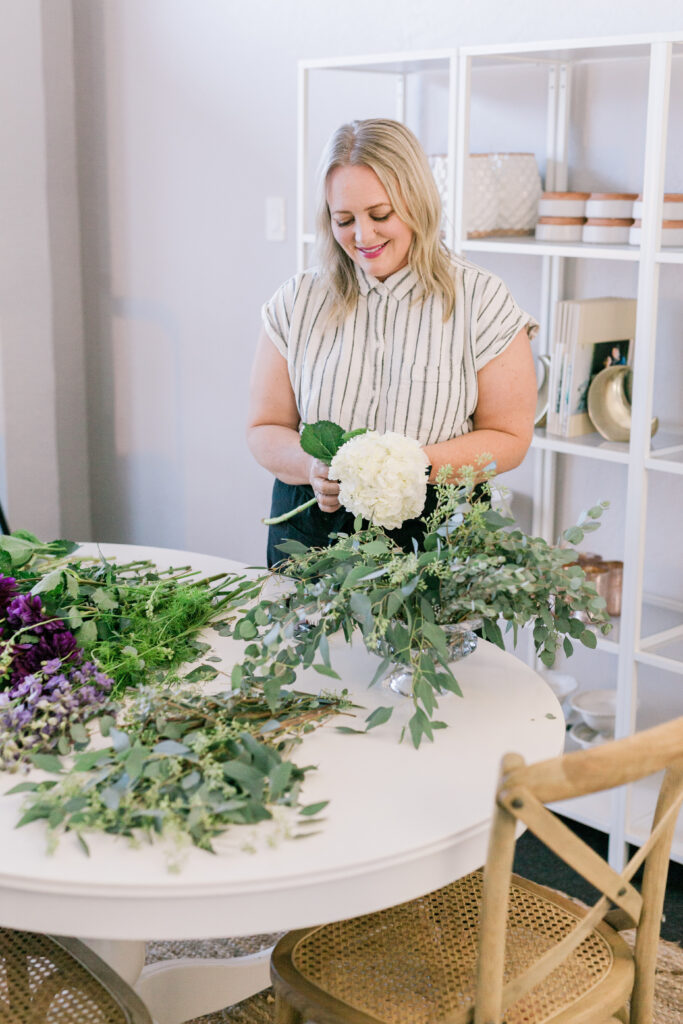 COMPLETE THE LOOK – Grab some coordinating candles. Tapers and votives are great paired together and then set the rest of the table.
Sarah's Garden: 1835 E 6th St. Suite 8
Tempe AZ 85281 480-323-6272
Images provided by Karie Denny of Ace and Whim.