Behind the Wheel: 2022 Mercedes-Benz EQS 580
Mercedes-Benz
Mercedes-Benz have all but mastered the art of luxury. They've chased this dream since it was just Daimler and Maybach in the late 19th century. They've tirelessly pursued perfection, from their beginnings at the tail end of the Industrial Age, spanning numerous generations through two world wars, market globalization, the internet, to finally the latest, and maybe most exciting new frontier: the age of all-electrics. 
To a brand as seasoned as Mercedes-Benz, this new challenge is just the latest opportunity to show what almost one and a half centuries of experience can teach you. Cue the EQS 580. 
It's a five-passenger, 516 hp modern marvel; sleek, sexy and sumptuous. 631 lb-ft of torque from its dual synchronous motor catapults it from 0-60 in just 4.1 seconds. It will ride whisper-quiet, or can shift into a more aggressive mode and charge forward with a futuristic whirr, like a pissed-off Imperial Tie fighter. Interior lighting shifts to an angry red as you're pushed way back into your beautifully contoured, buttery soft seats, the massagers set to deep tissue.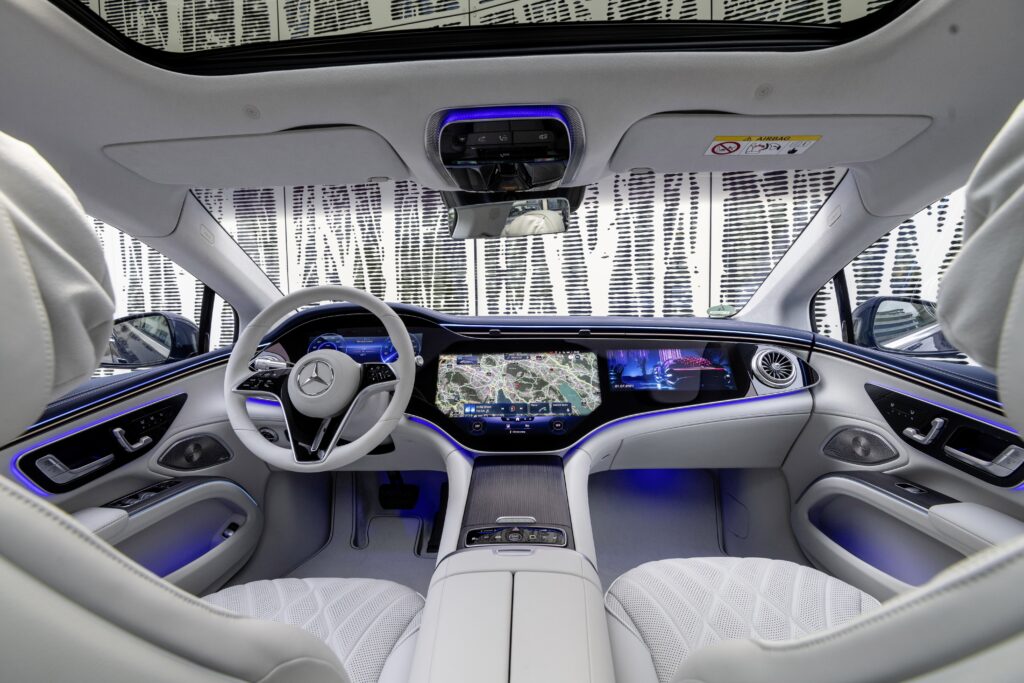 Let's circle back to the interior. LED lighting, adjustable to whatever color combination you'd like, is tucked just out of sight. It flows through the interior space, softly illuminating armrests and door panels, lining the seats, and framing the enormous MBUX hyper-screen. Shifting and pulsating to match the way you're driving, it provides visual feedback that adds an immersive layer to the whole experience. To further involve all of your senses, the EQS 580 even pumps fragrance throughout the ionized, air purified cabin. 
But without question, the MBUX display is the crown jewel of an already deeply impressive interior space. Made up of several separate screens, they join together seamlessly under an enormous 56-inch piece of gently curved, high-tech glass. This hyper-screen uses A.I. to bring the most vital commands to the forefront. It learns your preferences and prioritizes them over others, minimizing distractions and creating one of the most intuitive and user-friendly experiences I've ever seen in a car. All in bright, crisp, beautifully styled graphics. With haptic feedback and a whole section just for the passenger to operate, there are up to 7 available profiles to customize and individualize content.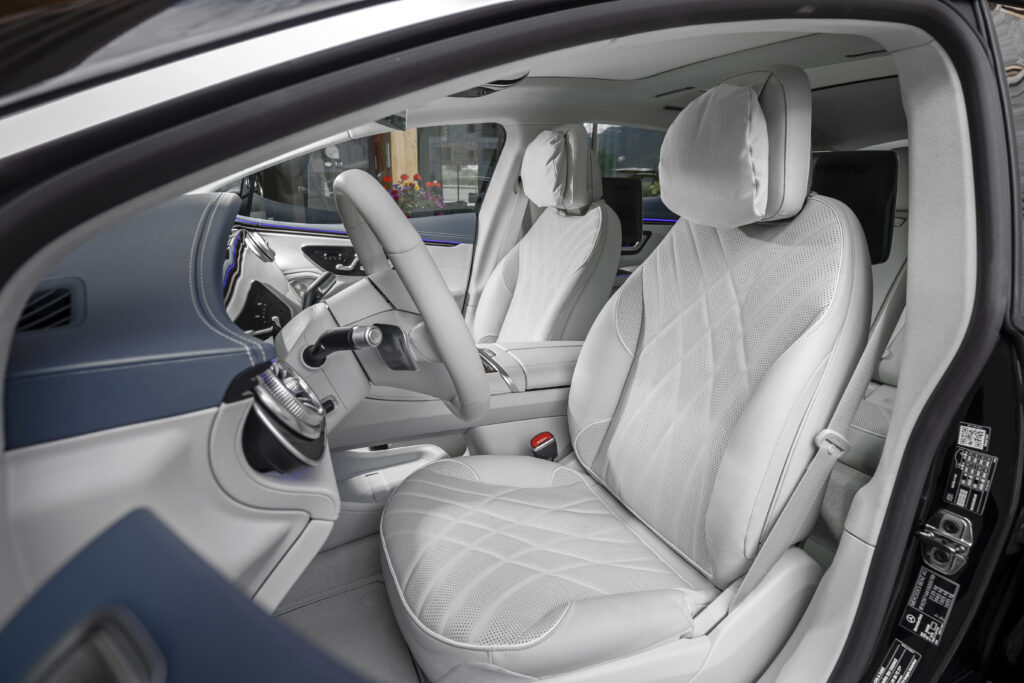 When faced with the unique challenge of creating your first all-electric luxury sedan, Mercedes-Benz didn't just rise to the occasion—they re-defined the standard. They've set the bar for what a luxury EV should look and feel like, right now, and for many years to come. The EV market is just emerging. Free from the constraints of what was done before, a unique opportunity exists for auto manufacturers to make bold design choices with this special segment. Be especially imaginative, creative and a little crazy with these budding EV models. The EQS 580 is a tremendous example of what can happen when you draw from nearly 150 years of experience, while simultaneously implementing some big, brassy tech and surprising design elements. The result is a truly impressive EV luxury sedan that's completely set apart from the pack in ways that only Mercedes-Benz can deliver. 
Starting MSRP: $125,900 
Related