The 2021 Mercedes-Benz S-Class Hides its Luxe on the Inside
Mercedes-Benz
Every new Mercedes-Benz S-Class is a momentous opportunity for heads of state and captains of industry to go big or go home. So the cognoscenti might have to excuse the just-unveiled 2021 Mercedes S-Class for being a bit, well, austere. Sacrebleu, what the hell's happened to our beloved supersedan?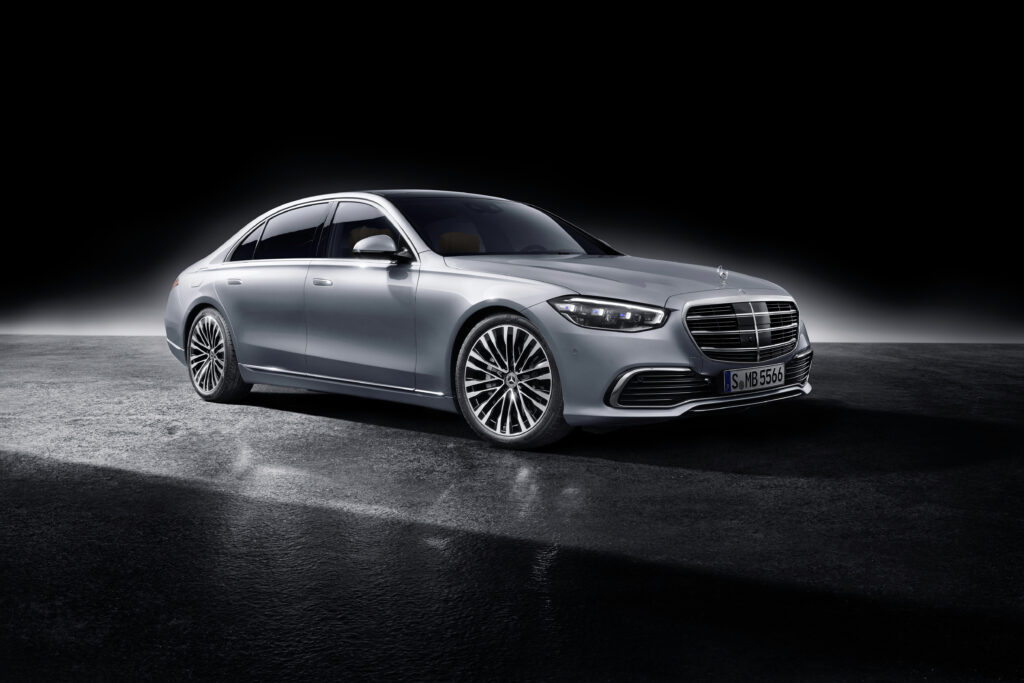 Gone is the grandiose stance, the playful interplay of character lines on sheetmetal, the plebian-crushing imperiousness. The latest grande dame is less old school opulent, more postmodern neutral. "Maybe understatement is a bit more desirable these days," Mercedes's Senior Exterior Design Manager Eugen Enns offered during a private preview of the latest flagship. Go on, we're listening.
Given these curious times, it seems only natural that a monumental sedan would throw a curveball at the most astute of luxury fanatics. After all, this is an era when the Audis and Benzes and Bimmers of the world are reaching ever closer to top tier specimens from the likes of Bentley and Rolls-Royce. But at least with the Mercedes S-Class, which debuts with a 429 horsepower six-cylinder (S500) or a hungry 496 horsepower V8 (S580), the real magic starts when those Tesla-like door handles extend and you climb inside the cabin.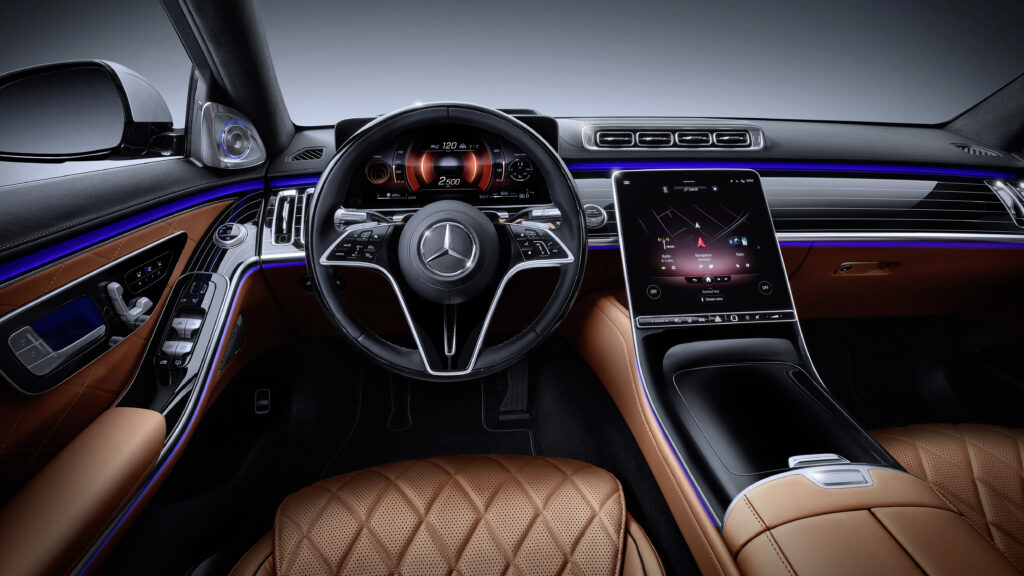 Big dollar four-doors are usually all about the rear seats. And indeed, the two lucky (or three slightly less lucky) rear occupants are treated to a massive expanse of legroom and reclining seats with massage capability. Up to five screens now enable inter-seat communication, and party tricks like sending navigation destinations to the driver (Papa can you hear me?) A nifty bit of cushiness, considering this kind of doodad is usually reserved for XL-sized family haulers.
But up front is where things get interesting. This is ostensibly the non-business end of the sled, because it's merely responsible for scooting those lounging VIPs behind from A to B. Yet the environment is a visually harmonious one that's preceded by a waterfall dashboard that seems to spill seamlessly from the base of the windshield, with a 12.8-inch organic LED screen that floats vertically in that oh-so-contemporary way, replete with fingerprint, face, and/or voice ID. Tap deep into the recesses of the fanciest crevices of your cerebrum, and you'll recognize the dashboard's elegant slope from its inspiration, the rearward tail section of a Riva yacht. A large swath of the dashboard can be finished in everything from open-pore wood to aluminum to carbon fiber, setting the tone for the otherwise understated cockpit for a bit of textural splash.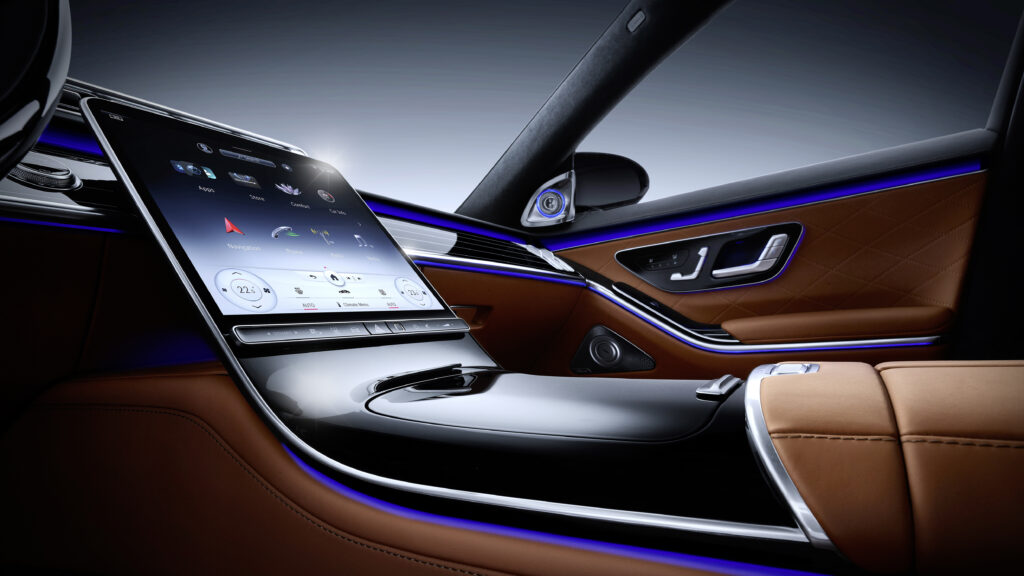 Sure, the S-Class's front perches are among the best in the business, offering all manner of efficient heating, cooling, kneading, and if you're into multi-sensory stereo equipment, a bass thump you can feel along your spine— which is why they call the optional 30-speaker Burmester setup "4D." The audacity. But the big news here is comes with one fewer dimension: The optional instrument cluster that displays graphics in, you guessed it, 3D. This is a potentially gimmicky trick that will likely make skeptics frown. But the execution is actually shockingly effective, depicting three-dimensional spaces with convincing depth. My favorite configuration drops a small, diorama-like representation of your Mercedes-Benz S-Class into a realistic satellite-sourced landscape. Neat.
See Also
Do we wish this latest in a string of commanding sedans that goes back some 66 years was more outwardly charismatic? You bet your Daddy Warbucks dollar we do. However, the downplaying trend also happens to be all the rage at the moment, with stalwarts like Rolls-Royce embracing the sort of so-called "post opulence" aesthetic that would make John Pawson proud.
But to fully understand the new Mercedes-Benz S-Class's M.O., all you have to do is swing open the door and soak up the techy creature comforts, proof that the Germans still do one thing exceptionally well: Discretion.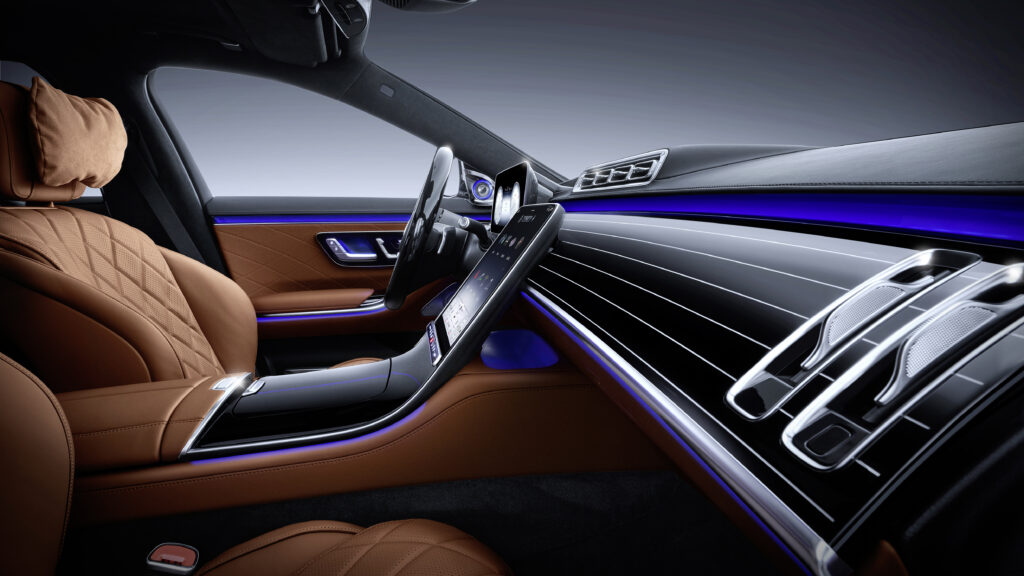 Related