Ducati x ATWATER Unite to Help Kids Heal with Art
Atwater
Chris Salgardo, CEO and founder of ATWATER, looks at-home on his Ducati. As a sophisticatedly-rugged, luxury motorbike owner you might never guess his veteran-status in the beauty industry. Upon taking a closer look — perhaps at the hydrated dewiness of his complexion, or the expertly-coiffed grooming of his hair — his past connection to companies like Shu Uemura and Kiehl's becomes more evident. 
His men's grooming brand, ATWATER, blends this industry savoir-faire with his personal principles, preferences, and style seamlessly. "There wasn't a simple, effective line of grooming products for men, nor a space where they could feel comfortable talking about skincare and grooming," Salgardo explains of the ethos behind his product launches. "That is the problem I am aiming to fix with my brand. I want to give men like me a no-fuss routine that will keep them looking well-groomed, and, in turn, make them more confident."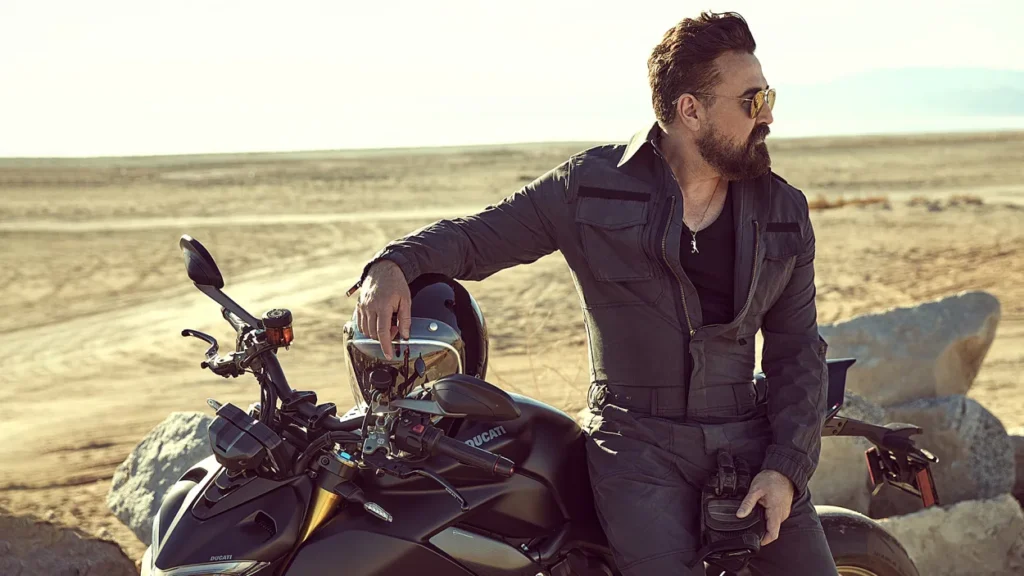 His longtime passions for motorbikes and philanthropic work express themselves beautifully in the context of entrepreneurial self-expression — perhaps his own form of art. Himself a Ducatisti (or Ducati-owner), Salgardo once rode a motorbike 13,000 miles across the country to raise money for causes related to HIV/AIDs, Ovarian Cancer, and Breast Cancer. (In fact, this very trip helped to give rise to the brand's name.) Now, Ducati and ATWATER have come together in a unique partnership to benefit the cause of helping children to heal through art through the non-profit organization, RxART.
The result was the limited-edition ATWATER Clean Impact AXD1 Body Scrub & Cleansing Bar, $17, the proceeds of which are donated to the charity's mission of commissioning contemporary artists to transform hospital treatment rooms into kid-friendly spaces. "I have been on the board of directors for RxART for 14 years," Salgardo says. "When I previously worked at Shu Uemura, I initiated the first corporate contribution to the organization in 2004… When I was at Kiehl's, I was able to direct support for installations at hospitals in Chicago, NY, and Los Angeles. Naturally, I was eager to support their latest project at the Nappi Wellness Institute."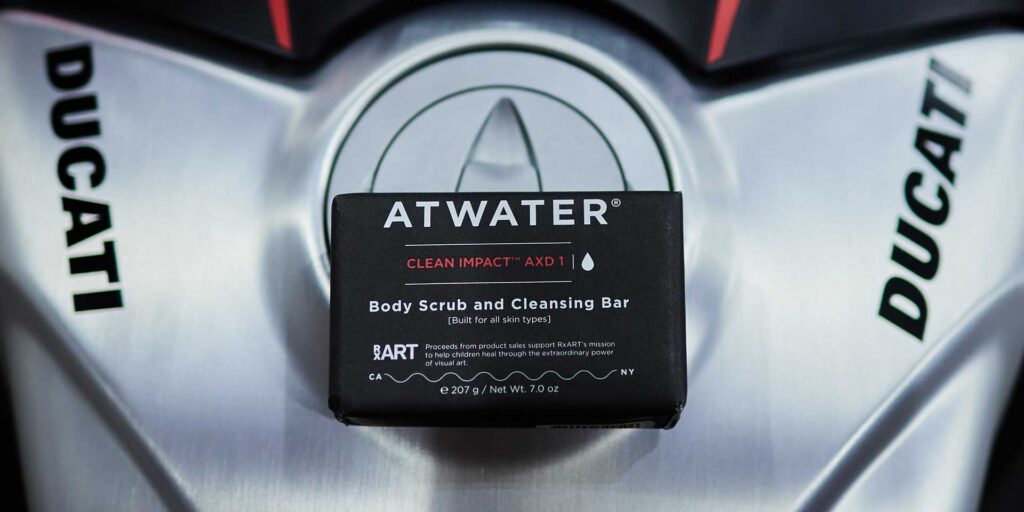 The overlap between ATWATER and Ducati came intuitively. "Collaborations are a natural way for Ducati and our partners to connect with each other's audiences because we only align ourselves with brands that share similar values. I have respected his dedication for men's health through skincare," says Jason Chinnock, CEO of Ducati North America. "With his launch of ATWATER, we saw an opportunity to work together in ways to leverage the strength of our brands and relationships, to bring awareness and support to those in need. It was a natural fit."
And let's not forget that Ducati represents the luxury niche of motorsports, whose streamlined aesthetic prioritizes agility and performance with a lineage rooted in Italian racing culture. (Chinnock actually refers to the bikes as two-wheeled art.) As such, the collaborative packaging and branding fittingly looks the part of Ducati's elevated-masculine aesthetic. Salgardo also believes that the dual functionality of the exfoliating and detoxifying product also appeals to the needs of the Ducati owner: a results-driven man that is constantly on-the-go, yet knows that attention to self-care and grooming is both valid and important.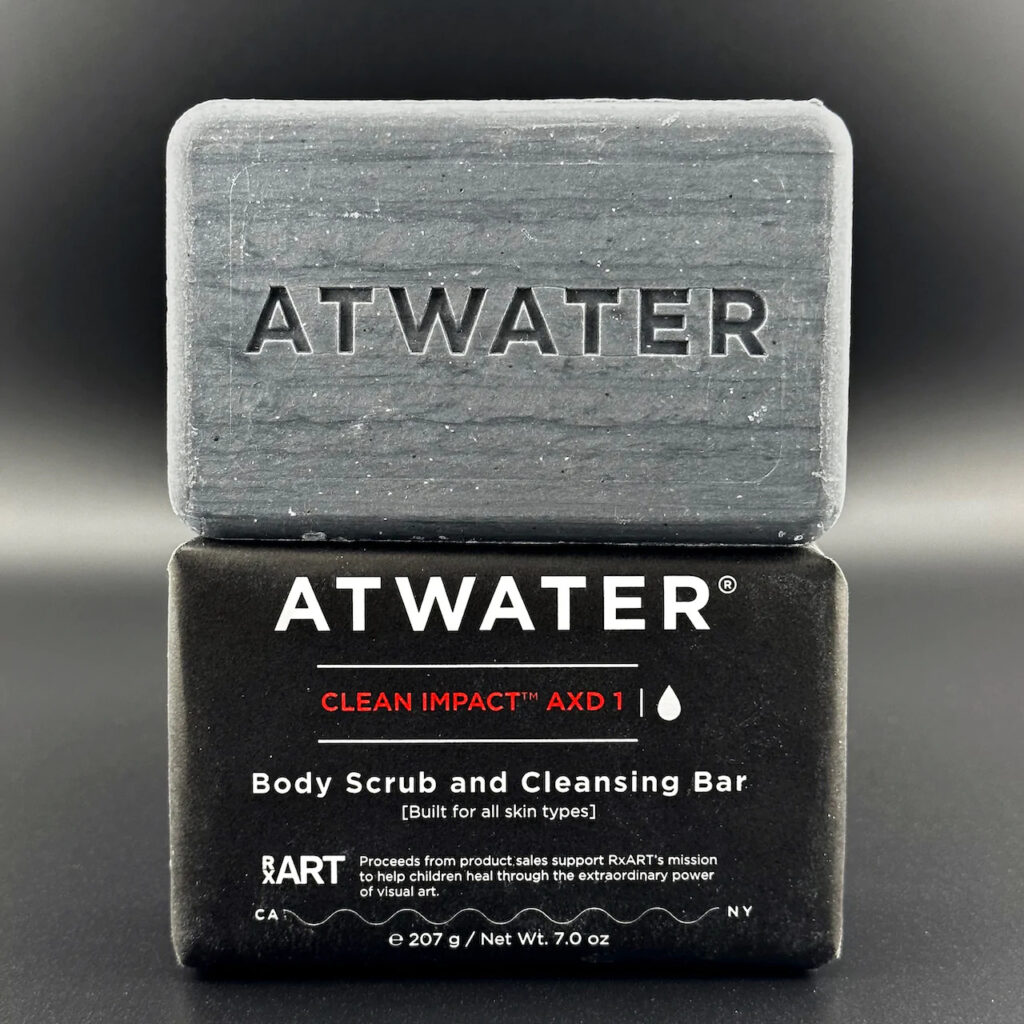 Shop the limited-edition ATWATER Clean Impact AXD1 Body Scrub & Cleansing Bar, $17, at AtwaterSkin.com, Nordstrom, and Saks Fifth Avenue.
Related