The Joanna Czech Facial Massager
The Joanna Czech Face Massager, Rolls-Royce of Facial Rollers
During the Coronavirus pandemic, you'd be hard-pressed to find an esthetician taking appointments for facials. Luckily for everyone who still wants their best skin to show through on Zoom calls and virtual happy hours, you can order ​Joanna Czech Face Massager online and have it delivered right to your door.
Now, you might be skeptical–there's no way one little tool can replace a skilled facialist at a luxury spa or esthetician's office, right?
Well, this one comes pretty damn close.
The Product
Before we get to the facial roller, we need to introduce its maker to anyone who isn't already obsessed with this skincare guru.​ Joanna Czech​ is a facialist to the stars. Her A-list client roster includes Bella Hadid, Amber Valletta, Kim Kardashian-West, and Lily Aldridge, just to name a few. Czech has been building her skincare empire for more than 3 decades, and she's become a master of her craft.
It took Czech nine months to perfect this tool, and it shows. Crafted from zinc and aluminum alloy, the roller weighs 12 ounces–the perfect weight so that the user doesn't have to apply any pressure with the tool. It consists of a slim metal handle with two rotating balls at the end that give your facial muscles a glorious massage and gentle lift.
The magic is in those two little orbs at the end. They actually rotate slightly towards each other. While rolling pin style facial rollers simply glide over the muscles like a foam roller, Czech's product gently grabs and massages the muscles to work out micro-knots and tension. So delicious.
How to Use Joanna Czech Face Massager
If you're new to facial massagers (where have you been?!), there are three ways to use them: to massage your facial muscles, to promote lymphatic drainage, and to work skincare products deep into the skin.
You know how your esthetician gives you that glorious massage that seems to melt every muscle in your face at the end of your session? Well, daily massages can make a huge difference in your skincare, improving radiance, de-puffing, and even reducing wrinkles! Plus, it's the perfect way to treat yourself at the end of a long day staring at screens.
Czech makes it easy to understand how best to use the tool–the ​product page on her website has an easy-to-follow video, along with in-depth instructions for the tool's various uses and skincare benefits.
When you need to de-puff and de-stress, grab the roller from your freezer (the cold will feel amazing) and work upwards and outwards from the center of your face after you apply your nightly serum.
To really see the tool's effects, do one entire side of your face before the other. Your brow bone, jawline, and cheekbones will look lifted and smooth; it's actually scary how good the results are.
The best part? You only need 7 minutes a day with this magic-maker and your skill will look younger, fuller, and smoother. When you come out of quarantine, it'll be like you aged in reverse.
Joanna Czech, Facial Massager $189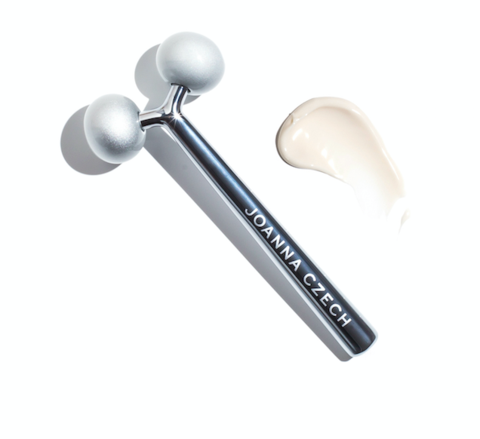 Related