Behind the Wheel: 2021 Mercedes-Benz GLA
Mercedes-Benz
The Mercedes-Benz GLA represents the most junior member of the brands family of SUV's. Diminutive though it may be, the GLA packs plenty of luxury and style into its compact design.
A 221-hp 2.0L inline 4-cylinder is combined with a fast spooling turbocharger to deliver good power and fuel economy. With all 258 lb-ft of torque available from just 1,800 rpms, the GLA offers plenty of acceleration and good overall performance. A new 8-speed automatic transmission is aggressively geared for that sporty, yet refined feel. Dual clutches deliver quick gear changes and overdrive ratios in the high gears will boost highway fuel efficiency. Eco, Sport and Comfort drive modes further alter the drivetrain behavior, with steering wheel-mounted paddle shifters tucked away to let you really take control whenever the mood strikes.
Most likely, the GLA you truly need will be front-wheel drive. All-wheel drive exists as an option, but the GLA was never really engineered to be a mountain goat, and AWD isn't getting it any closer to the self-deception. As a front-drive vehicle though, it is nimble and quick on its feet. Electronic traction control keeps grip available even under hard acceleration, and the equal-length drive shafts help to remedy the dreaded torque steer that many powerful front-drive cars are plagued with.
For 2021, we are treated to a full nose to tail redesign. Representing the second generation of the GLA, it's now nearly four inches taller than the original, while being shorter in length. This adds to the heightened maneuverability, while creating a more spacious cabin. Rear-seat occupants also receive an extra five inches of legroom. Slim LED headlights, a prominent front grill and redesigned front bumper feature flowing lines and smooth contours that pass over the GLA's muscular profile. Flared fenders, big wheels and a rear spoiler further assert its sporty aesthetics.
The interior looks and feels upscale. The touchpad infotainment controller remains finicky to use, but the display is plenty bright and colorful, with cool animations and menu graphics. If you hop on to the Mercedes-Benz website and play around with the 'build your own' tool, you'll quickly realize that most of the best features to be found in the GLA, are locked into expensive packages. A starting MSRP of $36,230 isn't bad, but similar to other German auto brands, BMW perhaps being the most notorious, Mercedes-Benz dangles the carrot perfectly. Ever encouraging you to pay more for that next great option or feature.
A mere $2,600 for the desirable AMG package, with that beautiful sport steering wheel and seats, 19" wheels, AMG body panels, chrome diamond-block grille and more. Add another $400 for black accents all around. Active lighting, a few extra inches on the instrument cluster and infotainment display, navigation, parking assist, the list goes on and one, each adding to the overall sticker price. Personally, I'd pony up for the AMG package and call it a day. You'll still be under $40,000 with a Mercedes-Benz SUV that looks and feels every bit the combination of luxury and sport that it is.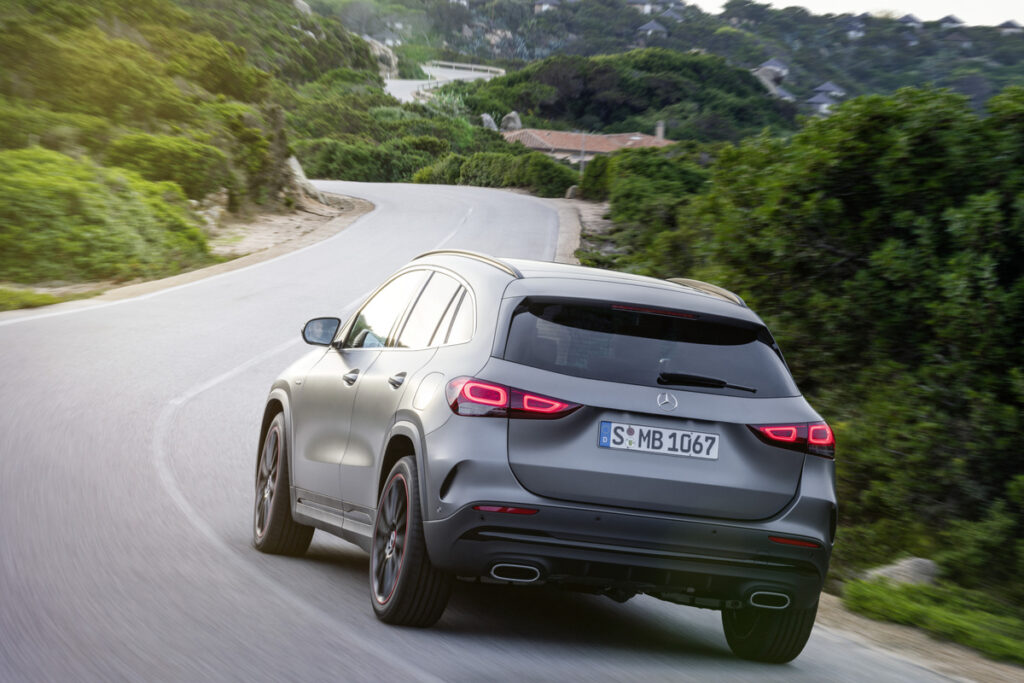 Related