Plan the Perfect Charcuterie Board
The final word on what makes a great charcuterie board.
Charcuterie has been served by the French since the 15th century as a way to showcase cured and prepared meats such as salumi, terrines, rillettes, ham and even foie gras. Over time this spread of rich proteins has grown to include cheeses, slices of bread or crackers, mustards and jams, nuts, dried fruit and pungent pickled vegetables. A plate of charcuterie can be enough for a whole meal, though often diners use it as an hors d'oeuvre or snack for happy hour. Without a doubt, a beautiful charcuterie platter is enough to impress guests, especially when you do it right.
What Makes a Good Spread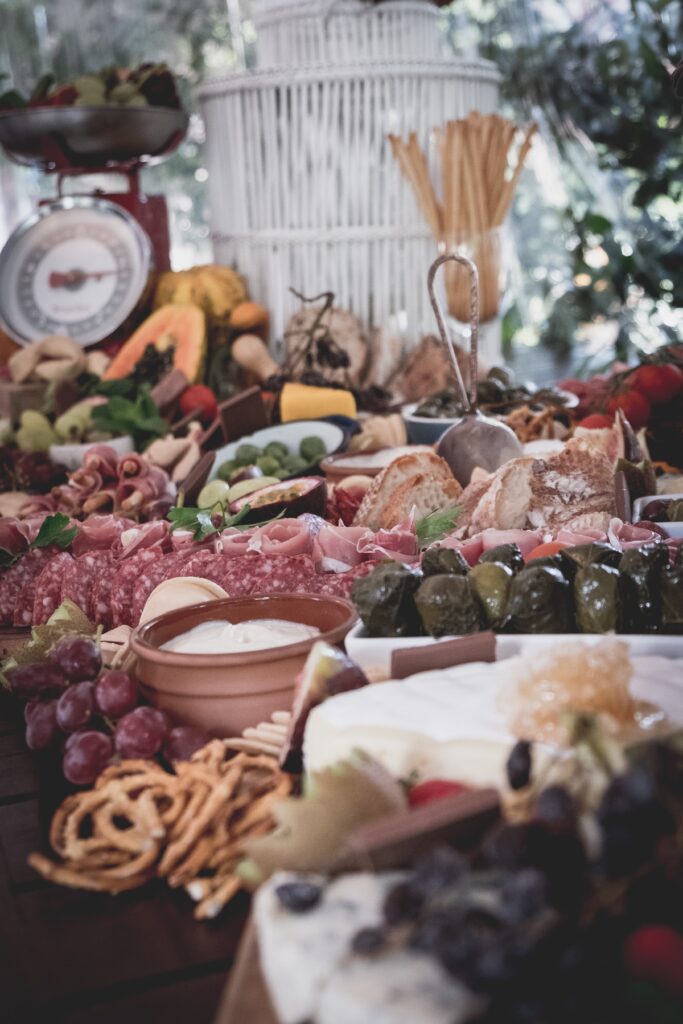 With a little flair any plate of meat and cheese can look like more than just a basic nosh. All it takes is knowing little bit about pairing flavors and textures. The first step is to decide how many people you want to serve and shop from there. Expect to offer about three to six ounces per person, and more if you're feeling decadent. Next, decide if you want just cured meats, just cheeses or both (more on these items down below).
Once the size and protein options have been situated, pick out condiments to go with the foods. This can include mustards, fig preserve, dried apricots, Marcona almonds, pickled onions, cornichons and so on. Make sure any juices are drained out before placing on the plate, or use delicate finger bowls to host the pickles and jams. For an extra flair, sprinkle edible flowers around the platter to add a dash of bright color; or, if preparing in the cooler months, look to beautiful autumn leaves, sprigs of pine and ruby-hued cranberries. Slices of little oranges, dehydrated blood orange slices, sprigs of rosemary and different colored olives will also perk up the usual dull hues of meat and cheese.
Overall, what makes the best charcuterie spread all comes down to the quality of food. Get freshly sliced cured meats, new blocks of cheese and make sure none of the goods are dried out. Adding little signs for the cheeses and meats also will help others navigate (and yourself if you're learning about the foods) what's being served.
Seek Out High Quality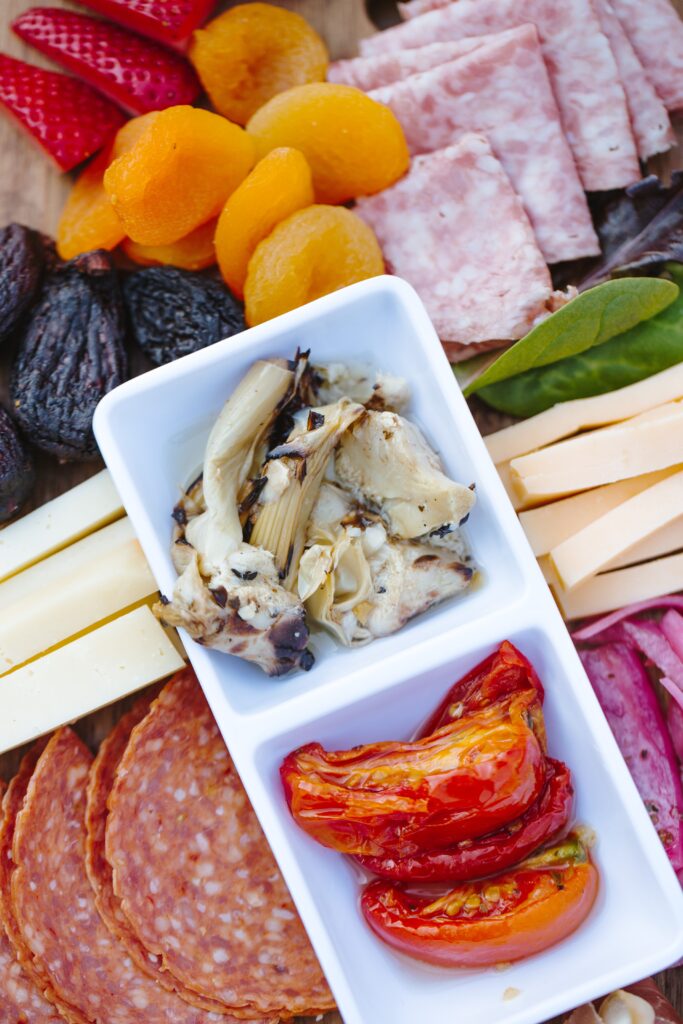 It's not hard to find good meats and cheese to spruce up that charcuterie board. Cheese shops often carry both, and the cheesemonger can help pick items that will go well together. Even the gourmet aisle of the grocery store has options, and if you come across packs of soppressata, prosciutto and salami from Veroni, absolutely get it. The meat from this Italian company gets sliced perfectly and packaged right away, so when opened it tastes as if the butcher did it for you hours before. Mortadella is also a specialty of the house, and since everything is pre-packaged, it's great way to try an array of charcuterie without any work on your side.
Jamon Iberico will also add a bit of sumptuousness to the charcuterie spread. This meat hales from Spain and Portugal and comes from the leg of pigs raised eating local acorns. La Tienda sells this meat in various forms from whole hams to pre-sliced to larger cuts for cooking.
Cheeses too need to be more than that block of cheddar from the grocery store. Look for wedges that have been freshly cut from the wheel and whole circles of soft cheeses. Though you can pre-cut some of the cheese if needed, do so closer to eating time so it doesn't sweat too much and dry out. Showcase the quality of these cheeses by letting them get to room temperature before serving, the way all good cheese should be eaten.
A Bit On Cheese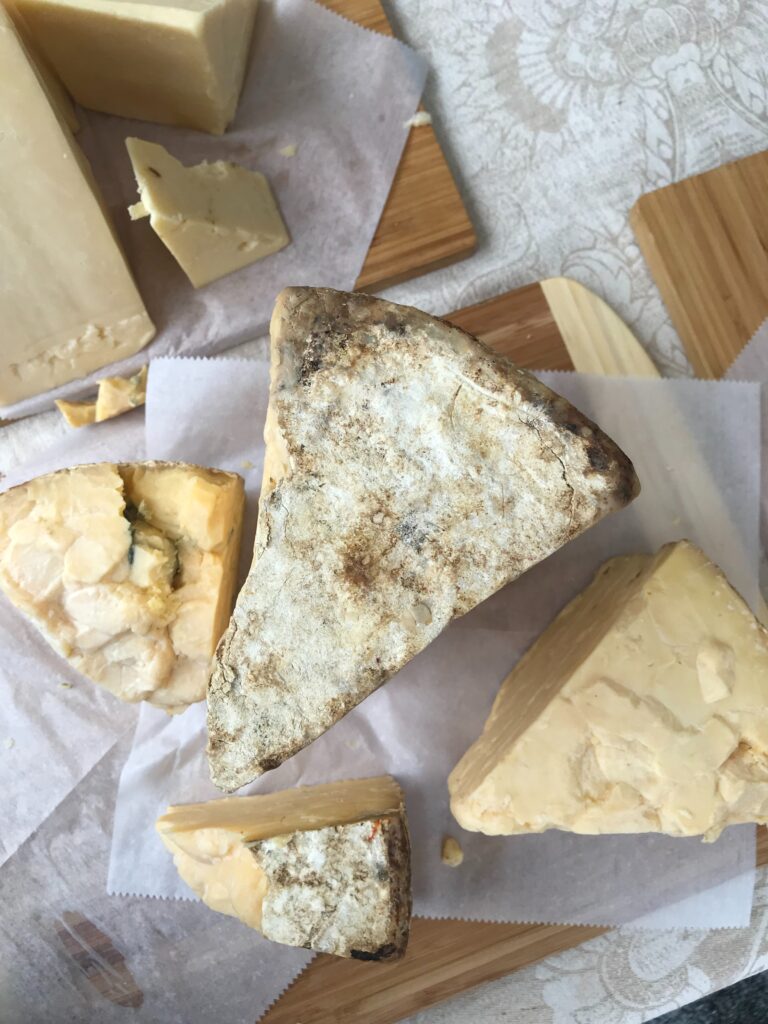 Cheese can be as simple or as complicated as one wishes it to be. The basic make up of the cheese side of the charcuterie board includes a bloomy rind cheese such as brie or camembert; a semi-soft like fontina, havarti or limburger; and a hard cheese, which can also be aged, like gouda, manchego or grana padano.
Add on to this basic trio by including a blue cheese or gorgonzola into the mix. Each type of cheese has many subcategories, which can lead anyone interested down a rabbit hole of tasty fromage. Visit your local cheese shop for ideas, or shop online at Murray's Cheese, a New York based cheesemonger that now ships all over the country. After all, it never hurts to wow guests with a double-texture sample such as Cypress Grove's famous Humboldt Fog or to cut into a beautiful cylinder of Brillat Savarin and have it ooze out in the most pleasing way.
A Bite Of Meat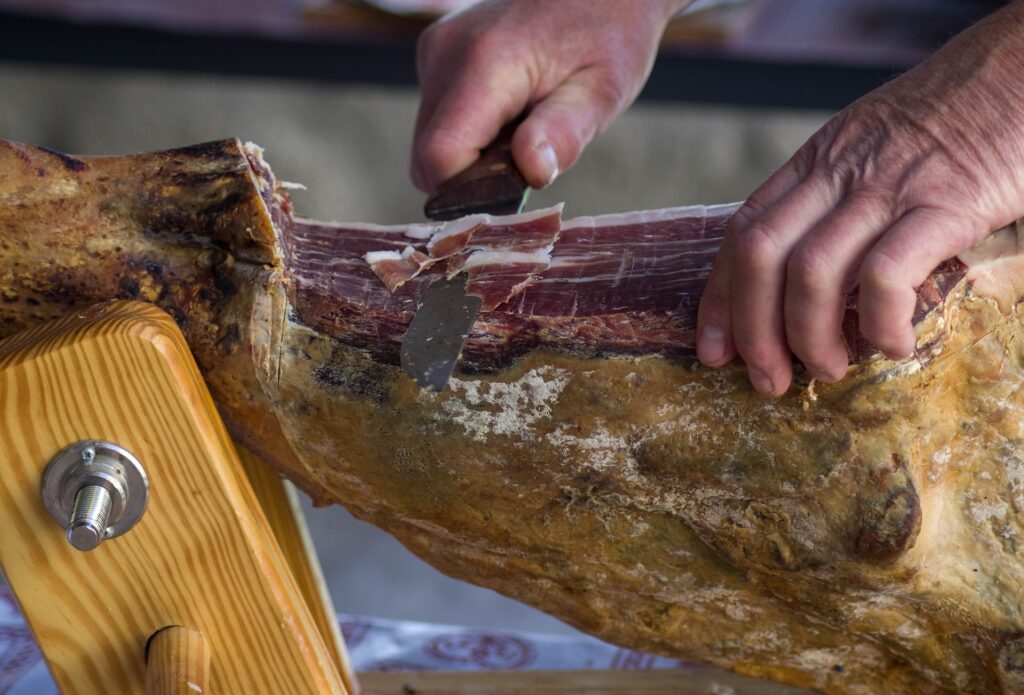 Just about any cured meat works well on a charcuterie platter, though it's nice to get an array. Start with something easy that many people recognize, such as prosciutto. The buttery fat that runs through this dry-cured ham works well with any other meat or cheese on the plate. There are many types of prosciutto, some darker and sweeter and others light with a nutty essence. A close second to prosciutto is speck, which comes from the belly of the pig and is like a luxurious, thinly-sliced bacon.
Other meats lean toward the harder side and get much of the flavor from the spices used. Soppressata is a coarsely ground Italian pork sausage that bursts with red pepper and adds a tinge of spice to the board. It goes well with bresaola, an aged and salted beef that has a lovely red hue. Or, stick to the pork route and try capocollo, a whole-muscle salume best sliced thin. Salami proves standard on the board and, depending where it's purchased from, can host an array of added flavors such as lemon grass, peppercorn, garlic and chilies. Add slices of mortadella to the mix to lighten things up, it's the gourmet version of pork baloney and often has pistachios and chunks of fat imbedded in. All of these should be sliced fairly thin and placed in a cascade for easy plucking.
The other side of meat on a charcuterie board are potted. This includes terrines, rillettes, pate and sometimes foie gras. Terrine is made from chunks of any type of meat, vegetable or seafood and has a pleasing texture. A rillette is a lot like a terrine, though the meat, often duck, rabbit or pork, get's shredded and mixed with fat and spice. Pate, a silky mousse made out of livers, should be smooth and spreadable. Finally foie gras, the liver of a goose that can be blended with cream into a pate or served seared and whole, though often the latter form isn't found on a charcuterie spread.
Condiments To Add Flair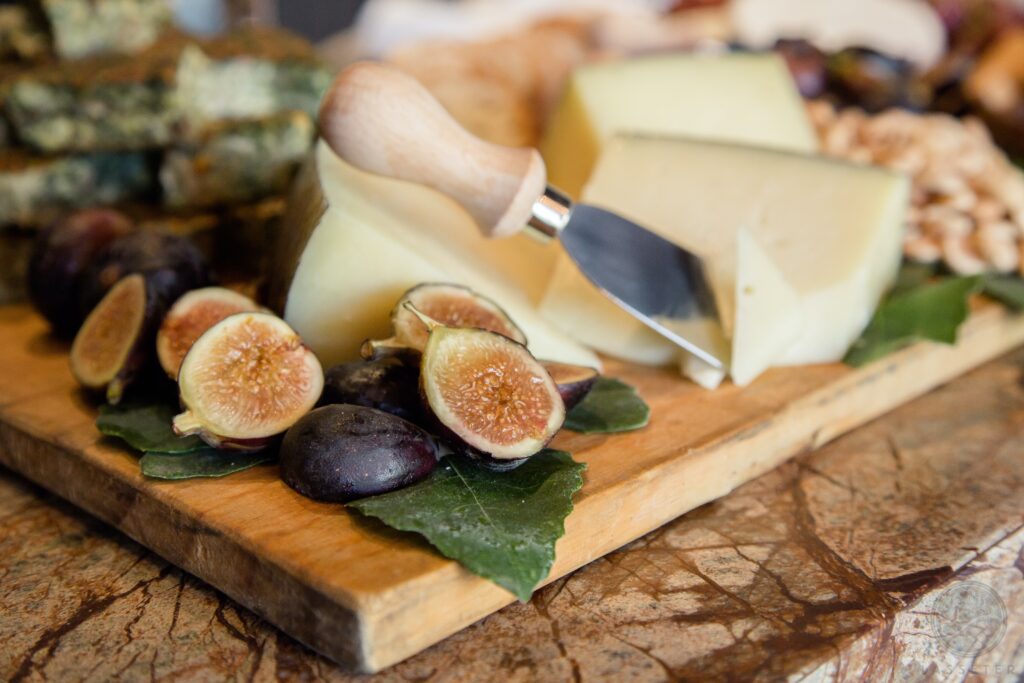 While meat and/or cheese is enough to satisfy, adding a few well-placed and complimentary condiments can turn a basic charcuterie platter into a magnificent spread. These accoutrements don't have to be much, but they do help spruce up the display.
One of the best additions is Marcona almonds, those beige, buttery nuts that somehow melt-in-the mouth despite the fact that it's a crunchy food. Pick these up in the bulk area of gourmet grocery stores or purchase a small bag from the nut aisle. All you need is a handful, or quarter cup, for an average-sized board. Raw walnuts too work well, and the deep, golden flavor can help tame sweeter cheeses.
Also look into mostarda and jams, two thick, fruit-based additions that bring out the nuances in cheeses. Mostarda, a Northern Italian specialty, is made with stewed fruit, sugar and mustard essence, which can give the dish a bit of spice. For jams, fig and quince are some of the most common pairings because they aren't too sweet. Though, a well-made peach or apricot jam works brilliantly with cheeses too.
Another way to get a bit of fruit and vegetables on the charcuterie platter is by placing dried fruits, olives and pickles. This also adds a flair of color to the often beige, white, yellow and brown meats and cheeses. Figs and apricots are small enough not to overpower the proteins, but large enough not to get lost in the chaos of tasty foods. Lightly pickled shallots, capers and cucumber also work well and give some acid to cut the rich fats from the terrines, creamy camembert, sheets of prosciutto and pungent roquefort. If adding olives make sure they are either pitted or else place a bowl for the pits nearby.
Clever Cheats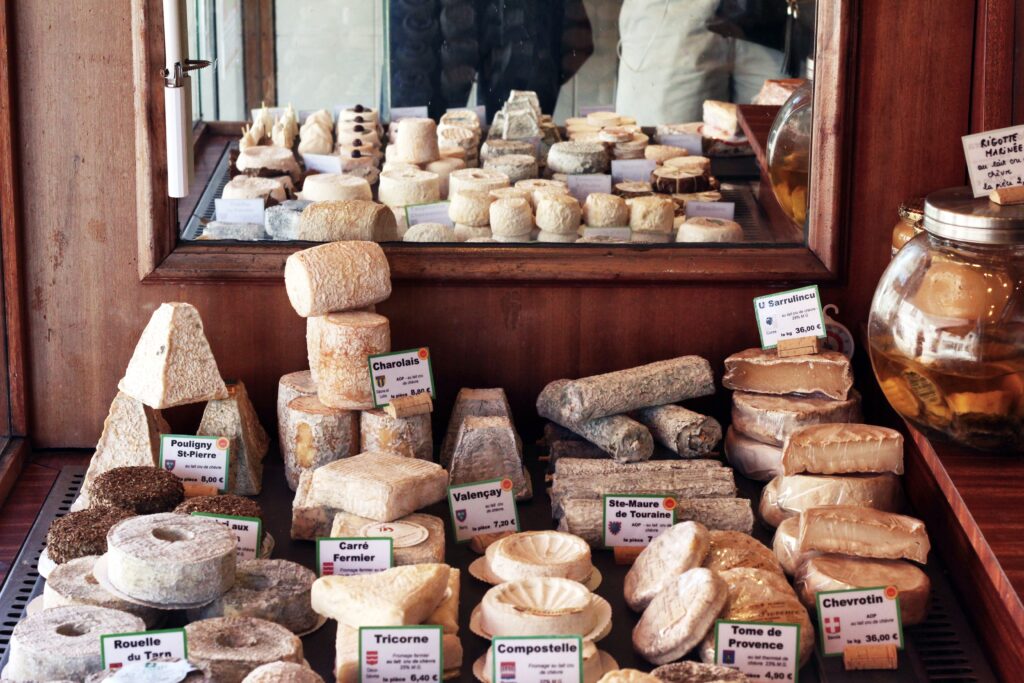 Balance out the cheaper bits with pricer options, splurging on those cheeses a real connoisseur will appreciate. Brie will be consumed in mass by those with little food imagination, as will the salami; but place an aged gouda next to it or some mortadella, and those who seek out quality and the more unknown will nibble gracefully on those.
Costco can be a great source for high-quality gourmet meats and cheeses in bulk, a boon if you're having a large party or plan on hosting numerous fetes. For a real wow factor order a 10-pound, 18-month-aged Spanish Serrano ham and gently shave off a pile of melt-in-your-mouth pork. It will look like a lot of work has gone into the charcuterie board without any effort.
Another high-quality and easy way to get good meats is to order from Olympia Provisions out of Portland, Oregon. Choose from the small company's menu, or get a box filled with all the meats you need to build an elegant charcuterie board.
Crackers or bread also prove important, but are probably the easiest part of the charcuterie board to prepare. Water crackers such as the Carter's brand work perfectly with meats and cheese, plus they are easy to find. Swirl them around a plate or line up in rows between the foods. Or, place crackers and slices of fresh baguette in a pretty bowl or platter to serve next to the charcuterie.
Related