MARANELLO, Italy — Ferrari's Corso Pilota program is about as racy as it sounds: Score seat time at a world class racetrack behind the wheel of the latest, greatest race-prepped supercars from Maranello and receive expert instruction on how to wring every last ounce of performance from these irascible, high horsepower brutes. Though the experiences are strictly limited to Ferrari owners, your humble scribe has embedded into these inner circles and driven some of the brand's most feral machines in anger.
This time, however, is different.
The private test track near the Ferrari's factory has seen essentially every race car from the Enzo era to current F1 cars. But today I've crossed the Atlantic to soak up three considerably classics: a 1966 250 GT Lusso, a 1978 308 GTS, and a 1997 550 Maranello. The tasty trio represents hallmarks from the brand's seven decades of sports cars, encompassing a carbureted, dolce vita-style front-engine V12, a Magnum PI-era mid-engine V8, and a pre-millennium V12 grand touring car. 
After a presentation that includes tips on driving tricks like double-declutching and heel-toeing, I'm pumped to sample these three very different, but uniquely sensual Ferraris. But before I'm fitted for a helmet and briefed on the peculiarities of each steed, I've got some burning questions: why does Ferrari grant access to the classics when there's a bigger-than-ever lineup of new cars to peddle, particularly the Ferrari Challenge and GT competition cars that so closely links the brand to its racing roots? 
"Of course there is an entry fee, but [the classic program] is not a very big margin," explains a Ferrari rep. "What is important is that many of these clients are also collectors, and they're able to bring their children or people they'll want to pass their legacy to." That said, he adds that seat time can be a valuable tool to bolster confidence before driving an obscenely expensive steed at speed before a historic driving event, like the Mille Miglia or Le Mans Classic. For my purposes, the 1.9-mile circuit offers the chance to flirt with museum-worthy beauties at a spirited pace without the threat of external forces—traffic, pedestrians, et al—dampening the fun. Without further ado, I'm geared up and climbing into a time machine of a sports car.
1960s: Enzo Style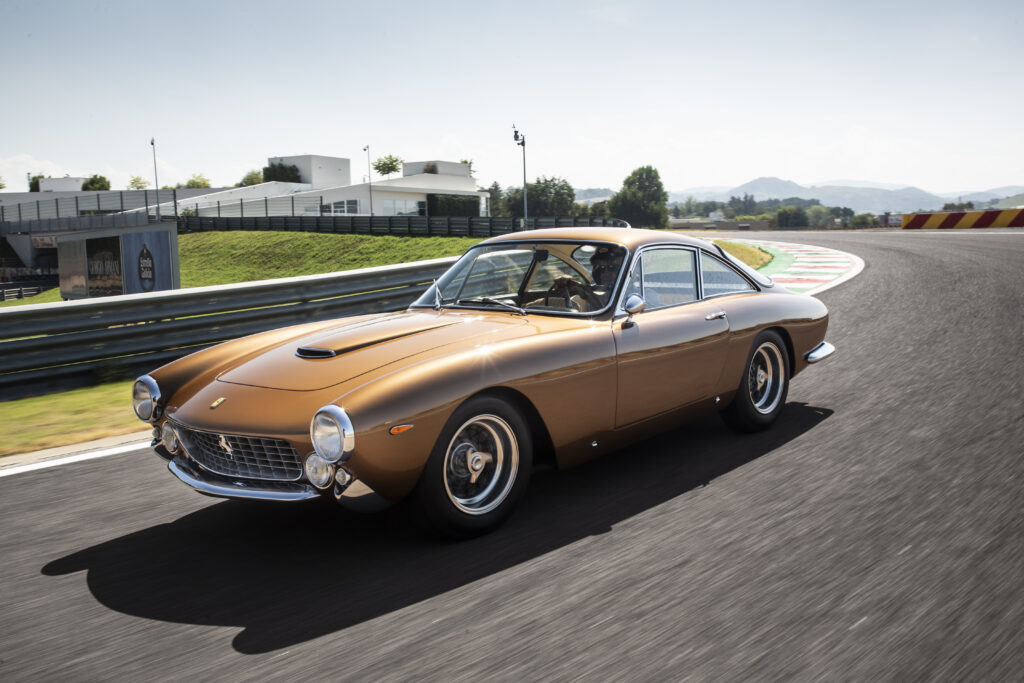 Enzo Ferrari was notoriously bullish on the front-engine configuration, so much so that his racecars lagged in competition until he eventually gave in and relocated the engine just aft of the driver. The 1963 250 GT Lusso maintains old man Enzo's preferred engine configuration, while wrapping an airy cockpit in a tastefully elegant body. Beneath a sumptuously curved bonnet is a honey of a 3-liter V12 that churns a bodacious powerband that starts picking up in the mid-range and only strengthens as it revs to its upper registers. I'd heard lots about early Ferraris driving like trucks, but the Lusso simply isn't so, as it was intended as more of a gentleman's GT than pavement bruising performance machine. Sure, there are the usual quirks of the period, among them crude bucket seats that might get disagreeable on long drives and a massive steering wheel that has a way of hitting your upper thighs when heel-toeing (simultaneously pressing all three pedals to keep the engine revved during downshifts). But on track, the Lusso is lightweight and potent enough to entertain, with lots of tire flex and body roll clearly communicating available grip at each corner. From its giant, center-mounted gauges to the beautifully curved glass that offers a panoramic view over its bulged bodywork, the 250 GT Lusso feels special, because it is— not only is it a rare and coveted model that saw fewer than 400 produced, this example has spent it its entire life in the coveted care of Ferrari.
1980s: Righteous Vibe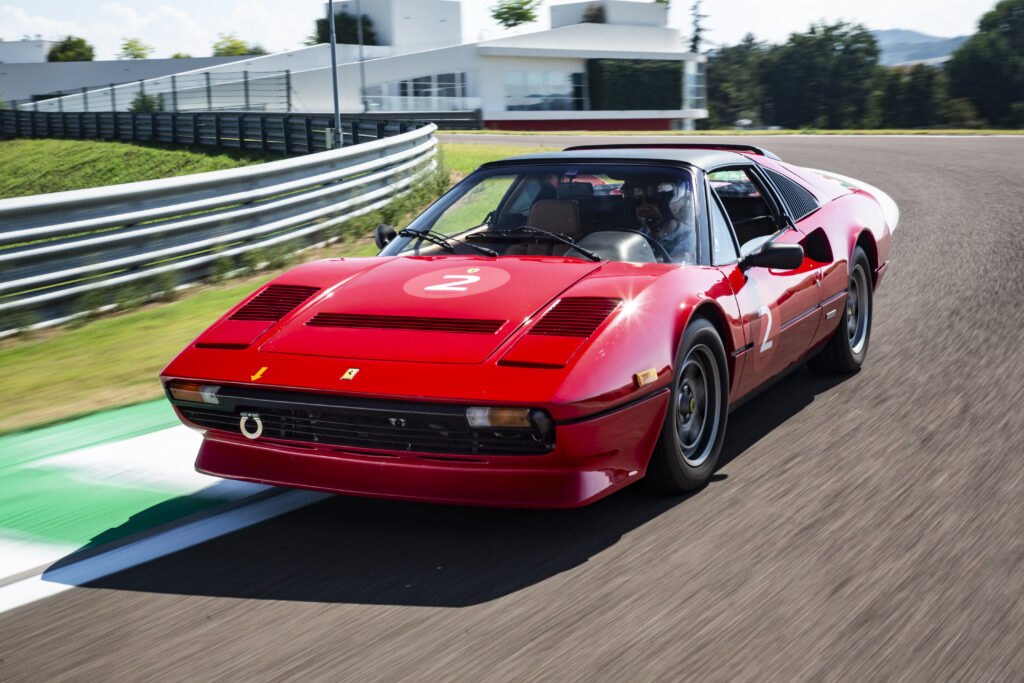 The curvy 308 GTS Quattrovalvole made famous by Tom Selleck was long unloved by collectors for decades, languishing as a bargain basement classic until values shot up into the six-figure range. 308s were never the quickest Ferraris, but their visual appeal is evocative to children of the 1980s like me. Though the example I climb into at Fiorano is an earlier model that lacks Magnum's punchier 4-valve engine, settling into its low-sitting perch makes me feel as cool as a certain mustachioed private investigator. It also has an unmistakably toasty feeling, as it lacks A/C.
The 308's sideways-mounted 2.9-liter V8 feels admittedly tame, but I don't mind; the transparency of the steering, the clink of the metal-gated shifter, and the two-seater's tiny footprint conspire together is copacetic in a way that encourages confident driving. Thanks to the generous tire sidewall on the modestly sized wheels, there's plenty of warning when the tires are close to their limits. Having the engine amidships makes it easy to rotate the 308, but we won't be winning any races here on the track—which is perhaps why we're also given the opportunity to explore the handling limits of the 308 on a wet figure-8 course. Crank the wheel and squeeze the throttle, and the 308 wags its tail on water-soaked tarmac with nonchalant slides. Given my modest performance expectations, the 308's athleticism prove appropriately tame while its legend looms larger than life.
1990s: Next Level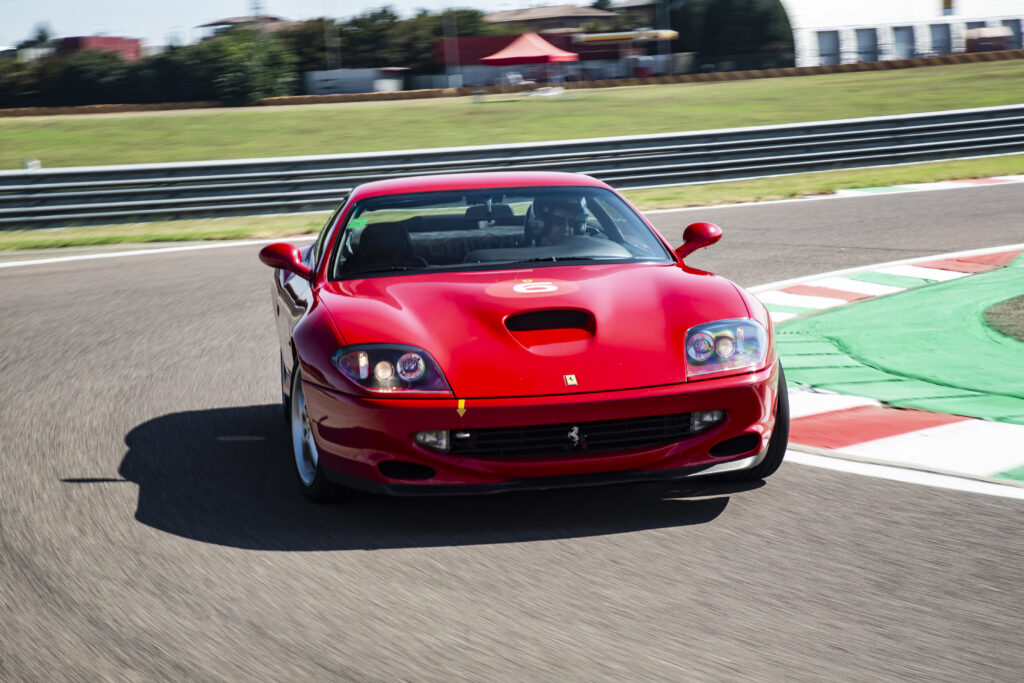 It took over two decades after Ferrari closed production on the early Miami Vice-era Daytona to revisit to the front-engine V12 configuration, and the 550 Maranello marked a spiritual return to the layout favored by Enzo. From the driver's seat, the 550 feels nothing like its airy antecedents. Apart from the familiar gated shifter, everything is different— you sit within a more enclosed cabin which swaps the timeless minimalism of chrome switchgear and elegant gauges for an experience that feels like peak 1990s: chunky rubber switches, a more monolithic dashboard, and a big tachometer front and center that redlines at 7,750 rpm, a heady ceiling considering it's linked to a massive 5.5-liter V12. 
There's an ease to driving the 550, from the copious power to the light steering and the way it changes direction sharply despite its large proportions. Especially in light of the carbureted classics before it, this fuel injected four-seater feels light years ahead in sophistication and capability. However, as much as the powerplant comes alive in the straightaways it feels severely hamstrung coming out of corners. I ask—nay, beg the Ferrari rep in the passenger seat if he might be able to loosen the reins, and he relents. "Don't tell anyone," he says as he taps the Sport button on the dashboard, which loosens the aggressive traction control system enough for me to feel the tire-spinning punch of the V12 when I power out of corners. The engine is a revelation for its flexibility; it was an American that coined the old chestnut 'there's no replacement for displacement,' and while there are deep wells of joy to be had in the small, high-revving powerplants that came before it, the 550's effortless torque and long-legged power delivery uses a bigger engine to make it feel special in a very different way.
—
Tracking classic Ferraris for a day reframes your perception of speed, and the experience of what you get out of the high-performance driving experience. Unlike modern supercars that go warp speed and require fighter pilot-like levels of attentiveness, these old school machines focus instead on filling every aspect of the sensory experience with data—the stirring sound the engine, the delicate design that frames the windscreen, the way the chassis becomes playful and communicative even at low speeds while they negotiate corners. What these classics lack in blistering 0 to 60 mph times and top speeds, they make up for with intangibles that harken back to another era. While Ferrari will continue to build blindingly quick sports and racing cars, the classics allow enthusiasts to take a breath and relate to moments in time that would otherwise become lost to history.