Luxury, if you're keeping score at home, is sometimes measured in cylinder count. Eight, as conventional wisdom goes, is nice; twelve is better. And if you want to get really advanced, skip the numerology and go directly to zero— witness pure electric upstarts like Tesla, whose electron-powered drivetrains have rapidly rewritten the laws of luxe.
With electrification creeping into every corner of high-end transportation, carmakers are handling the shift in uniquely different ways. Among those at the top of the food chain is Rolls-Royce, which has chosen to maintain a V12-only rule until it makes the switch to electric, with their first EV offering debuting in late 2023. Running counter to Rolls is a former partner (and now arch-nemesis) Bentley, whose tactic is more progressive: offer plug-in hybrids for every model by 2024, and then solely plug-ins or EVs by 2026 before going purely electric-only by 2030. The rise of electric power means, you guessed it: fewer internal combustion cylinders along the way.
So here we are in 2022 with the brand's second plug-in hybrid: the Bentley Flying Spur Hybrid. Yes, it's got a V6, the first Bentley sedan since 1959. But unlike the undeniably elegant Flying Spur of yore, the new gal also boasts a luxe layer cake of leather, wood, and tech that can seamlessly rotate a 12.3-inch touchscreen into the dashboard with a push of a button. The Flying Spur Hybrid is also the carmaker's most efficient model yet, with the ability to travel 450 miles on a single tank (and a 2.5-hour charge).
Coupling the 2.9-liter V6 to an electric motor produces 536 horsepower and 553 lb-ft of torque, putting it only a tenth of a second behind the 4-second 0 to 60 mph time of its V8 and W12-powered counterparts. For what it's worth, that sprint is quicker to 60 than a V12-powered Rolls-Royce Ghost— not that we're keeping score. The Spur can cruise for 25 miles on battery alone, enabling it access to Central London's coveted congestion zone.
Feather the throttle and the Spur can reach around 80 mph on electrons alone; dip into internal combustion and you'll hit 177 mph if you have the nerve. The juncture between electric and gas is delicate, even if you press the "EV DRIVE" button on the center console. But at least the transition is smooth, offering buttery acceleration that can waft with the greatest of the old-school sedans.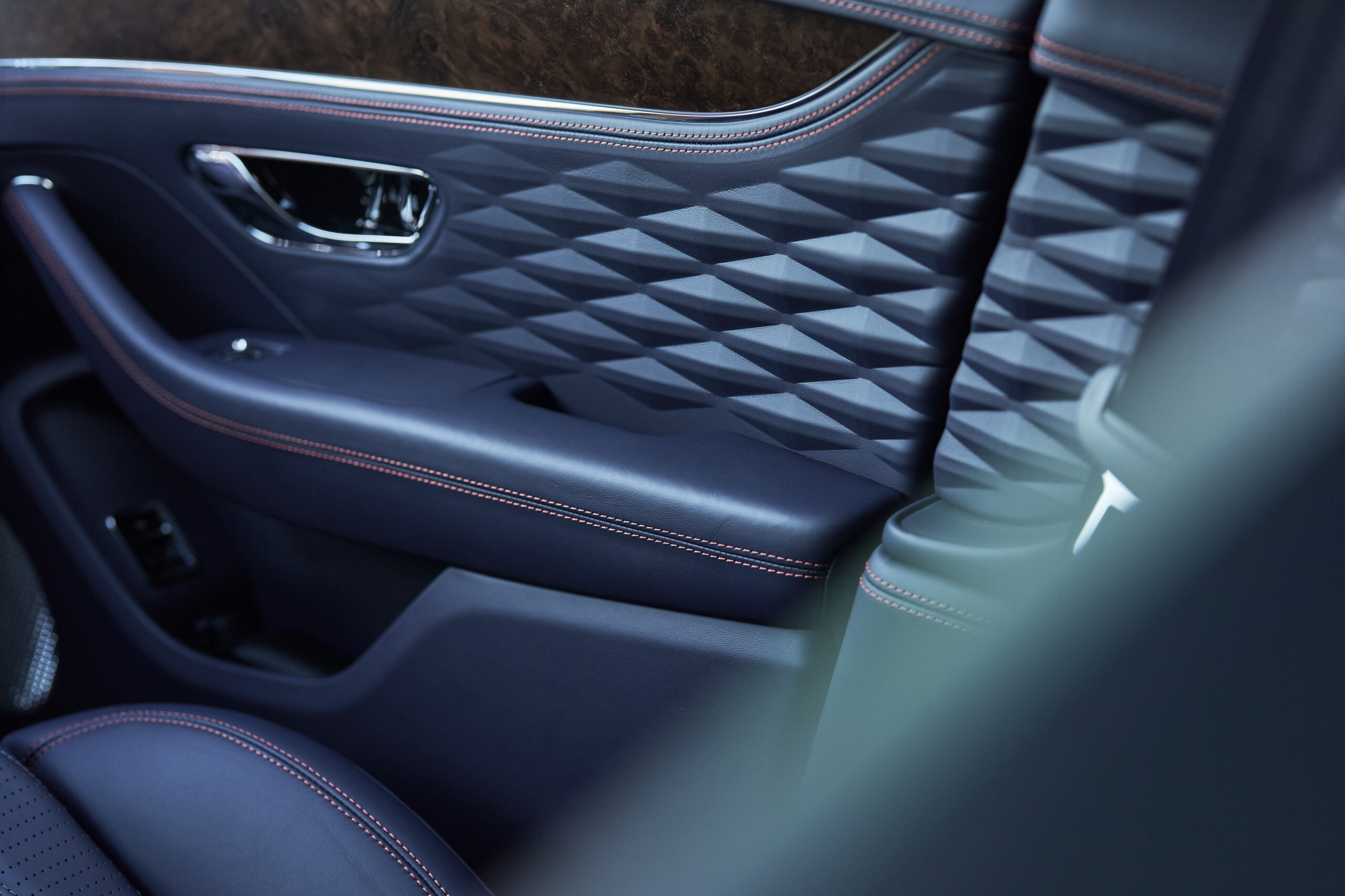 One unexpected side effect of electrification: Because the hybrid Spur is 50 percent quieter at highway speeds than the V8 version when running in electric mode, wind and road noise becomes more apparent. That said, cruising on battery power through the city feels smoother and more insulated than in a conventional 8 or 12 cylinder. The Hybrid also rides as regally, thanks to a supple air suspension system that soaks up all but the nastiest of bumps. Though heavier than the V8, the Hybrid's smaller engine puts less weight on the nose, enabling it to turn easily into corners.
See Also
It's not as nimble as the V8 however, serving as more of limousine-like cruiser than a grand touring sports car trapped in the body of a four-door. But the Hybrid's trappings make it a splendid place to stay for the long haul, with massaging and reclining rear seats that make it remarkably road trip friendly.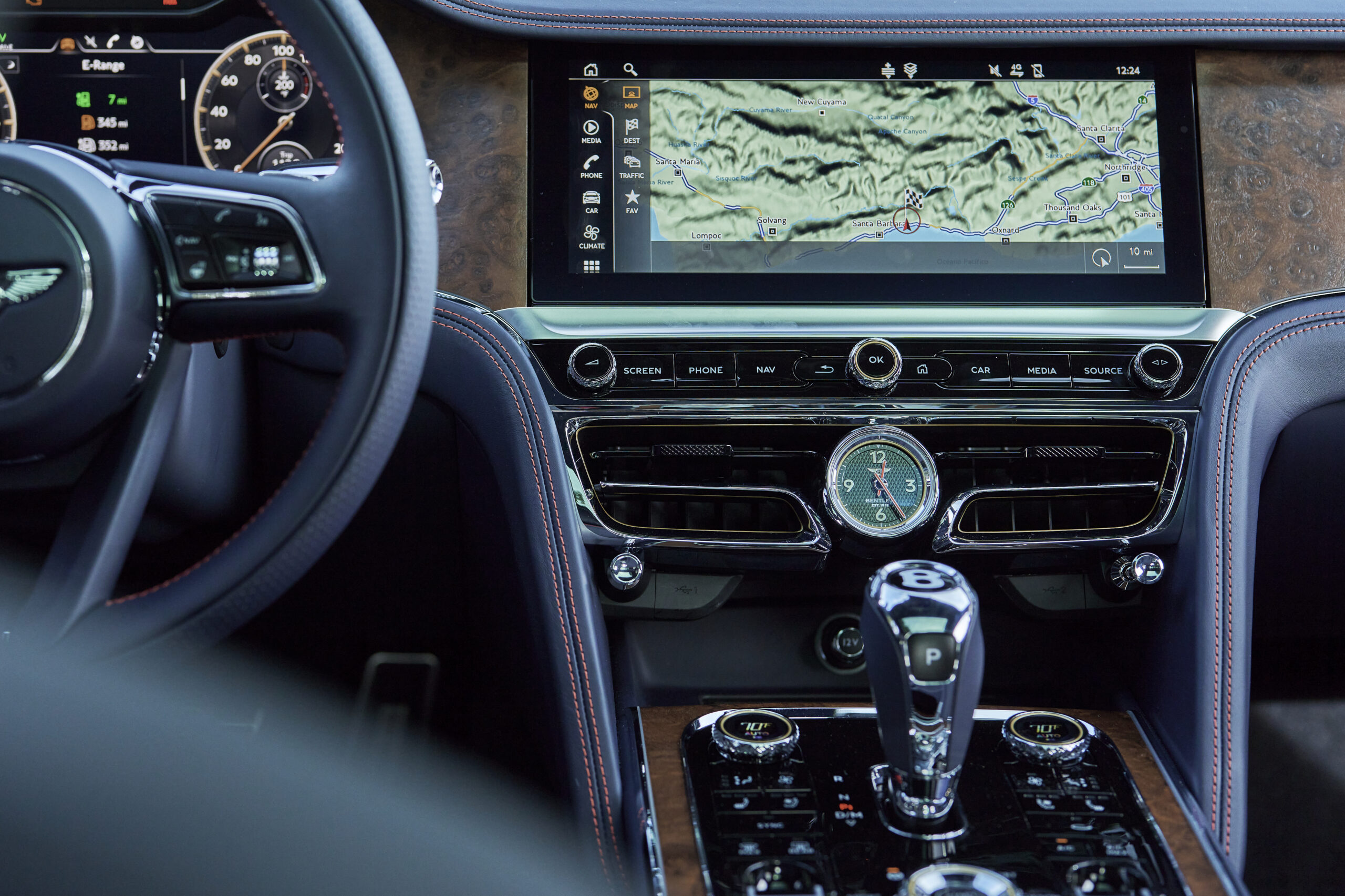 Tellingly, when the Flying Spur Hybrid reaches showrooms later this year its starting price will be right around the same as entry-level V8's— and crucially, there is no compromise on the 56 billion-strong available combination of interior materials, paint and trim, which offer everything from dark Fiddlebacks and open-pore Koas to turned metal, stone veneers, and 3D quilted leather. The Hybrid feels just as secure in its sumptuousness as does the 12-cylinder, which is some $30k dearer. But in 2022, luxury is less about the bottom line than it's ever been— and if less is more, an entirely gasoline-free Bentley can't come soon enough.
Related