Behind the Wheel: 2022 Mercedes-Benz C-300
Mercedes-Benz
The Mercedes-Benz C-Class, for some time now, has relied too much on brand cachet, rather than its stand-alone merits as a high-quality and compelling vehicle. To stay relevant in the conversation around sporty European luxury sedans that are priced under $50,000, you'll need more than a reputation to be successful. Luckily, with some important changes for 2022, the C-300 has made major strides to earn its spot next to the likes of the Audi A4 and BMW 330i.
Sleek and Sexy are already two words that immediately come to mind when describing the Mercedes-Benz C-300. All the more when factoring in the reasonably priced AMG visual package. Where the front air dam, flared side sills and rear valance are even more aggressively sculpted. The chrome diamond-block grille further sets the AMG line apart, as do the 18" 5-spoke wheels. Not content to be a visual enhancement only, the AMG package bumps up the performance with sport brakes, suspension and steering. On the inside, brushed metal pedals and a thick, flat-bottom steering wheel dial in the look to a perfect finish.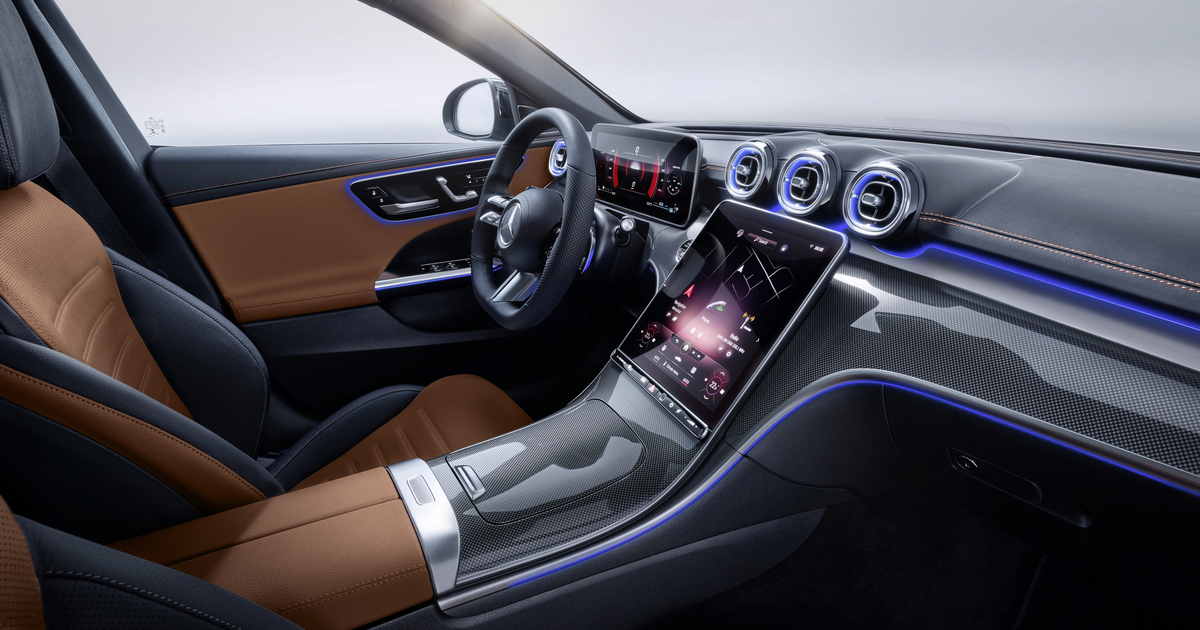 The visual redesign, especially with the AMG enhancements, are not the only thing helping the C-300 reenter the luxury sport sedan conversation. A larger back seat may not sound exciting, but in the day-to-day, is a very big deal. What will really quicken the pulse is the intercooler, twin-scroll turbocharger bolted to the 2.0 4-cylinder. Spooling out an impressive 273 lb-ft of torque at a low 1,800 RPMs. Plenty of power for strong acceleration from a stand-still or for quick highway overtakes. 
All those ponies are dished out through a highly responsive 9-speed automatic transmission. This light, efficient transmission will smoothly blip through its many gears all on its own, or by your command via the paddle shifters or hand-operated electronic gear selector. Since the 48-volt electrical architecture can provide a quick burst of power and torque, the C-300 powertrain is considered a mild hybrid and is a brand-new power configuration in the C-300. Mercedes-Benz reports a 0-60 time of 5.5 seconds. Not bad at all for a car as heavy as the C-Class. Allowing it to comfortably keep pace with its competition, with arguably a bit more style.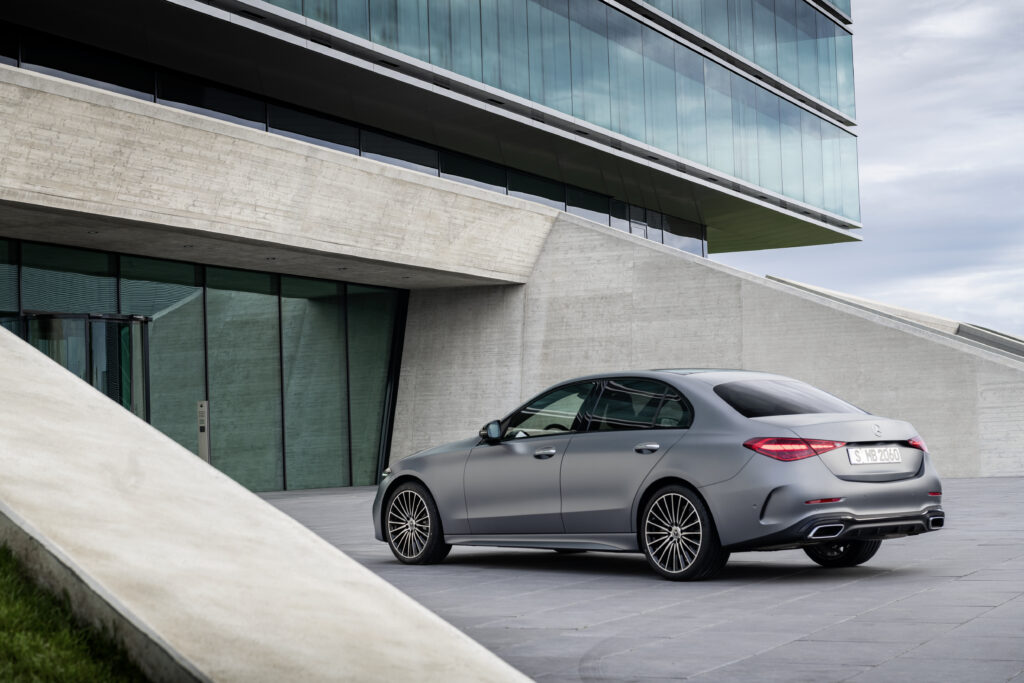 Under hard cornering loads and aggressive driving, the C-300 feels tight and in complete control. Just as impressive though is how comfortable it is under normal driving conditions. Even with the AMG improvements to the suspension, the big wheels and lower profile rubber; the C-300 soaks up road imperfections and does its best to provide comfort and compliance first. An important characteristic of any luxury sport sedan is that it feels expensive. In this, the C-300 emerges victorious.
Perhaps one of the best reasons to consider the Mercedes-Benz C-300 over its European luxury counterparts, are the plethora of standard tech and luxury options available even in its base trim. Active emergency braking, radar cruise control, and attention assist are all standard. So is the 12.3-inch digital instrument cluster and 10.25-inch high-res center display. A sunroof, power-operated trunk and blind-spot monitors are all part of the base package as well.
As is the case with any German luxury brand, adding anything on top, will quickly cause the price to soar. The 4Matic AWD system tacks on $2,000. The AMG package is a reasonable but still considerable $1,750. Any color besides white and black will set up back an additional $750. There's a Night Package, Parking Assist package, Multimedia package and more, that will eagerly tease more money from your bank account. In base trim though, you get a lot. Combine this fact with the sharp styling, strong engine, dynamic handling and a more spacious back seat, and it becomes easy to see that the 2022 Mercedes-Benz C-Class has earned its seat at the table.
Related