Behind the Wheel: 2023 Mercedes-Benz SL63 AMG
Mercedes-Benz
Once upon a time, in an old mill in 1967, somewhere near the German municipality of Burgstall, two talented and race-obsessed engineers began transforming Mercedes-Benz sedans into full-blown race cars. Using both their names and the birthplace of one, the now iconic arrangement of three simple letters was born. AMG. Fast forward to today, and we associate these three letters with high-powered, top-performing, race-track ready vehicles from Mercedes-Benz. Exciting as the AMG badge is on any model, the sultry SL 63 is perhaps one of the absolute best applications of the AMG treatment you'll find. 
Now, if you thought AMG had a rich history, it pales compared to the SL. This sporty grand tourer first hit the scene back in 1952. The designation SL derives from the German Sport-Leicht, which means Sport Light. Originally built as a race car, with no intention of ever being street-legal, just two years later, an American car enthusiast insisted on a street legal version of the gorgeous 300 SL. Thankfully, Mercedes-Benz was all too happy to oblige him, and all the other well-to-do Americans living in the post-WWII luxury car market boom. It was only inevitable then, that AMG would eventually get their talented hands on the exemplary SL. 
Fast forward to 2023, and where do we find the Mercedes-Benz SL 63 AMG. To start off, the bare architecture of the SL is shared with no other car in the line-up. It is completely unique, and rather special considering it's comprised of an intelligent composition of aluminum, magnesium, high-strength steel and fiber composites. More rigid, aerodynamic and precision crafted than ever before. A lower center of gravity helps the new SL 63 achieve even better handling. With incredible agility, endless traction thanks to the all-wheel drive, and dynamic, precise all-wheel steering. AMG's Active Ride Control will take it a step further by actively adjusting suspension damping at each wheel to resist excessive body roll. An electronic LSD and various driving modes will help you customize the driving experience even more.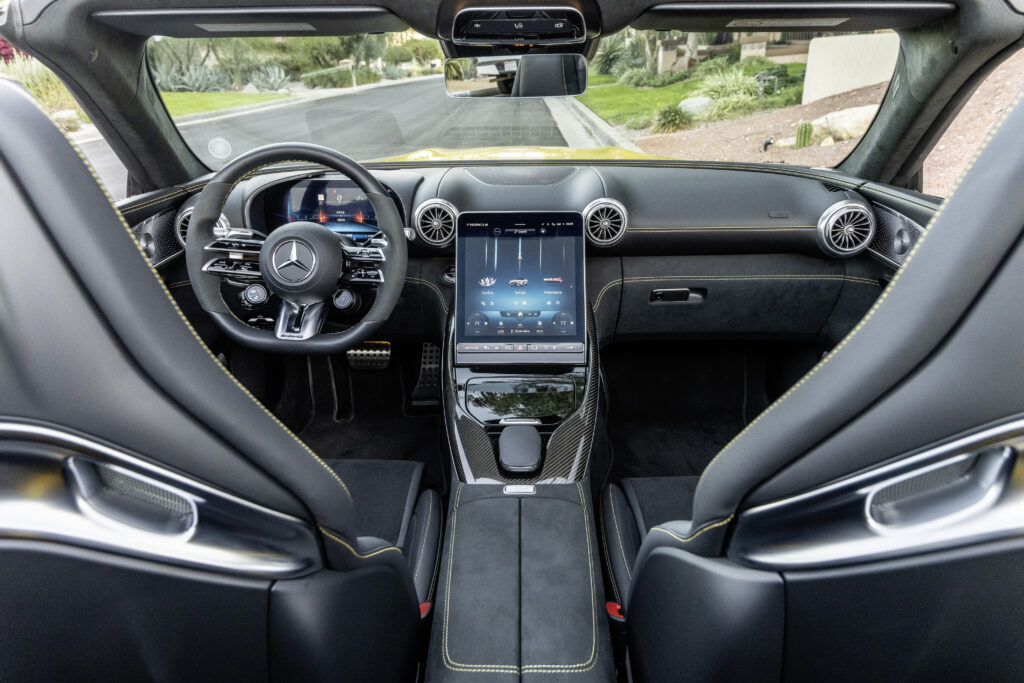 Powering this little two-door tourer is a biturbo V8 hi-torque power plant. Hand-assembled by a single engine builder. Staying true to the "one man, one engine" philosophy of AMG. Paired with an AMG Speedshift 9-speed transmission, also with its own set of SL specific refinements. The combination will spin out 577 hp, launching you from 0-60 in just 3.5 seconds. This powertrain is magnificent. Thunderous, barking, sharp and responsive, Bellowing up to red-line, with lightning-quick gear changes. It is nothing short of a masterpiece of modern engineering.
Wide tires are a good indication of raw power output. So is brake size. Here, the SL 63 AMG really shows its hand. Not only are they nearly 16 inches up front, with gorgeous yellow or red 6-piston calipers, but they're also track-trained carbon ceramic. Stopping power will have you tucking your eyeballs back into their sockets. A material like carbon ceramic may deliver enough bite to stop on a dime, but the characteristic brake noise or squeal is an unfortunate side-effect. Also, the brake pedal feel will vary depending on how warmed up the brake temperatures are.
On the inside, Luxury and performance are perfectly balanced. Seats may be form-fitting and multi-contoured, but they're heated, ventilated, wrapped in Nappa leather and stuffed full of massagers. There's even the AIRSCARF neck-level heating system so you can keep the top retracted even on chilly nights. The cabin is adorned with rigid and lightweight carbon fiber, but also filled with 64-color LED ambient lighting, illuminated door sills, and AMG's customizable light display. A bright 12.3" digital instrument cluster sits behind the gorgeous, flat-bottom, race-inspired steering wheel. Seamlessly flowing into another 11.9" touchscreen central multimedia display. Multiple profiles can be customized with biometric authentication to keep unwanted passengers out of your carefully curated settings. For audio, there's no JBL, or Bose even. Good as those can be, Mercedes-Benz instead chose to work with the German high-end audio powerhouse, Burmester, to create beautifully balanced, 3D surround sound.
The list is as long and lavish as you would expect. In summary, though, the 2023 SL 63 AMG is incredibly powerful, beautifully designed, and luxuriously appointed. A wonderful Grand Tourer that will help you capture the essence of whatever mood you're in. Whether it's a slow late-night drive through a brightly lit metropolis, a top-down cruise through a winding mountain pass with a citrine sun and turquoise sky overhead, or an adrenaline-fueled race down the interstate. The SL 63 lets you have it all in total style and complete luxury.
Related