Camp Sarika: The Ultimate Desert Glamping Trip
Aman
Unplug. Disconnect. Unwind.
At Camp Sarika, you can do just that without ever leaving the comfort of luxury travel behind.
Camp Sarika is international luxury resort group Aman's newest getaway. Hidden in Utah's breathtaking Painted Desert, Camp Sarika is an offshoot of Aman's nearby Amangiri resort.
If you're looking for natural beauty, look no further. Sarika is located in the heart of Navajo Nation Reservation and is surrounded by five stunning national parks. The desert is so breathtaking that the entire resort's design is built to simply enhance the natural wonder of the landscape.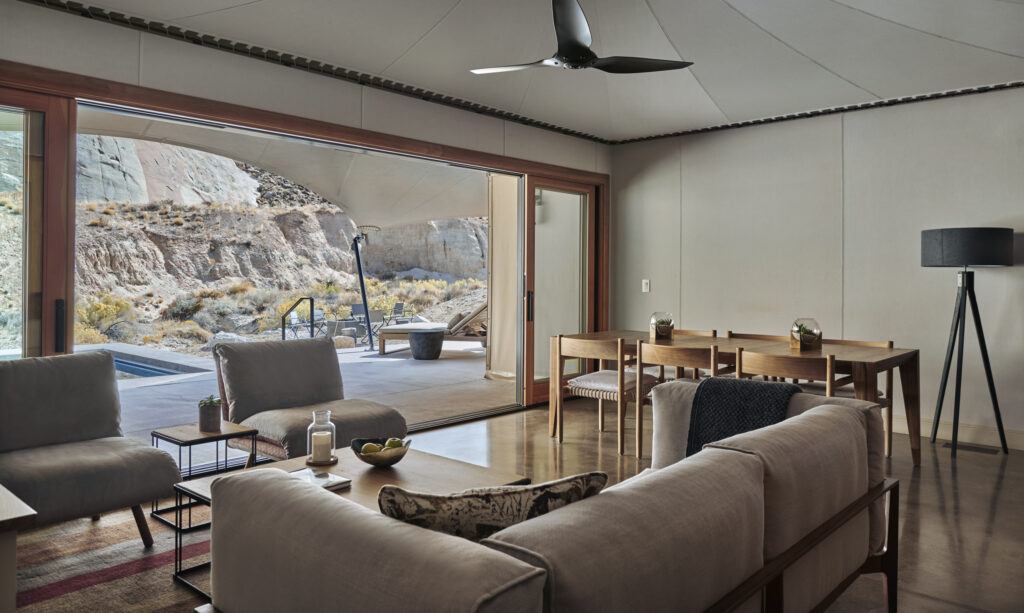 Whether you're a lone wolf or a pack animal, you're sure to find the perfect balance at Camp Sarika at Amangiri is for you. Sarika is built around a communal restaurant, pool, and lounge area but the space's layout and design is also meant to encourage solitude and serenity. That's why each of the 10 pavilions (5 one-bedrooms and 5 two-bedrooms) has private eating and living quarters, a secluded personal plunge pool, and a tranquil terrace complete with a custom fire pit. All together, there's only room for 30 guests at a time on the entire resort. With more than 1,400 acres to explore, that should be plenty of room to find your zen.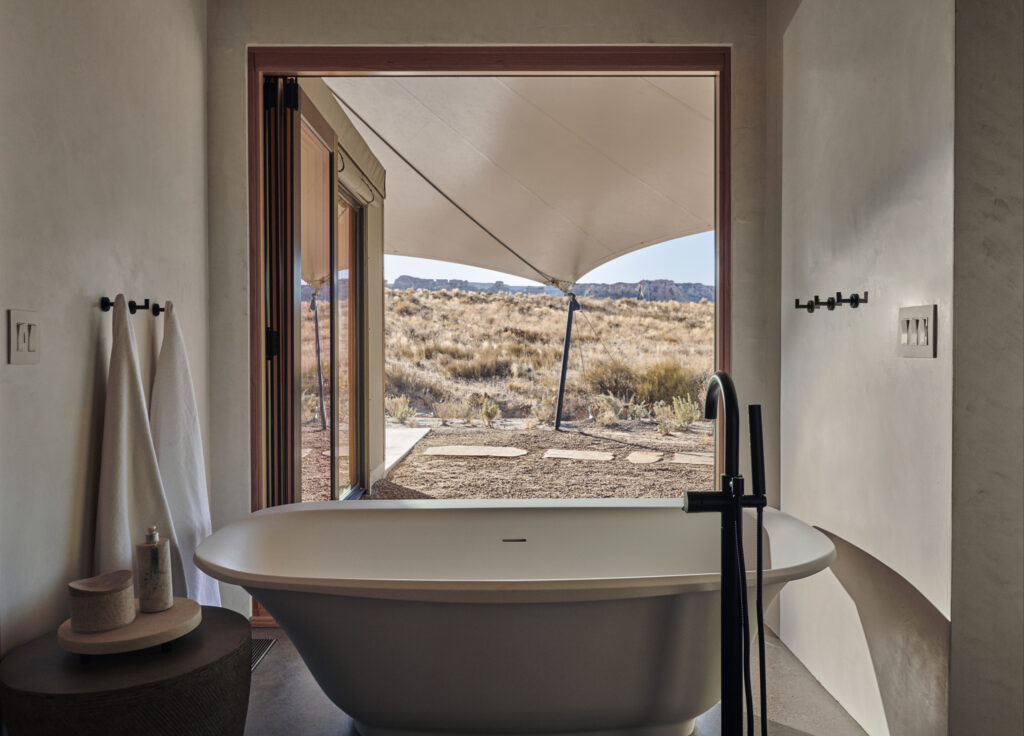 If the thought of staying in the desert has you daydreaming of hiking, canyoning, and horseback riding, you're in luck. Camp Sarika was built to be a "springboard to adventure" so guests will have full access to countless activities. Opt for a guided mountain hike or a canyon tour on horse-back. Surrounded by some of the most stunning national parks in the country, including Zion, Grand Canyon, and Bryce, guests can arrange for helicopter rides to take in the breathtaking natural scenes surrounding them at Camp Sarika. If you're really feeling adventurous, you can even schedule a hot air balloon ride through the canyons.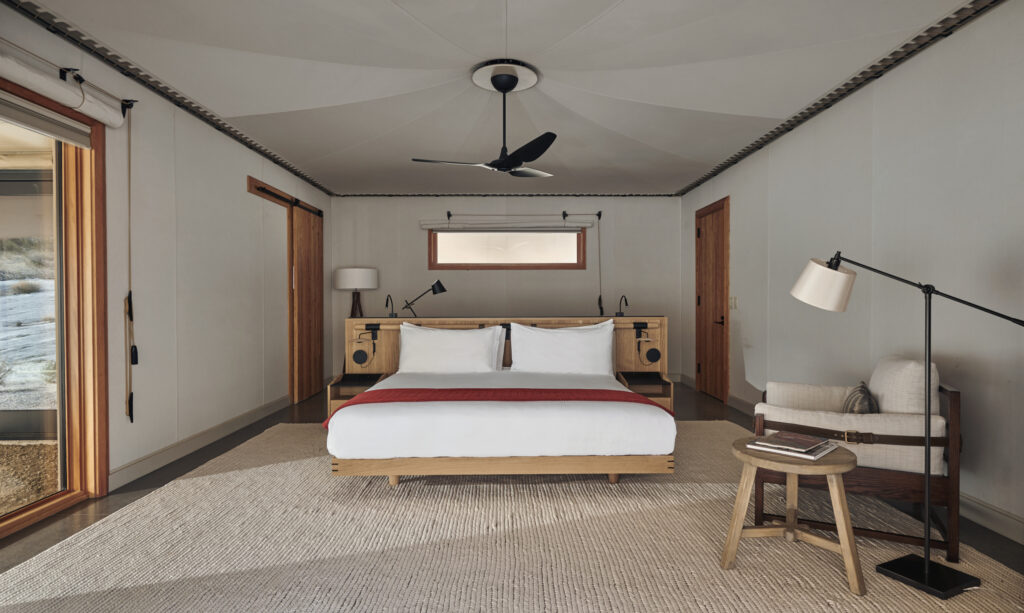 When you're not taking in the natural splendor of the canyons, mountains, and mesas, the interiors of Camp Sarika's pavilions are a sight to behold. International design firm Luxury Frontiers created a serene, clean, organic space that reflects and enhances the desert's beauty. Canvas made from recycled plastic bottles, hand-crafted leather, and natural woods fill each pavilion with texture and character.
Visitors can unwind on buttery-soft custom designed leather couches while watching the sunset over the mesas, or relax by their personal fire pit. Camp Sarika's design is meant to encourage solitude and a connection with nature, so guests are encouraged to leave the iPhone behind and embrace the silence of the desert instead.
See Also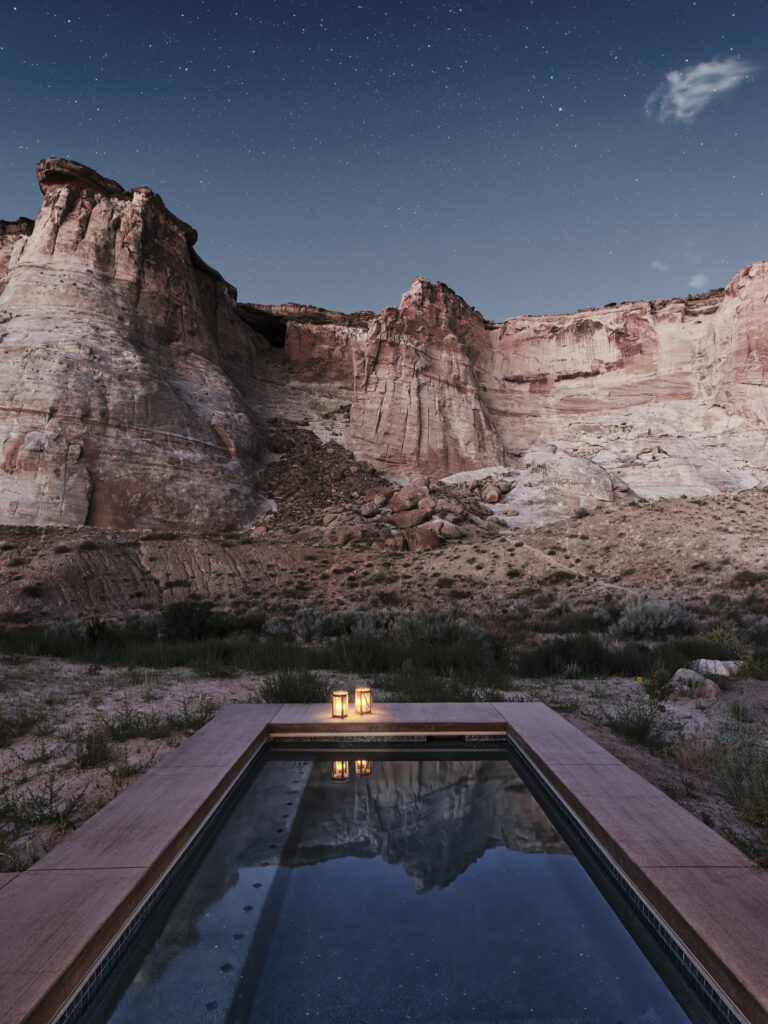 Feeling peckish? Not to worry. The top-notch culinary team at Aman has devised an ever-changing menu of organic, locally-sourced meals and snacks for guests to sample. And if you need a midday pick-me-up, afternoon tea is served every day.
Camp Sarika is opening in the Spring of 2020, so if you need a digital detox there's no better place to unplug and unwind surrounded by some of Mother Nature's best work.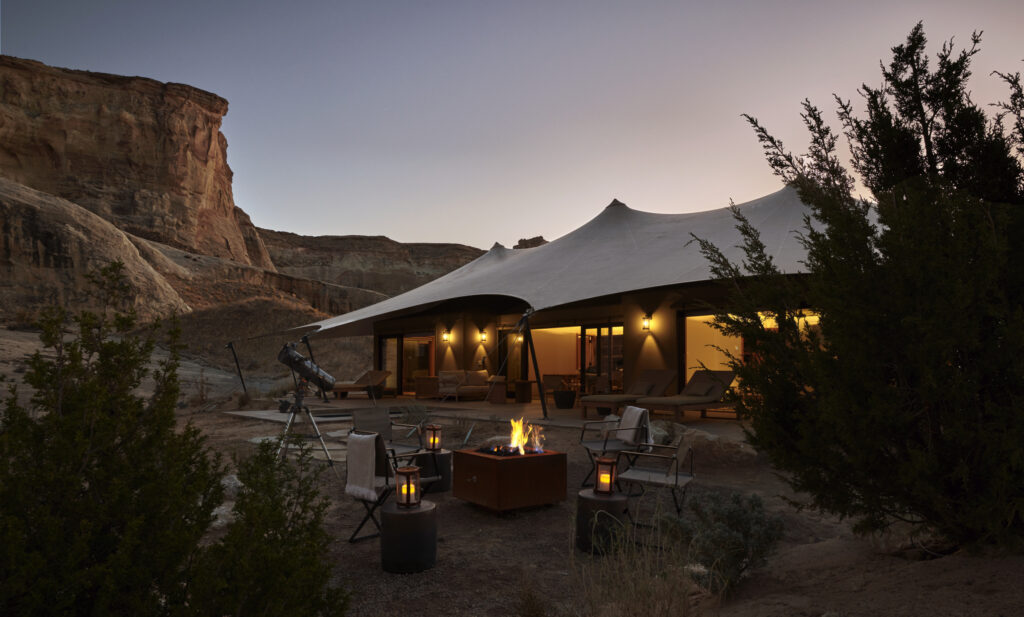 Amangiri, USA – Camp Sarika. 1 Kayenta Rd, Canyon Point, UT 84741 (435) 675-3999
Related