The Hermann Bungalows Have Ruined Palm Springs for Me (In the Best Possible Way)
Robb Gordon
There was no denying the fact that I desperately needed a getaway. Four months into a massive renovation on my Los Angeles home, only the threat of litigation — and help from an A-list witch — helped push the project forward in spite of a fraudulent contractor. Depleted in a way I could feel in my soul, only the promise of being lavished in luxury could awaken me from my funk.
This is when my friend Sarah Clark told me about the ultra-luxury Hermann Bungalows in Palm Springs, twenty-four highly exclusive suites situated in a private, gated enclave attached to L'Horizon Resort & Spa. To sweeten the deal, Volvo offered me a their S60 Black Edition to get me to-and-from my destination in class. Not only did it drive like a dream (better than my S Line Audi), but the hybrid engine meant I didn't have to refill the tank a single time. All that was left to do was to pack up my Gladstn London weekender and hit the road for some desert healing.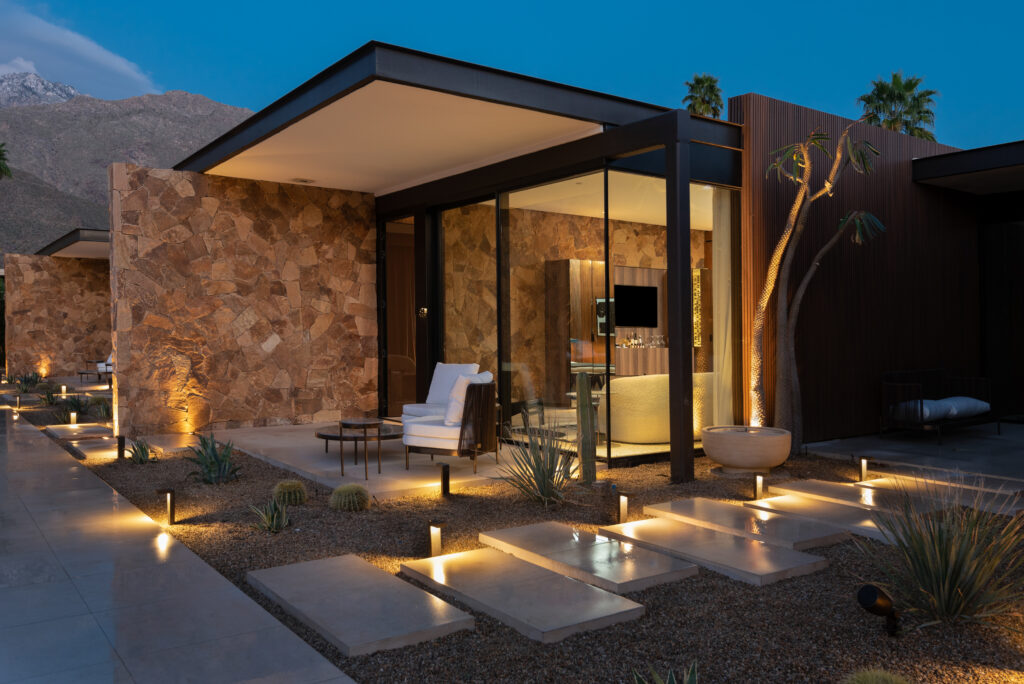 To get there, you simply enter the address for the L'Horizon Resort & Spa, the original property upon which this is a new addition. At reception, I was greeted with some rosé Prosecco (extra dry, just how I like it) and was shown to my room beyond the private gated entrance into the Hermann Bungalows. On the way there, I was introduced to Kelly, the private bartender who really serves a butler-like function, attending to the guests of these top-tier suites. My bungalow was number 33, a Pool View Suite affixed with a custom nameplate bearing my own name and residential finishes.
For me, it was love-at-first-sight of the zero-edge pool. Partially submerged chairs allow you to read, enjoy cocktails, or snack on food, with the option to unfurl an umbrella on the hotter days. Kelly explained that it is said visitors find the desert to be particularly healing due to quartz found within the mountains, emitting a grounding frequency that attunes you to the earth… but it was when I stepped into my room that I immediately knew my stay would be healing in another way — that of stress-free pampering and relaxation.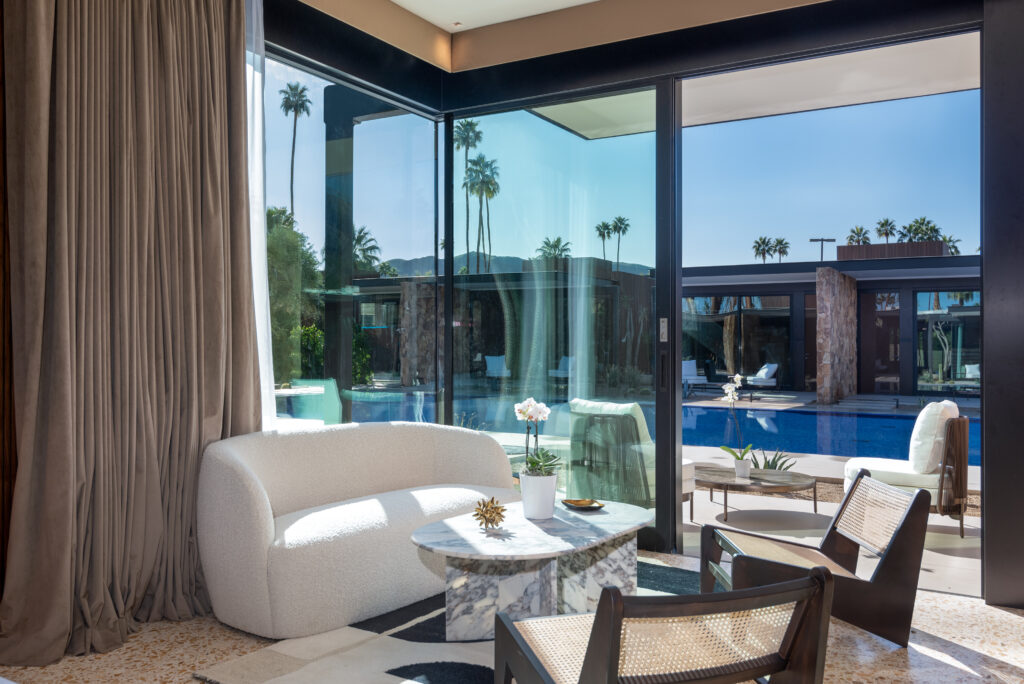 The decor itself is reminiscent of vintage Palm Springs, but modernized; brand-new, upscale, and with trend-forward touches — among them, boucle couches, marble for days, Le Labo toiletries, and Frette linens. Floor-to-ceiling windows with electronic sheers and blackout shades afford ample natural sunlight, with the view of the zero-edge pool and mountains behind them. (As I have learned during my home renovation, there is no amenity so precious to a room as natural sunlight.) The beds were adorned with Hermès throws in the perfect neutral hue to offset the rich wooden accent walls, and the bathroom featured Calacatta marble and gold Kalista fixtures. The pièces de résistance were the marble, indoor and outdoor rain showers for enjoying the perfect 80° weather and glimpsing blue skies.
The first thing on the agenda was to visit the pool, which turned out to be heated and shallow enough to enjoy a Gatsby cocktail and a crossword puzzle while seated in a submerged sun chair. I genuinely appreciated the privacy that the setting afforded. While the pool at L'Horizon is beautiful and allows dogs, there is no way to ensure you will not be bothered by noisy guests — a Gen-Z influencer having enjoyed a few too many cocktails, perhaps. Rather, the Hermann Bungalows brim with the seclusion that only an exclusive property can promise.
I enjoyed a delicious edamame hummus and crudité platter before venturing in for a sun-drunk nap and getting ready for dinner. I was thrilled to discover that the room featured one of the smartest TOTO toilets on the market — the self-cleaning kind with a heated toilet seat that greets you by opening its lid when you enter the room. (I had first experienced this spa-like bathroom amenity when getting Lasik, and had to send a photo to my friend's husband as he was a huge fan of the office's toilet.) Better still, the in-room blow dryer was none other than a Dyson! As any beauty editor knows, this is one of the most high-end offerings in the hair tool category.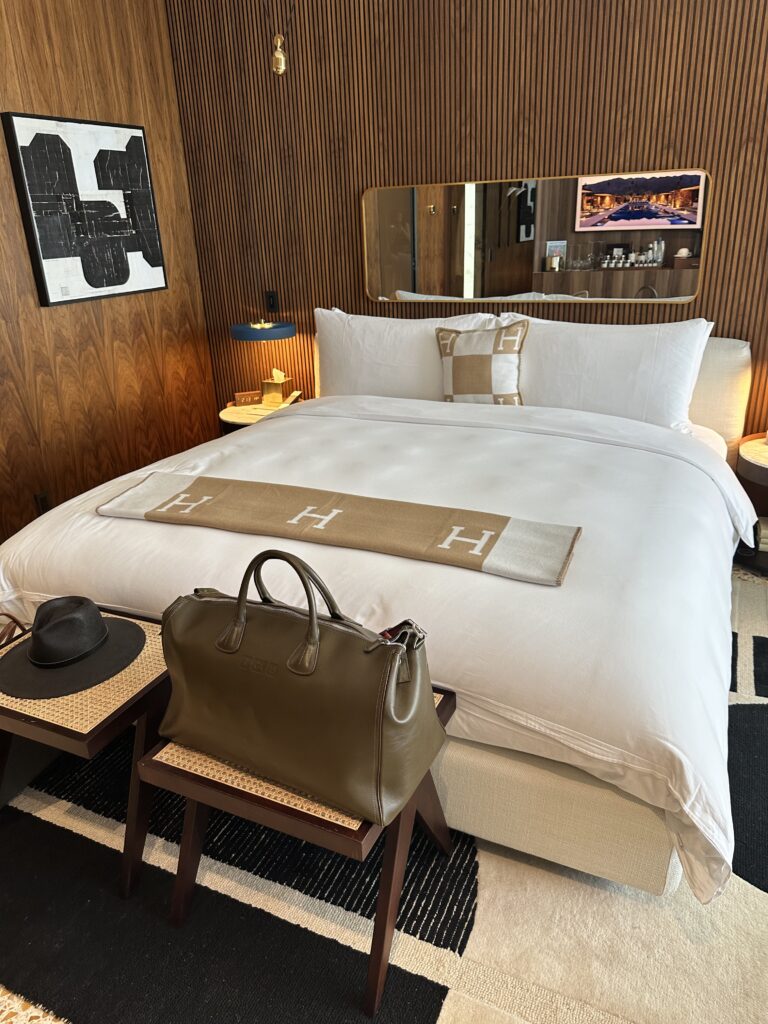 My dinner reservations were made for 8:30 at SOPA, the property's al fresco restaurant with an enchanted forest vibe. The restaurant's design features a lantern-bedecked tree at the center of the space, with both individual and communal tables offered as seating. Along the back, booths sit beneath a roof with sculptural chandeliers to suit Steve Hermann's distinctive aesthetic. This is where I discovered my favorite cocktail at the property — the Spa Elixir, a refreshing cucumber concoction spiked with Grey Goose vodka.
The dining experience itself was phenomenal. In addition to caviar, I loved the miso brussels sprouts. My main course was a crab-stuffed-trout dish with fingerling potatoes and a garnish that the lovely chef re-made to be plant-based after checking-in at the table. I was too full for dessert, but snacked on chocolate covered almonds from the mini bar once back in my room.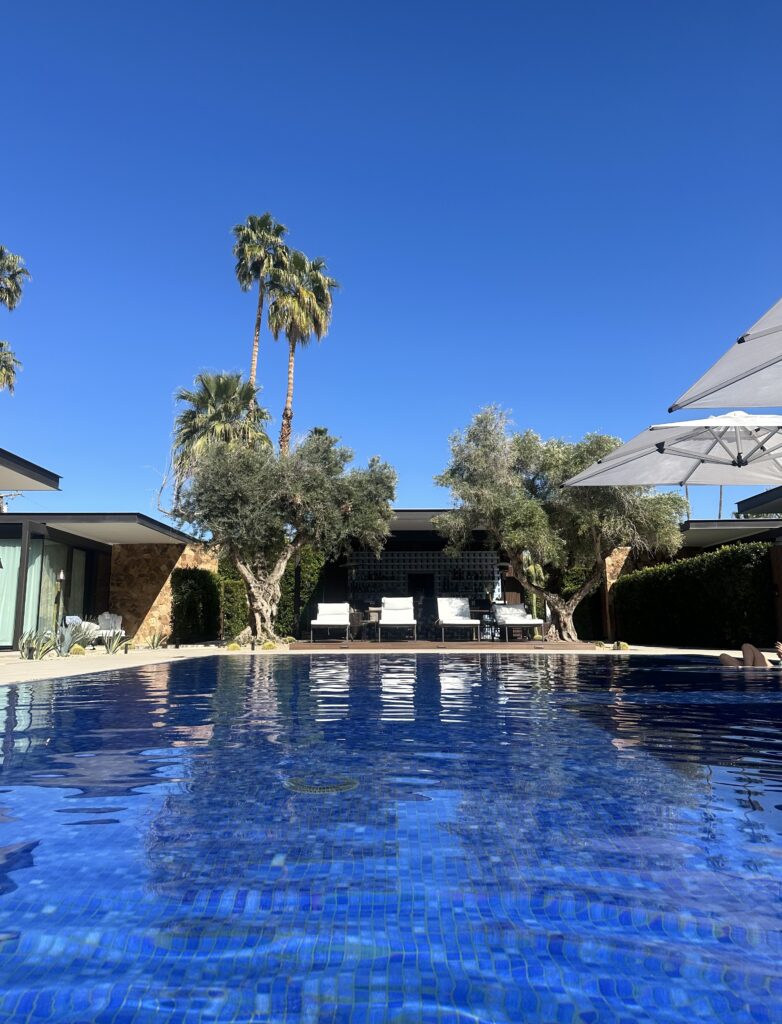 Upon waking the following day, I stopped for breakfast in a cabana by the main pool at L'Horizon. It was lovely, but reminded me of just how much I loved the quiet privacy at the Hermann Bungalows. I sampled a gin Bloody Mary with extra olives and enjoyed the weather as I prepared to leave this pristine slice of heaven behind. I was sorry to check-out — but was excited to stop by the Desert Hills Premium Outlets on the way home.
Reflecting upon my too-short stay, I realized that the Hermann Bungalows have "ruined" Palm Springs for me. By this I mean that no other luxury hotel can match the true air of exclusivity and escape that the property affords. Prior to this stay, my favorite hotel in Palm Springs was The Parker — which I still adore, to be sure. But whereas The Parker offers fun and quirky Jonathan Adler-meets-Wes Anderson vibes, the Hermann Bungalows offer pure luxury in an intimate and discreet environment — a luxury so pure that pictures cannot even capture it. There is nothing else on par with this experience in Palm Springs, and I cannot wait to go back.
Related