Volvo Introduces Electrified EX90
Volvo
Long beloved by design geeks and safety freaks, Volvo has come a long way from the days of stolid sedans and tank-like station wagons. The Chinese-owned Swedish brand has wiggled into in an even niche-ier space, with their spinoff Polestar nameplate straddling the line between spare Scandinavian design and avant-garde EV tech. Mys, meet electrification.
Sharing more than a smidge of that welcoming clean slate spirit is the just-unveiled Volvo EX90, a slick new sport 'ute that injects a bit of Polestar's forward-thinking progress into the carmaker's portfolio. Reassuringly, the EX90 sticks to its stylistic guns amidst a field of increasingly interchangeable competitors. Wearing a gently tapered silhouette, subtly radiused edges, and body panels that meet with tidy intersections of clean lines, the EX90 doubles down on the brand's less-is-more design philosophy with trademark understatement.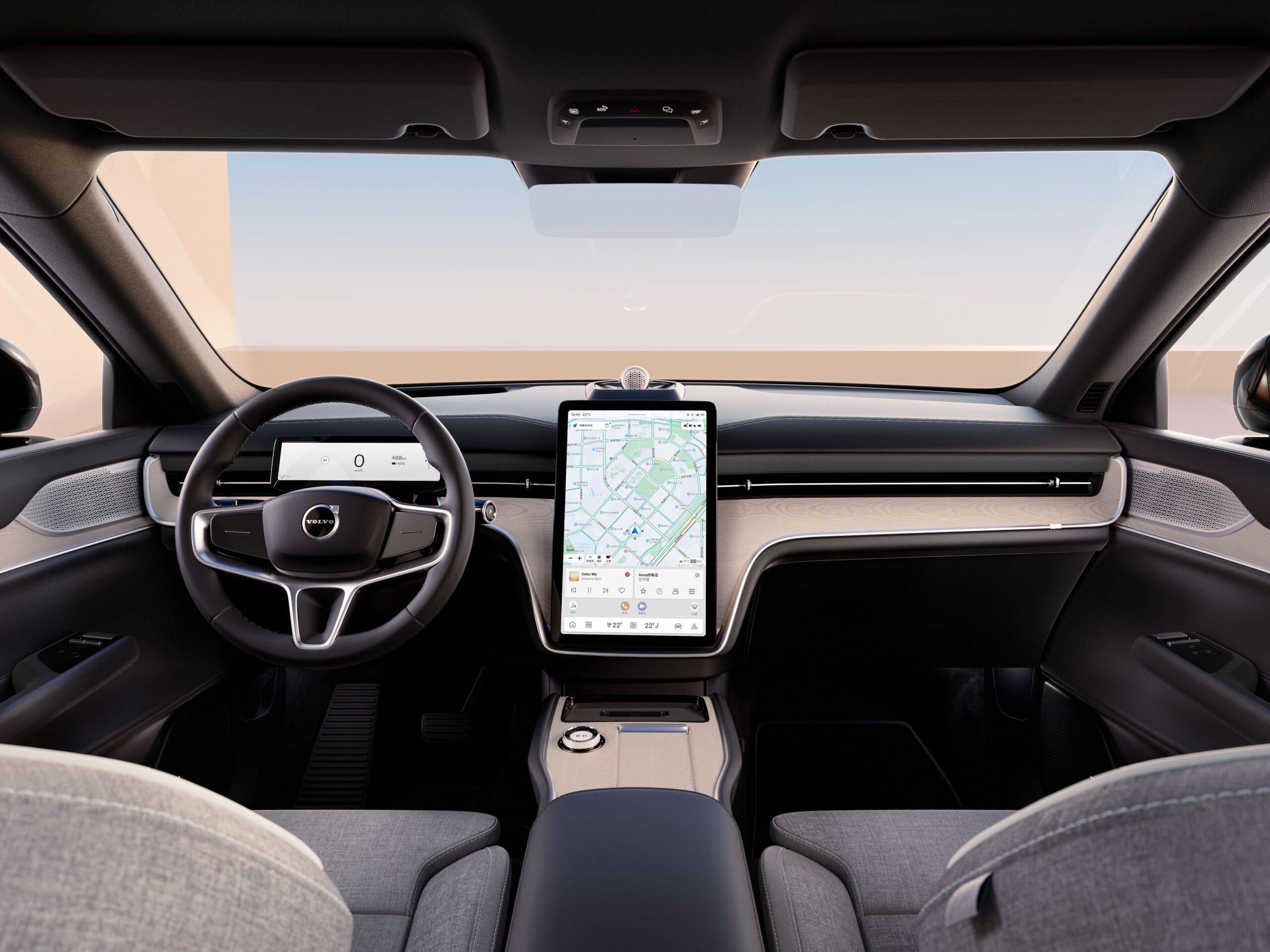 "Volvo is really about designing around purpose," says Senior Design Manager Marie Stark, a sentiment that has long separated the brand's design philosophy from many of its counterparts. Inside is a minimalist space, with a vertical 14.5-inch screen bisecting an otherwise horizontally-trimmed expanse outfitted in sustainable materials. The EX90's luxe is largely subliminal, like its headrest-integrated speakers, which resemble a Vitra chair cushion more closely than a conventional sound system. The Bowers & Wilkins hardware integrates Volvo's first use of Dolby Atmos sound, and mundanities like air vents and door handles blend seamlessly into the flush-mounted background.
As you'd expect from Volvo, there's a boatload of safety tech aboard the EX90, including five radar systems, a roof-mounted LiDAR sensor, eight cameras, two interior cameras, and 16 ultrasonic sensors. The extra-sensory idea is to create ultimate situational awareness and accident avoidance, from recognizing when pets or kids are left in the vehicle to recognizing pedestrians when they're more than 800 feet down the road. "We believe the EX90 to be the safest Volvo car ever to hit the road," says Joachim de Verdier, Volvo's Safe Vehicle Automation boss. That said, the EX90 can detect signs of tiredness like slouching posture or decreased blink rates, alerting the driver to fatigue.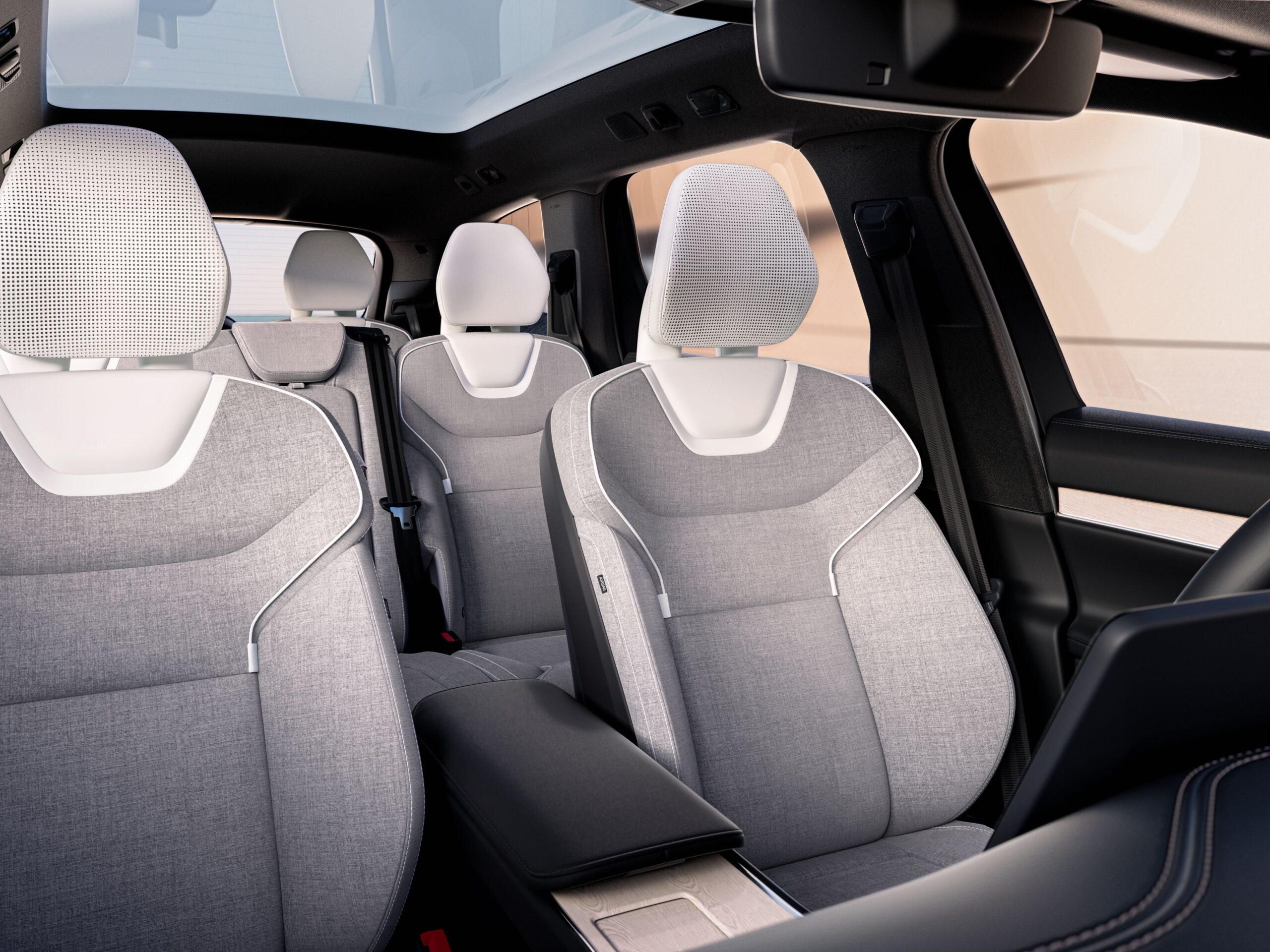 The brand's intention of achieving climate neutrality by 2040 is reflected in its use of over 105 pounds of recycled plastics and bio-based materials, and its use of recycled steel and aluminum. However, a word to the wise: Don't get hung up on the physicality of the space because where we're going, we don't need hardware. More specifically, while form matters just as much as it always has, this will be Volvo's most software-defined vehicle yet, placing more of an emphasis on ones and zeroes than physical buttons, switches, and hardware.
See Also
As such, the EX90 we'll see Stateside will be equipped with a two-motor drivetrain powered by a 111 kWh battery that can propel it 300 miles. While not quite as ludicrously quick as some upstart EVs, Volvo's 496 hp motor can whisk the EX90 to 60 mph in 4.9 seconds, a respectable interval for a 7-seat utility vehicle. When it's time to juice up, the Volvo can gain 111 miles of range in 10 minutes with a DC quick charger or go from 10% to 80% charge in 30 minutes. The EX90 will be Volvo's first bi-directional EV, able to put power back into the home, other EVs, or the grid. And speaking of virtuality, a number of ownership options will include traditional purchase, leasing, or subscription. 
If you like what you see, there will be plenty more where the EX90 came from. Volvo plans to drop a new EV every year, with the entire portfolio becoming fully electrified by 2030. 
Related