Supercars are by definition extreme, embracing wretched excess at every corner. Why stop at 8-cylinder engines when you can have 10 (or 12)? Why go merely 150 mph when you can top 200? And why-oh-why should an oversexed engine drive only two wheels when it can route power to all four?
That last query busts the more-is-better theorem like powerline zaps a mylar balloon. Virtually all Lamborghinis of late have claimed all-wheel drive because it helps those raging bulls lurch forward and accelerate quicker. But sometimes less is more, a philosophy bellowed from the belfry by the not-so-humble 2021 Lamborghini Huracan EVO RWD.
Sharp like a mantis, the EVO is an undomesticated beast of a car that boasts a naturally aspirated V10 when the vast majority of its foes have gone the way of the turbocharger. In RWD form, the Sant'Agata Bolognese-built supercar ditches its front-wheel-drive components in order to appease purists with an added level of dynamism. Without the 75 lbs of extra mass required to turn the front wheels, this Lambo not only has less flab to haul around, it changes direction with greater agility and rotates even more dramatically when those rear tires spin.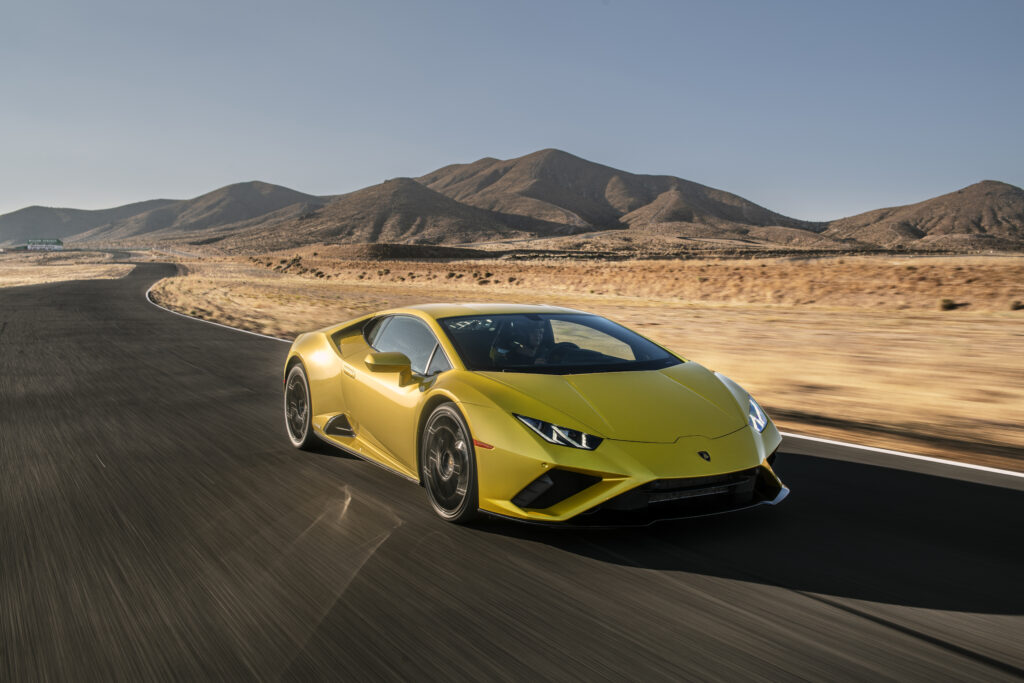 The EVO's engine still squeezes 610 furious horsepower which peak at a dizzying 8,000 rpm. But following an afternoon at Willow Springs International Raceway, we learned that driving two wheels has a certain effect on the car's personality. For starters, leaning on the sophisticated electronics will save your bacon if you drive like a hamfisted kid who just scored their driver's license. As nasty and burbly as its exhaust note sounds, this Huracan can be a real pussycat in its mildest drive mode setting, Strada, which is arranged via a small toggle switch on the steering wheel. But when flipped into Sport mode, the EVO loosens the reins and allows (encourages?) the sort of delinquent driving behavior that immolates tires and horrifies insurance adjusters.
Roasting rubber is not necessarily the quickest way around any racetrack, especially a circuit whose surfaces are pockmarked as Willow's. But it does unmask the EVO's personality in its rawest, most unapologetically raucous form. Perhaps the ultimate truth serum, however, comes at the track's skidpad, where an instructor allows us to disable all the electronic nannies and powerslide the sucker. Without the safety net of all-wheel drive, this Lambo becomes extreme in extremis. The right pedal feels like it has a direct line to the spinning Pirelli tires, fusing with asphalt and vaporizing at the slightest provocation. It's a thrilling, harrowing, hairtrigger game, willing this amount power into two wheels while furiously countersteering in an attempt to keep the steed from sliding.
I make it my mission to drift the Lambo. But delicate flicks devolve into lurid spins quicker than you can say 'oversteer,' thwarting my efforts all-too-easily. I try, try again. I eat cones. And my instructor, perhaps eager to beat the setting sun, gives a reluctant, "OK, one more" over the crackle of the walkie after I plead not to leave well enough alone. I stop, focus, and visualize a gentle arc of burnt rubber— which is exactly what I end up laying down to pavement as I slide through the course. Redemption, in the form of controlled vehicular chaos, is mine.
Interestingly, the latest Lamborghini's rough edges dissolve when you switch the electronic aids back on and allow the computers to keep you in check, as evidenced by a dreamy high-speed sunset cruise through California's high desert. But the ability to transmogrify into irascibility is always there should you choose, exploiting the power of two by routing obscene amounts of torque to the rear wheels and lighting them up at will. If nascent hellions are your jam and good ol' fashioned hooning your thing, have I got an angry little Italian for you.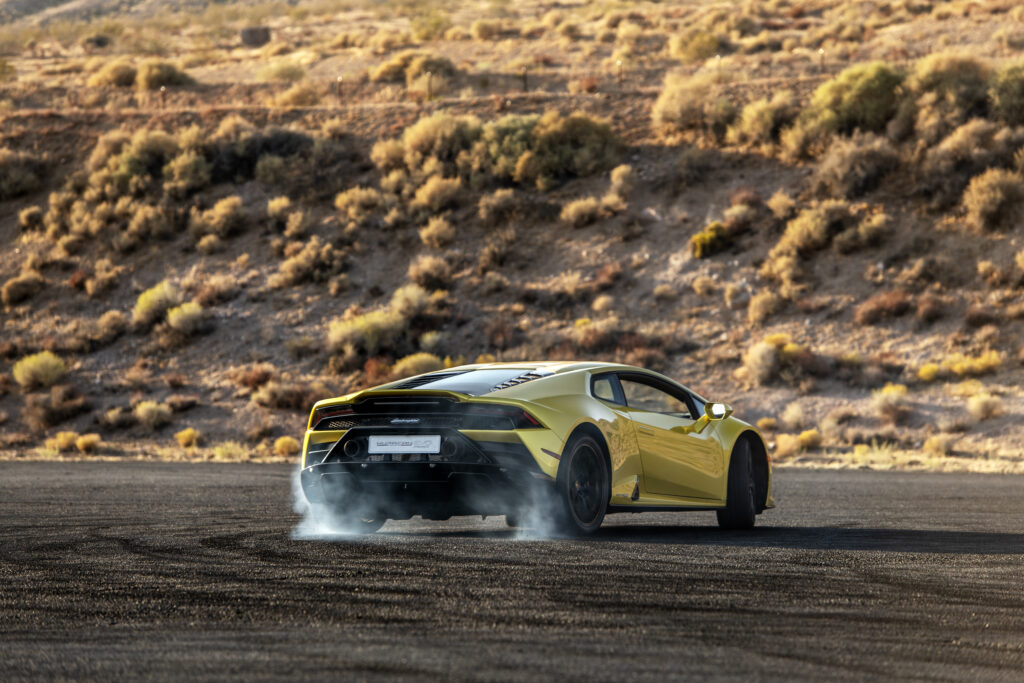 Related