The Land Rover Defender Finally Hits U.S. Ready For Adventure
2020 has thrown us a fair share of curveballs. While many have hit us square in the crotch, we have managed to connect up and hit a few out of the park. One of these moments was the long-awaited arrival of the Land Rover Defender to US shores, with a two-door version coming in 2021. Ever since its debut in the early 80's, under an entirely different name, the Defender has asserted itself as the off-roading king of Great Britain. If America has the Jeep Wrangler, and Germany has the Mercedes G-Wagon, the UK has the mighty Defender. This vehicle is so capable, it's spawned countless adaptations, and is used for police, military, and other government purposes.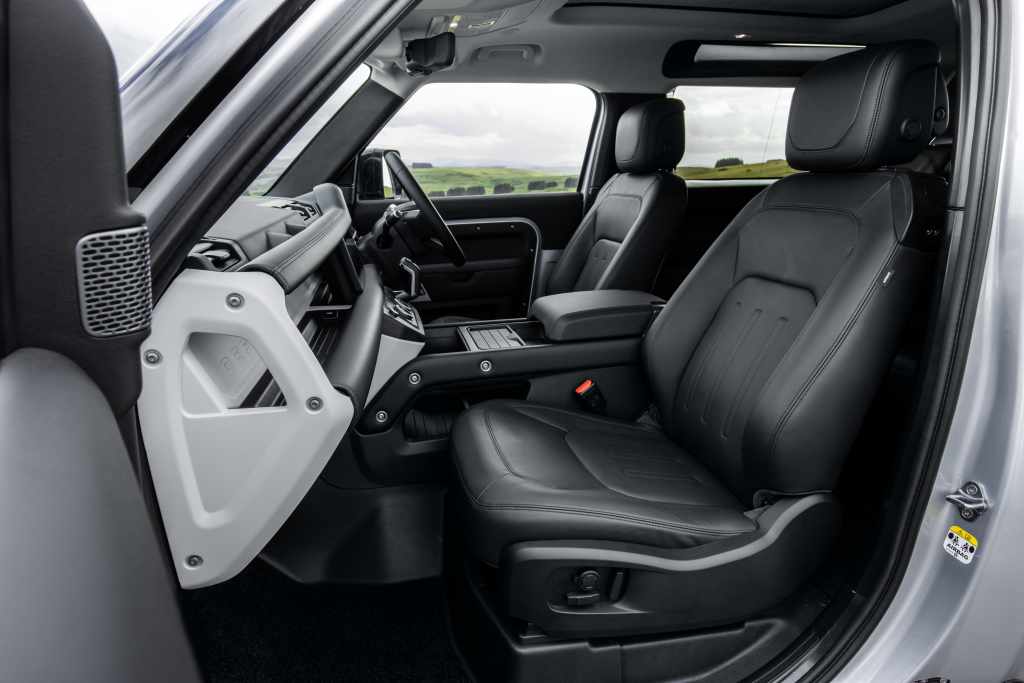 Now, after decades of patience, it's here, and as ready for adventure as ever. In short, the new Defender is extremely capable, miles ahead of the majority of SUV's filling up the American road-ways. The interior lags behind the posh G-Wagon, but with a price tag that starts just above $50,000.00, that's to be expected. Any serious off-road junkie would prefer their money be spent on trail tackling hardware anyway, not in the bottomless luxury bin rummaged through by six-figure Range Rovers. Instead, the new Defender takes a simple, clean approach while still offering lots of leather and other middle-tier trim elements that will be enough to satisfy most.
Now to what really matters for anyone in the market for Land Rover's toughest family member. The new Defender is available with an inline six, 3.0L engine. Along with a turbocharger, this engine option also uses an electric supercharger and 48-volt hybrid system. All these combined forces are good for 395 hp and 406 lb-ft of twisting torque. This capable power plant is bolted to a frame that Land Rover claims to be the stiffest they've ever constructed, delivering plenty of extra torsional rigidity, and allowing engineers the ability to dial up ride heights and water wading depths to over 35 inches. Reinforcements in the form of steel subframes help protect the important parts of the undercarriage, just in case almost three feet still isn't enough ground clearance.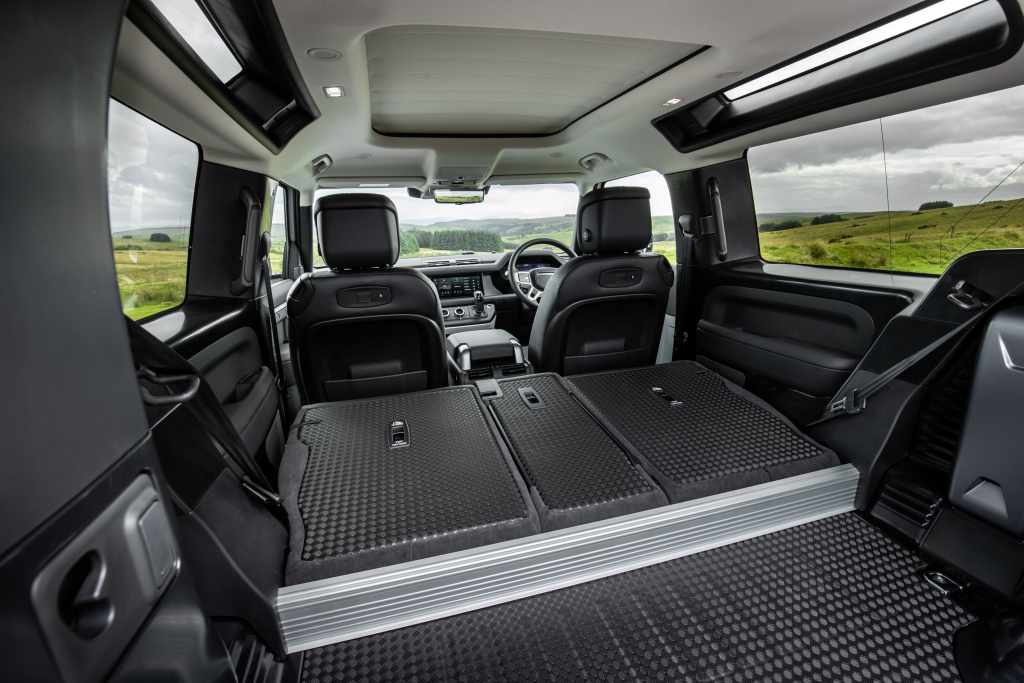 The real star in creating the highest levels of off-roading aptitude is the air suspension. This allows for fully adjustable ride heights, a helpful thing when the going gets especially tough. To further aid in your slow maneuver down a boulder strewn trail, is Land Rover's ClearSight Ground View feature. This provides an overhead view of your surroundings, to make sure you're threading the needle of obstacles without scratching any paint off along the way. Different driving modes will take some of the work off your hands as well, allowing the electronics to step in and negotiate the vast array of surfaces this world has to offer; from mud, sand, snow, rocks and all the in-betweens. The technology is impressive, allowing remarkable feats of individual wheel braking and accelerating, while managing low-traction scenarios with tight torque control.
A $3,200 Adventure Pack will help you tackle the great unknown with even more confidence. It adds:
See Also
a side-mounted gearbox
a roof rack with a spare tire and wheel
an extra fuel can
vehicle recovery boards
an exterior ladder on the back
a snorkel up front and clean air intake ensure problem free crossings of harsh environments, both extremely wet and very dry.
A two-way GPS beacon and radios round off an Adventure Package that has done everything possible to thoroughly earn its title.
Like a good Boy Scout, the Land Rover Defender appears to be ready for anything and everything. It offers an impressive range of both utility and general usefulness. A comfortable, easy to use vehicle for the everyday mundane, that will also blaze new trails under seemingly impossible conditions. It's a balancing act of on-road civility and raw, off-road talent that's sure to impress.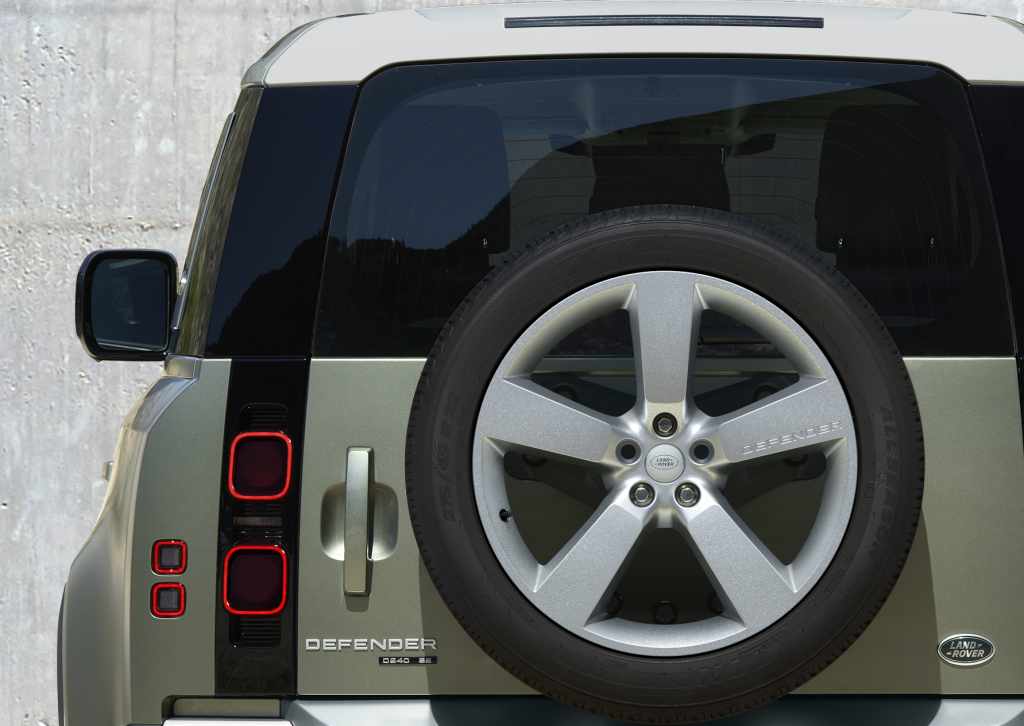 Related