An Exclusive Whiskey by Aston Martin and Bowmore Distillery
Bowmore
The whiskey comes in a bottle made with a real Aston Martin DB5 piston along with a $65,000 price tag.
Two icons came together recently to create something truly unique – the Black Bowmore DB5 1964. The Black Bowmore DB5 1964 is a whiskey produced by Scotland's Bowmore Distillery and renowned automaker Aston Martin. The 31-year-old whiskey was aged in Williams & Humbert Walnut Oloroso Sherry barrels, and whiskey connoisseurs everywhere are excited about this new product.
Everything about this whiskey is incredibly unique, from the bottle to the alcohol. The beautifully handcrafted bottle is made from a genuine Aston Martin DB5 piston and inside is a rare single malt, the Black Bowmore 1964. The single malt whiskey contained in this bottle is incredibly sought after but many collectors will not be able to get their hands on it. One bottle of this whiskey costs $65,000 and there will only be 25 bottles on the market. Over the years, Black Bowmore single malt has only been packaged six times and only approximately 6,000 bottles have ever been offered to the public.
The collaboration between Aston Martin and Bowmore Distillery is said to commemorate a memorable year in history for the two brands. For Aston Martin, 1964 was the year the DB5 appeared in James Bond's Goldfinger movie. The association of the DB5 with James Bond and his classy character solidified Aston Martin as a symbol of sporting car excellence. It also cemented the DB5 as the Aston Martin car model that comes to mind when the brand is mentioned. The popularity of the Bond franchise also billed the car as "the most famous in the world," for a time, with many car collectors eagerly vying for ownership of the Aston Martin DB5.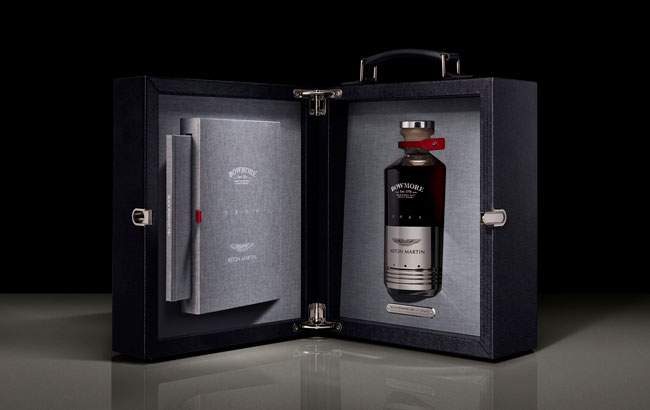 The same year the DB5 debuted in Goldfinger, Bowmore switched from heating the still by coal fires to steam. Black Bowmore whiskey was the first distillation from their new heating method. The flavors in this rare whiskey offer tantalizing layers of exotic fruit and creme caramel as one breathes in the drink's aroma. As the whiskey blooms, a soft note of tobacco smoke, orange peel, and black cherry will come out. When sipping this drink, an intense combination of mango, passion fruit, and honey paired with a bit of coffee will hit the taste buds. The whiskey's finish is said to leave a mix of tropical fruit and spice in the mouth. The overall decadence of the drink perfectly sums up the craftsmanship of the Bowmore brand.
See Also
Overall, the year 1964 was a defining era for both brands, and the Black Bowmore DB5 1964 provided the perfect way to showcase the legacy of these luxury icons. The shared values and passions for Bowmore and Aston Martin are perfectly showcased in the inventive design and exclusivity of their collaboration.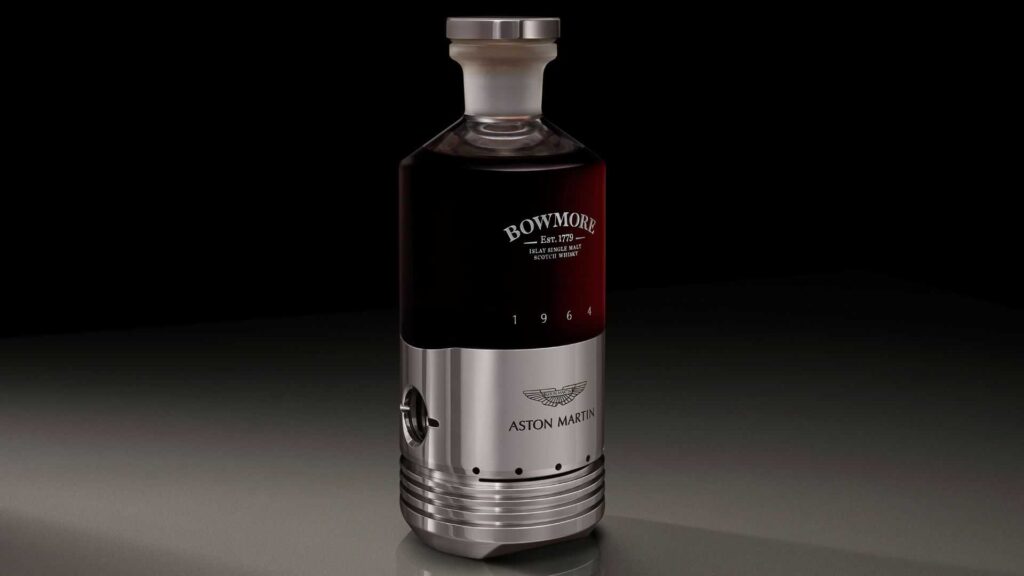 For more luxury auto stories, click here.
Related