La Prairie's New Luxe Launch Aims to Defy Gravity
La Prairie / The Lux Cut
Caviar-powered skincare reimagined for 2020.
Thirty years ago La Prairie launched caviar as an ingredient in their products and the skincare world has never been the same. The Swiss laboratory has become synonymous with caviar technology, and they've spent decades perfecting the science behind their most powerful (and expensive) products. Their Skin Caviar line is a favorite among luxury skincare connoisseurs and is an enviable addition to any shelfie. Originally launched in 2012, Skin Caviar Liquid Lift is a silky serum promising to visibly firm skin for a long-term lifted effect. Today, La Prairie is reimagining the opulent favorite for 2020 with twice the complexion-flexing caviar power.
This serum is seriously sumptuous. Designed to be an experience unto itself, the pump-activated serum lies inside an exquisite cobalt vessel featuring an activation button and chrome pump. The bottle is more than just an ultra-luxe piece of hardware, though. It houses the serum's two caviar ingredients – a milky caviar essence and La Prairie's signature golden caviar beads – that are freshly blended upon each activation to create a potent skin-firming cocktail.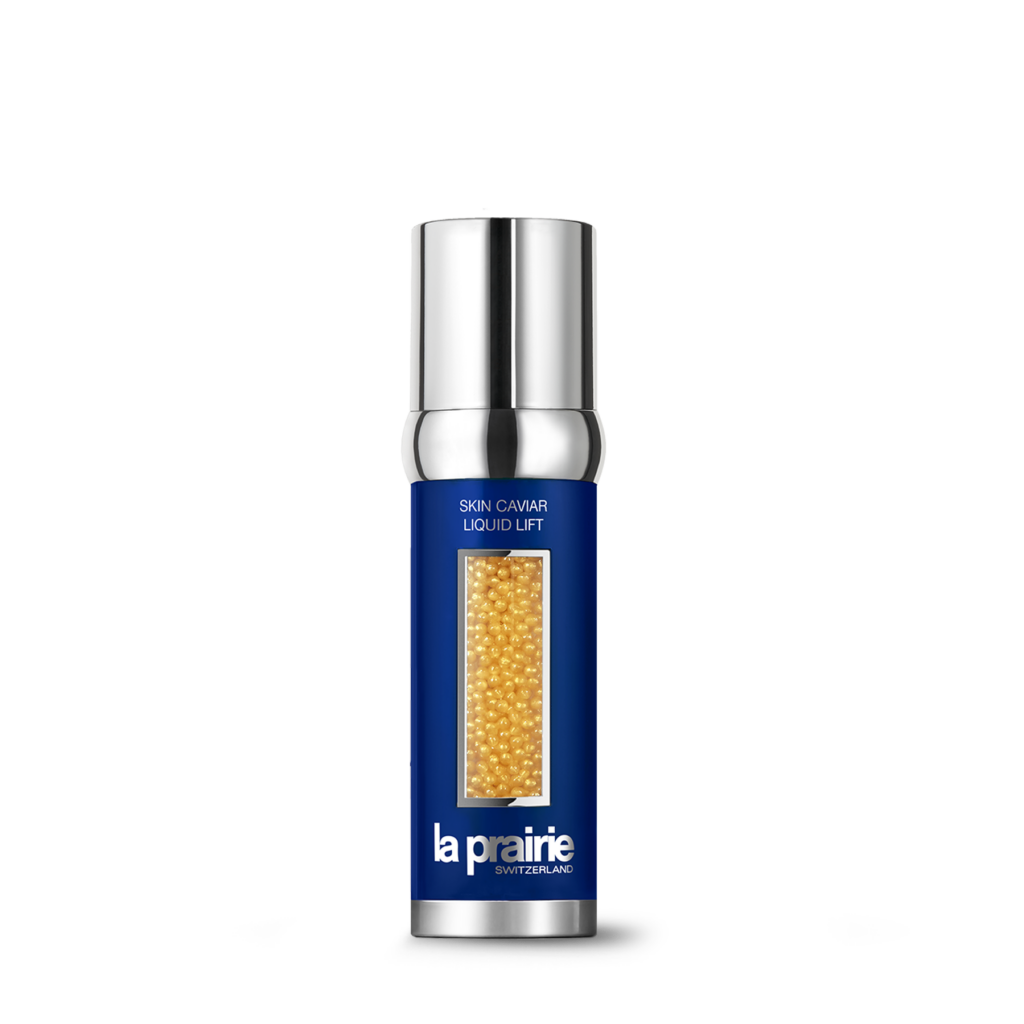 The reformulated Skin Caviar Liquid Lift has some intense skincare science to back up its $690 price tag. The star ingredients are La Prairie's proprietary caviar formulations Caviar Premier and Caviar Absolute. Caviar Premier works to lift skin over time, while Caviar Absolute restores volume to skin to help diminish the look of fine lines and wrinkles. You can quite literally feel this serum at work – in addition to improved firmness and elasticity over time, there's an immediate tightening sensation felt upon application.
Its gravity-defying properties aim to address visible signs of aging that accompany a loss of elasticity in aging skin. Some of these signs are obvious, like sagging skin and deepening wrinkles, but some are more subtle. Firmer skin usually appears more luminous, promoting the ageless glow that everyone over the age of 25 is endlessly chasing (including yours truly).
See Also
If the promise of defying gravity isn't enough for you, it's also incredibly hydrating and long-lasting. Only a few drops are needed to achieve what La Prairie calls "an elevated sensorial experience." Lifted skin sans scalpels & needles? Sign me up.
La Prairie, Skin Caviar Liquid Lift.
Related