The Mercedes-Benz AMG GLE 53 masters both sport and utility better than the bulk of SUVs out there.
The 2021 Mercedes-Benz AMG GLE 53 Coupe has something of a split personality. Many cars could be accused of the same in the era of modern automotive crossovers. With hybrids, EVs, and every other in-between-type car, many try to be it all and do it all. While the stretch across multiple categories will often result in diminished performance across the board, the AMG GLE 53 could teach a master class in everything it attempts to be. It blurs the lines between sport coupe and SUV, with top-notch technology and a driving mode to suit every mood. 
Visually, the GLE 53 keeps one foot in each camp. Some could say it has a conflicted design direction, but proportions bulge and swell in all the right places. It looks strong and sturdy, with a curvy, elegant curb appeal that's accomplished at the same time. Beautifully shaped LED headlights with a prominent front grille are perched above oversized front air vents. 21" AMG wheels in a split five-spoke design compliment the sport-utility theme perfectly. Add in the obvious ground clearance and roof rails, one can't help but appreciate how well the GLE 53 balances visual elements from the realms of both sporty and sport-utility.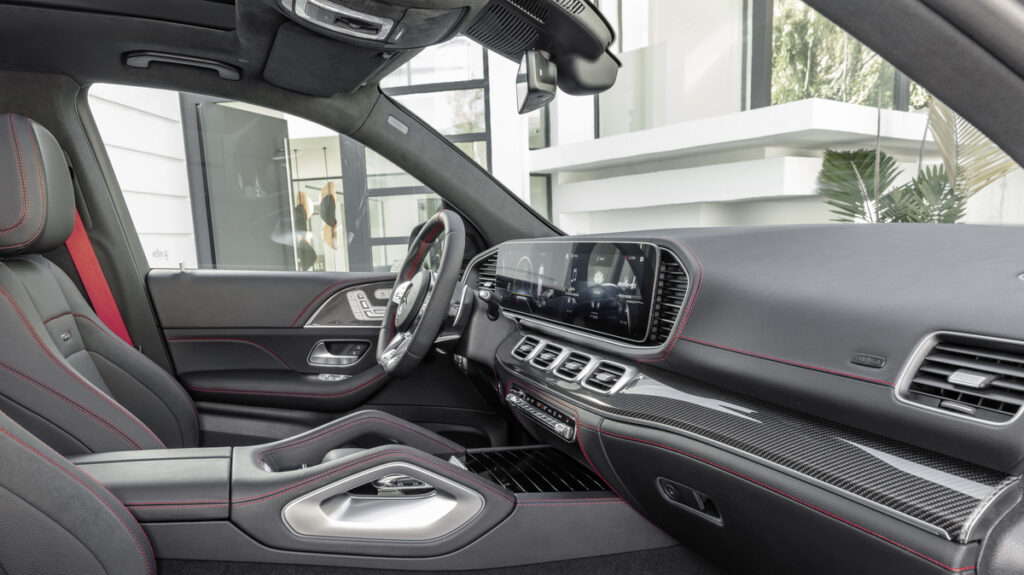 This blended cocktail carries through into the interior, where a handsome AMG Carbon Fiber trim sets the tone right up front. Materials are as rich and lavish as you'd expect to find, thoughtfully arranged and layered for optimum effect. Everything that makes the AMG GLE 53 special doesn't stop at the surface but extends all the way down to the bare sheet metal. This is thanks to a feature list and technical menu that are longer than the car's title. These AMG specific additions permeate every facet of the driving experience. 
For starters, AMG active ride control suspension, based on AIRMATIC, enables high levels of agility, with neutral cornering, a flat ride, and gobs of traction. Handling and driving dynamics feel like a sports car first, off-road SUV second. It's not to say it can't be both, though. AMG's Performance 4MATIC+ all-wheel-drive system continuously calculates traction, distributing optimum torque for whatever driving situation presents itself. Power distribution can range from 0:100 to 50:50. The state-of-the-art system will carefully calibrate this ratio for short bursts of furious acceleration from a standstill – a feat of which the AMG enhanced 3.0L I-6 turbo is certainly capable. It's down to low traction lateral loads, like taking a tight corner on a slippery surface, leaving you with confidence to spare. 
Helping you make quick, on-the-fly adjustments are the seven drive programs. Yes, you read that correctly. There are seven: Comfort, Sport, Sport+, Individual, Slippery, and Off-road, which can be specific to trail and sand. Each mode will activate a chain reaction of multi-system adjustments, from engine and transmission responsiveness, acceleration and steering, suspension dampening, down to the way the GLE 53 sounds. Extra edgy exhaust tones are understandably reserved for the sportier modes. The differences between each mode are remarkably extreme. The AMG GLE 53 stands out in whatever task you ask it to tackle. Tight and nimble to off-road ready.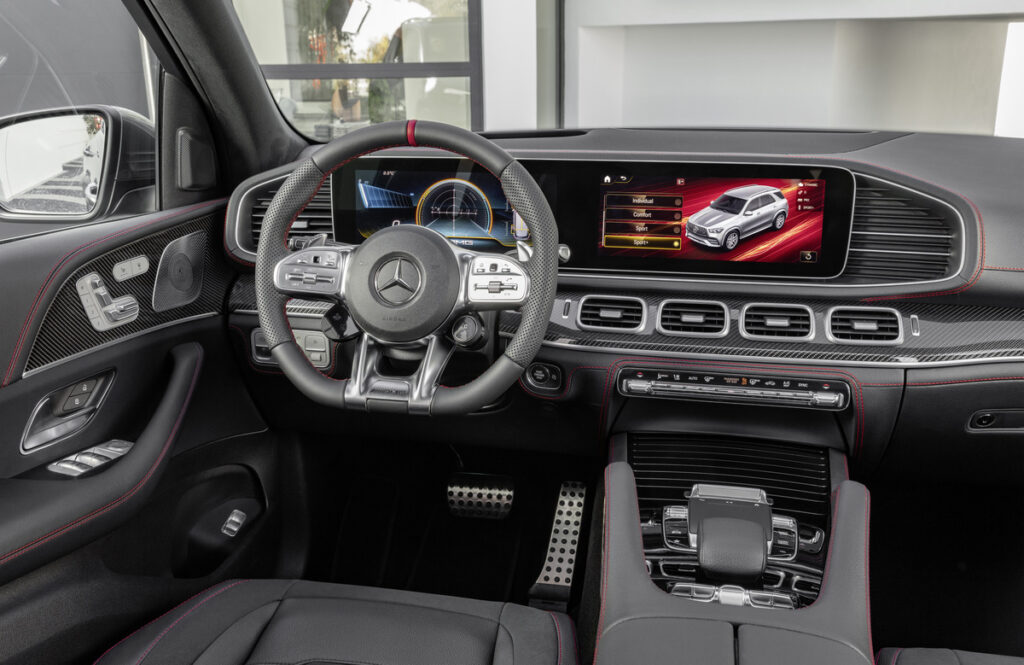 Mercedes-Benz attempts the near-impossible here and comes out surprisingly successful on the other side. They've managed to combine sporty design and performance with remarkable day-to-day versatility and actual off-road capability – a shapeshifter, beautiful on the inside and out. The AMG GLE 53 is full of intuitive technology, easy to appreciate driving aides, and enough safety features to leave you feeling confident and secure. An MSRP is yet to be announced, but a vehicle that can straddle these two worlds so successfully will undoubtedly come at a price.
Related